Real estate markets turning red hot in Claremont, Newport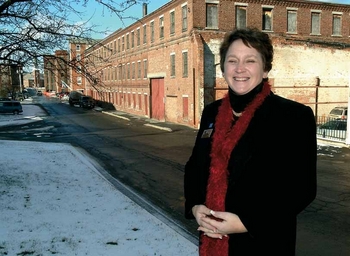 I am sipping a cappuccino in Claremont. I'm in the Cafe Cubana, an urban-industrial-chic coffeehouse with bare brick walls, where $3.50 isn't too much for a cuppa joe. It's the kind of place you'd expect to find in Portsmouth or Boston — not in Claremont.
This would be the perfect symbol for the rebirth of a city, except for one thing. By the time you read this, the Cafe will have closed its doors for good.
That's the bad news. The good news: the space is being taken over by a new full-service restaurant — a sign that Claremont, long seen as a city that missed New Hampshire's economic growth, may, indeed, be turning the corner.
Sophie and Zeke's will serve "comfort food with a gourmet edge," according to chef and proprietor Reid Hannula. Until recently he was a partner in Bellissima, an Italian restaurant in Newbury that won favorable reviews and a "Best of New Hampshire" award in its first year in business. Now he's striking out on his own — and he thinks Claremont is just the place to do it.
"There's all this talk about Claremont being a sleeper town about to awaken," he says. "It hasn't happened yet, but we want to be part of its revival."
There are definite signs of life in Claremont and in Newport, its neighbor to the east. The two communities are often paired, for many reasons. Most obviously, they are only about 10 miles apart. Each became a center of industry in the age of water power, thanks to the fast-flowing Sugar River. Their downtowns are full of classic buildings from that industrial heyday. Later, both communities lost much of their economic base and fell into long periods of stagnation.
Claremont is the big brother of the two, with a population approaching 14,000, to Newport's 6,500.
Building boom
The biggest sign of an upturn: a dramatic rise in the housing market.
Take the median sale price of an existing home. In Claremont, it was stuck at $70,000 for many years; between 2001 and 2004, it jumped to $120,000. In Newport it's gone from $95,000 in 2002, to $170,000 this year.
There's a corresponding boom in housing starts. Newport's planning and zoning administrator, Julie Collins, is a lot busier than she used to be: "We had a 63-lot subdivision approved in the past year, and a potential 50-condo unit in the approval process, as well as many smaller projects."
In the past, a typical year would have brought a mere handful of proposals.
Claremont Development Director Anthony Lyons says total building permits have doubled in four years, and housing starts have gone from 10 in 2001 to 100 last year. Symbolizing the renaissance is a plan to build offices, condominiums, and retail space in three long-abandoned mill buildings on the Sugar River.
Its developers are well-known in real estate circles: Alex Ray, head of the Common Man restaurant chain; Rusty McLear, the man behind the Inns at Mill Falls complex in Meredith; and Vermont's John Illick, an expert in adaptive reuse of historic buildings.
The Sugar River Mills project is scheduled for completion by the end of 2006. The condos will offer a taste of urban living in a small city.
"Loft-style condos with exposed brick, 14-foot ceilings, and the woodwork you get in a mill building," says Illick. "It will be a unique residential experience that doesn't occur anywhere else in the area."
Illick and his partners are smart, experienced and confident that Claremont is a good place to invest. Realtor Christine Corey can testify to that. She and her husband moved to Claremont four years ago, "after an intensive research process. We saw a community that was ready to burst."
They were right. Corey opened American Star Real Estate just as sale prices, and hence commissions, were starting to rise. And she invested in housing stock at the best possible moment.
"What I purchased for $120,000 back then, I'd put on the market for $250,000-260,000 now. And it's still going up."
'Dynamics are there'
Why are these two sleepy communities suddenly awakening? The answer is simple: proximity to the red-hot market in the Upper Valley.
"Most of our new residents work in the Upper Valley, where housing has become too expensive," says Newport Town Manager Dan O'Neill.
A house in Newport or Claremont may cost more than it used to, but it's a bargain compared to Hanover's median home price of $460,000. And the commute is 30 to 45 minutes — very manageable, by today's standards.
The two communities are on the same track when it comes to housing, but not so with commercial space. Newport is holding steady, while Claremont is taking off.
"In 20-plus years in Upper Valley commercial real estate, I never paid attention to Claremont until the last couple of years," says Bruce Waters, head of the commercial division at McLaughry Real Estate in Lebanon. "Now, I spend time there every week."
Waters says businesses and industries are finding Claremont a friendlier place to locate or expand than the Upper Valley, while retailers see Claremont as an alternative to West Lebanon's crowded Route 12A strip.
Newport's market, however, "is not growing like Claremont's," says Waters.
If you stood in the center of both towns, you might think the opposite: Newport's Main Street is fully occupied, while much of Claremont's downtown is empty or underutilized.
On a recent walk around Tremont Square and down Pleasant Street in Claremont, I counted 17 vacant storefronts. And the occupied spaces included second-hand stores, a nondenominational church, a fitness center and a T-shirt printer — not exactly high-rent tenants. But several key buildings have been, or are being, renovated, and the Sugar River Mills project may prove to be the "tipping point" for downtown rebirth.
Although Newport looks better and has higher housing prices, Claremont may have more potential. It has a bigger population base, more housing stock and a solid commercial strip with several major national retailers. And for commuters, it's a few minutes closer to the Upper Valley.
What stands in the way of this dual renaissance?
"The tax rate is a negative," says Newport Town Manager Dan O'Neill. "We're not the highest in the state, but we're in the upper end. Old industrial towns have an older infrastructure that needs upkeep."
Both communities also have to overcome a decades-old image of industrial towns in decline. But it's clear they are in the right place at the right time. As for the future, "Will it continue?" says Waters. "I can't see why not. All the fundamentals are there to make it a dynamic market."