Q&A with: Workforce Opportunity Youth Council Chair Dwight Davis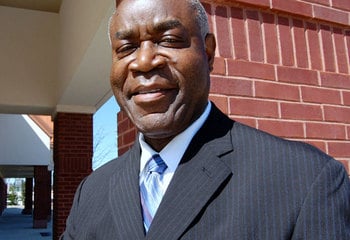 By any measure, Dwight Davis has had a remarkable life's journey. Davis, 61, grew up in still-segregated Houston, Texas, in the 1960s before becoming a star basketball player at the University of Houston. Following his graduation, he was the third overall pick in the 1972 National Basketball Association draft. After playing in the NBA for five years in Cleveland and Oakland, Davis suffered a career-ending knee injury in a game against the Boston Celtics.
Before moving to New Hampshire to live full time and become a Realtor, Davis candidly admits, he sank into a lengthy period of depression and drug and alcohol abuse. He now spends as much time as possible working with at-risk youth and sharing his stories of overcoming the odds both in his youth and as an adult.
Davis, who in 2008 was named chair of the New Hampshire Workforce Opportunity Youth Council, says he hammers home the theme of education to youngsters who are overwhelmed by the rapid changes in our society and economy — and who need guidance and mentorship more than ever.
Davis, an Exeter-based realtor with Better Homes and Garden Real Estate The Masiello Group, also was recently named United Way of the Greater Seacoast's capital campaign director.
Q. What makes you want to reach out kids who are at risk?
A. I was involved in helping youth when I was in college and believe it's more crucial than ever. I talk about growing up in segregated Houston and riding on the back of the public bus or drinking out of separate water fountains. But I tell kids today no matter how hard it was for me as a 10-year-old riding on the back of the bus, they have a tougher task in the global economy competing against workers from China or India.
The types of jobs I saw when I was growing where you could learn skills on the job — they don't exist anymore. We can't afford to continue down a path with a broken education system because it's a guaranteed road to poverty and a second-class country.
When I was growing up it was enough to be the best in your school or city, but now you have to be good enough to compete against people the same age across the world.
Q. What's important about the Workforce Opportunity Youth Council?
A. On an organization level, we oversee the employment and training funds of the Workforce Investment Act, helping eligible youth between the ages of 16 and 24 with academic, workforce preparation and occupational skills training. On another level, we hope to reach these kids so they can understand the importance of education and a strong work ethic.
When I was growing up, my father worked two to three jobs, and I wanted to be a man like him. These youth work programs are vital because this next generation needs help to compete in a global marketplace. My fear is that so many leaders in Washington don't understand what's happening about the unrealized potential of so many young people – and that there are fewer jobs because the economy has contracted. Our job is to make sure these programs help these kids reach the best achievement level they can, to help show them they have more ability and more gifts than we often realize.
Q. What kind of lessons did you learn from your college and pro coaches?
A. I loved to read and loved going to school. I was more of a brainiac and into my grades. I didn't plan on being a basketball player, but I was tall and was put on the team. I didn't have a lot of coordination or skill at first, but out of survival, I read books by Red Auerbach and Bill Russell to help me learn what to do.
The University of Houston was the first integrated school I attended, and my coach Guy Lewis was a great man and great coach — as much an offensive visionary as (legendary UCLA coach) John Wooden. He should be in the Hall of Fame, but I truly believe there's a bias against southern coaches from that era. Lewis was a very caring man who made it comfortable for me and helped me develop my skills to become a professional.
From Al Attles (coach of the Golden State Warriors), I learned how to transcend being a player to become part of the community we lived and to invest in that community.
Q. How did you wind up hitting a personal rock bottom?
A. After my injury and I knew I wasn't going to play, I lost my way. I went from being someone who used alcohol and drugs recreationally to an addict. It was a downward spiral, and though my family wanted to help me and former NBA friends reached out and wanted to help me, I felt so much shame I didn't know how to get help. I was homeless at times and spent all the money I earned as a pro. Finally, former players like Bill Walton, Bob Lanier and Jimmy Cleamons kept reaching out, and I took advantage of a retired players' program to get the help I needed.
Q. Why did you become a Realtor?
A. I had a great role model, a hero in my father. He's one of the reasons why I eventually became a Realtor because I saw him do it. What I really like is helping people with that dream of home ownership or to find the right home for a family in a new community. You can develop great relationships.
With clients, sometimes I challenge their choices and the reasons behind them, but it's because I believe I asked them the right questions in the first place and listened to what they wanted. By doing that, I find you always gain a friend.
Q. Why did you take on the role of capital campaign director for the United Way of the Greater Seacoast?
A. I was flattered to be asked, but welcome the challenge of exceeding the $3 million goal. We are in a new paradigm of corporate and personal giving and the UWGS is the only local nonprofit that has the scope, experience and expertise to pull together the leaders of the business, political, governmental, community and local service partners to achieve what I call a "great community" in one of the wealthiest and most popular tourist destinations in the region.
We have a lot of work to do to confront issues such as this one: Did you know that children under 14 are the fastest-rising homeless group in the area? Our three major initiatives are healthy child development, family financial stability and financial literacy and community health.