Q&A with: Venture research expert Jeffrey Sohl
Sohl's studies focus on the trends of early equity financing in New Hampshire and throughout the country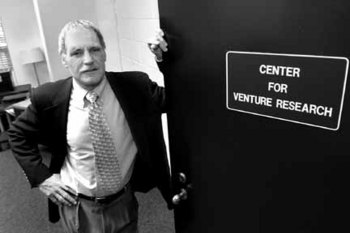 For Jeffrey Sohl, venture capital funding and angel investing is less about a quest for wealth than it is a quest for knowledge — both acquiring it and disseminating it. Since 1992, Sohl has served as director of the Center for Venture Research at the Whittemore School of Business and Economics at the University of New Hampshire in Durham.
Sohl's studies focus on the trends of early equity financing in New Hampshire and throughout the country. His findings are shared with governments, federal agencies, think tanks and investors from around the globe with hopes of offering insight into the changing trends of early-stage financing for high-growth ventures. Sohl spoke recently with New Hampshire Business Review to discuss the workings of early equity funding, its impact on employment and economic growth in New Hampshire and throughout the country.
---
Q. What exactly is the role of the Venture Research Center?
A. We collect and study data and write academic reports on seed and startup investors — our role is to understand the whole seed and startup market in the U.S. We use this information to provide good useful data to the market.
Q. What are the differences between venture capital funding and angel funding?
A. One major difference is a venture capitalist is a money manager. He is investing somebody else's money. It could be an endowment or a pension fund. He is the one who makes the investment decisions and the one who monitors the fund. This type of deal usually runs on a 10-year cycle with the funds (around $200 million) being invested within the first five years. A venture capitalist typically earns 2 to 3 percent of the whole fund size annually and then takes 20 percent of the profits off the top when the fund is closed at the end of 10 years. The other 80 percent is split among the limited partners. Venture deals average around $7 million and usually fund companies in the later stages of development.
An angel investor invests all his own money, he makes the decisions and there is really no timeline. Angels are usually the ones involved early on, buying stock in the company, and deals average around $450,000. Angels earn their money through the sale of their stock in the company when it is sold or goes public.
Q. How did you become the Director of the Venture Research Center?
A. I got here in 1983. I was an assistant professor teaching statistics and quantitative methods. My colleague, William Wetzel, had learned about these early-stage investors — he is actually the one that coined the term "angel investor." He and another colleague, John Freear, were the ones who got me involved, and I took over in 1994.
Q. How is the information you gather used?
A. As an academic we publish in journals that are read by other academics and practitioners. We average 50 to 70 media interviews that reach as far as Japan, France and Britain. That information is then disseminated to the general public. Also, our research goes out to the federal government, public policy folks, angels and entrepreneurs on a monthly basis. These people talk and disseminate the research in a totally different way. We also talk to state governments about how to facilitate an angel market in their regions.
Q. Nationally what do the numbers look like for VC and angel deals?
A. In 2004, $22.4 billion was invested in 48,000 companies. The yield rate, or percentage of investment opportunities that are brought to the attention of investors and actually result in investment, was 18 percent. Typically this number is around 10 to 12 percent. The greatest percentage of the money, 22 percent was invested in software and the least, 6 percent, was invested in telecommunication.
Q. Where does New Hampshire stand?
A. New Hampshire has a vibrant angel market with 70 to 100 active angel investors. It is probably even higher than that actually. They're investing around $30 million to $40 million. Our location helps. We have a higher income level than many of the flyover states, we have a well-respected university system and a vibrant economy. We might not be as active as the Silicon Valley or Boston, but for our size we are doing well.
Q. Why are VC and angel funding so critical to the economic health of New Hampshire?
A. Look at the type of companies that angels invest in. They start small and grow quickly. Eighty percent of the job growth in this country comes from less than 10 percent of the startups. While our laundromats and dry cleaners play an important role, it's the businesses that have the vision to grow quickly — the ones that start with three or four people but have two to three hundred within a few years that generate the jobs and make a real difference. That's why venture capital and angel funding is so critical.
Q. How big of a problem is the funding gap for New Hampshire businesses?
A. There is $75 million to $150 million still needed to really get the market going. There is not nearly enough seed or startup money out there. But the rest of the country is experiencing the same thing.
Q. What do you think is contributing to this deficit?
A. The system is inefficient. It's hard to find the angels. The angels are saying it's hard to find good deals. Also for the last three years angels have been shifting their funds to post-seed funding. VC deals have gotten bigger, and companies are having a tougher time coming up with the second two to five million. This area was always funded by venture capital but now companies have to go to the angels.
Q. Out of 10 deals that receive VC or angel funds only two survive. What determines who will win and who will lose?
A. You bet on the jockey, not the horse. It's the entrepreneur, it's not the idea. While the idea is important, it's the execution of the idea that makes the difference. Secondly, if there is a good angel investor that understands the entrepreneur's business, that helps. Also, if the entrepreneur has the experience and intrinsic quality to fight through the whole startup process, that will raise the chance of success.
Q. There was a huge spike in VC activities around the dot.com craze of '99 and 2000 followed by a steep decline. Has this leveled off?
A. Somewhat. It bottomed at $18 to $20 billion for venture money nationally but reached $22.5 billion in 2004. New Hampshire is pretty leveled out too. Angel funds didn't rise as high or fall as far and we're seeing a 10 to 12 percent sustainable increase each year.
Q. Who are these investors?
A. Your venture capitalists are general partners who manage money they raise. Angels are typically entrepreneurs that have cashed out and made money in startups that have sold. They take a portion of their profit and make a new investment. They tend to have some technical background and a post-graduate degree. They also tend to live within a half-day travel time from their investment. Angel investors tend to derive a psychic income from doing this. This money is the active part of their portfolio. This is the part they get enjoyment out of. They're mentors-for-money. This gives them a chance to give something back to the society that gave them their wealth.
Q. Can anyone become a venture capitalist or angel?
A. It takes a certain level of patience and skill. If you have the money and mindset and decide to hop in, just know what you're hopping into, because it is vastly different than anything you have ever done before.
Q. Have you invested along the way?
A. First of all, if you knew what a professor makes! I've had a few offers, but nothing that I would consider to be angel investing. What I get out of it is the chance to study and try to understand a complex market and the ability to help others understand it. The market is always changing and there is always something new to learn.
Q. Are you still teaching at UNH?
A. I am teaching private equity and a class on venture capital in the MBA and Executive MBA programs. I also teach an internship for undergraduates, where they are placed with high-tech startups in New Hampshire. I do have to say I am indebted to the lawyers, bankers, angels and VCs who come to lecture in my classes. I am amazed at how many are willing to give up their time.
Q. When you're not at the Venture Research Center, teaching, or traveling what do you do to relax?
A. I believe everybody needs unreachable time. I read non-fiction and I actually have a lobster boat for fishing on Great Bay. My wife is the only one who knows how to reach me.