Q&A with: University executive Steve Barba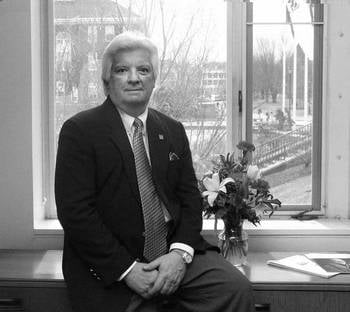 Steve Barba, for decades managing partner at The Balsams grand resort in Dixville Notch, is now executive director of university relations at Plymouth State University.
Barba and his wife Gail recently moved into their new home — the first they have owned — in Concord. He talked with New Hampshire Business Review on one of his first days on the job.
---
Q. What is your new job all about?
A. This is a brand new department, and I am the first executive director of university relations. After they're hired, the director of public relations and coordinator of on-campus events and conferences will report to me. The existing director of the Silver Cultural Arts Center complex, Diane Jeffrey, also reports to me. In addition, I will have a responsibility to the local community and to the statewide, regional and federal communities in regard to legislation and representing issues relevant to the university.
And I am going to be playing some kind of role in regard to development and alumni affairs efforts and university board of trustee efforts. It is a very broad-scale job.
Q. Was it a wrenching experience at all to leave The Balsams, where you had lived and worked for so long?
A. I was there basically 48 years, counting 12 summertime experiences. My place of reference ever since I was 13 has always been The Balsams and Dixville Notch. But this was a willful choice I made after the executive chef decided at age 80 that he wanted to retire. Of our two other partners, one had passed on in 2001 and the other retired in 2001. I knew sooner or later I was going to have to figure out how to make my way through the threshold of Dixville Notch and onto something else.
Q. How big a challenge is it to start a new career at age 60?
A. At this point of my life, I'm young enough and eager enough and excited enough to commit to something else for a considerable amount of time and to know I can make a difference. If I were to wait three more years, it would be a lot harder to do what I really wanted and to have a new challenge.
Q. How do you like being a commuter after all these years?
A. My wife and I have never had a home of our own. It was always a 117-step walk to work, which was the 'commute' I had for 35 years. Now I have a 42-mile commute. I love it. I listen to public radio, I listen about issues, get all revved up to get on with life. I get acclimated to human life again. By the time I get here, I'm ready to go.
Q. What sort of perspective do you bring to the enterprise of higher education?
A. I am among the very first of the baby boom generation. I was born Feb. 7, 1946, and I am also part of the Sputnik generation. The idea was that the space race had begun and there was great pressure on primary and secondary schools to prepare students for that race. I went to school in Needham, Mass., and that school system took that challenge very seriously. By the time I graduated high school, I had four years of accelerated math, all the way to calculus. I had, from 7th grade on, accelerated English requirements through the senior high years. We had to write, in our senior year, a five-act play, a 100,000-word novel, or a 75,000-word critical research paper, in addition to two essays every week — one 1,500 word essay on Monday and another on Friday.
As I remember, 381 of the 383 of us who graduated in 1964 went on to further education.
Q. Where did you go to college?
A. Michigan State in East Lansing, Mich. My freshman class had 12,900 students. The previous class was 5,000. They were not equipped to handle that many students, so they graded on a curve to eliminate about half of us by sophomore year. By the time I was a senior, I could no longer with a straight face tell those innocent freshmen what their chances were without telling them the truth.
I quit college and started hitchhiking. I went out to California searching for myself. I eventually made it back to Michigan. I worked on construction and went back to college and graduated with the class of '69 and went on to grad school.
Q. You taught for a while didn't you?
A. I started to teach English literature, poetry, creative writing. I was in the graduate English program, thinking I would someday be an academic. There is a sense of coming full circle here.
Q. By encouraging so many young people to go to college, have we made many of our colleges and universities the kind of places that Groucho Marx had in mind when he said he wouldn't want to belong to any club that would admit him as a member?
A. It would certainly be my hope that is not the case. Whatever traumas the whole education system has gone through, I hope we have recognized this and are doing something about it.
I think the whole problem came from my generation. We children of the '60's rebelled against every standard and all the mores that existed in the society. We lost a perspective on the long-term benefits of having rigor and discipline as an active part of your character and we went to free everything — free love, free association, free protesting anything we wanted to protest.
And all of that self-expression, self-indulgence and self-focus, I think, caused us for too long not to develop the same kind of discipline requirements or standards in regard to the way we brought up our children and the way we continue to educate them.
That lack of direction, that lack of a system and a structure really caused school committees to go haywire. But I think there was an obvious reaction to all of that and that reaction has steadied the ship a bit.
Q. So how do you balance the demands of individualism — that quest to find oneself — with the need for that steadier ship?
A. No one has ever been Steve Barba. No one has ever lived my life. That's my job. I still need to live it in my way in order for it to be me. There has only been one me, and I have to be he. It's my job to do that and you can't take that away from me.
'I don't know' and 'I can't help myself.' Those are two answers I've never accepted from my kids or from myself.