Q&A with: Tourism guru Dick Hamilton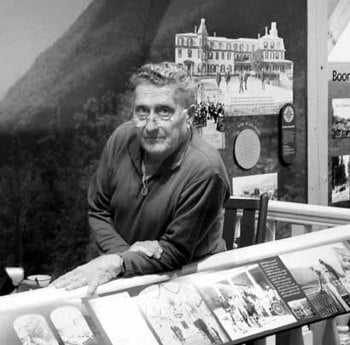 The White Mountains of New Hampshire have more visitors each year than Yellowstone and Yosemite national parks combined, Dick Hamilton notes proudly. Both the numbers and the natural beauty of the region are impressive to the 69-year-old North Conway native, who retired March 1 after 35 years as executive director and president of White Mountain Attractions, an association of 17 of the largest tourist attractions in the area.
Before leaving, the Littleton resident spoke with New Hampshire Business Review about his career and the progress of tourism in the White Mountains region.
Q. We've lost the Old Man of the Mountain and now you. Can the White Mountains survive?
A. Oh, sure. I've said that when the Old Man came down that was the end of it for me, too. I said that 25 years ago. But I'll still stay involved with the Old Man project. That's an organization that's been developed called the Legacy Fund that's supposed to raise money for the memorial and whatever museum and educational contacts we have for the project. And of course this is the bicentennial of his discovery. He was discovered in 1805 by Luke Brooks and a friend.
Q. Has the loss hurt tourism at all?
A. Frankly, it has. The museum and the ice cream shop at the site are off about 60 percent. Both the Flume and the tramway were down this year.
Q. There are a few other natural formations that resemble a profile.
A. They'll never reach the level of fame or acceptance that the Old Man has. The Old Man, I think, is symbolic in that people would look at that profile and say, "That's New Hampshire!" It's the strength and the feel of New Hampshire and it has that sort of bold look, you know. The Indian Head doesn't do it. And Washington lying in state doesn't do it. And George Washington over in Jackson doesn't do it.
Q. Washington lying in state?
A. Yeah, that's Mt. Liberty. If you look at Mt. Liberty from 93, that's sort of lying back up there and you can see the profile. It sort of looks like George Washington. And over in Jackson, of course, there's a rock about the size of this room and that's a profile of George Washington also. But it's on private land, so it's not accessible.
The Indian Head is probably the best one, but its viewing point is on private land. It's not in a park. You view if from the Indian Head Resort.
Q. How did you get involved in promoting tourism in New Hampshire?
A. I interviewed with Sherm Adams for the job of manager of Loon Mountain in '65, maybe early '66. He interviewed me climbing that mountain. I was to meet him at the old Lincoln Hotel, which has since burned. So I was dressed in a suit and tie and the whole nine yards, because I was going to be interviewed by this legendary man. And I'm standing in the lobby waiting for him, and here he comes with flannel pants and a flannel shirt and rubber boots and an old hat. And he looks at me and says, "You Hamilton?" I said, "Yes, sir." And he says, "I'm Adams, let's eat."
We sat down to lunch and he said, "You got anything else to wear?" I said, "I've got some boots and jeans in the car." "Put 'em on." So we interviewed on the way up and I knew about halfway up the mountain that nobody else was going to run that place but Sherman Adams. But three months later, there was an ad in the publication Ski Business for an executive director of the new White Mountains promotional organization called Ski 93. So I applied for that, even though I'd never done association work before. And I think because of that (Loon Mountain) interview and because Sherm was on the board that was going to choose who it was, he probably said, "He's OK."
Q. How did White Mountain Attractions get started?
A. They were organized in 1959, but they didn't have any staff. It was purely voluntary. And they came to me after I'd served four years as director of Ski 93, and they asked me if I would help them publicize the centennial of the Cog Railroad in 1969. So I did that, and it was kind of a successful event and they said, "How would you like to take over this organization and be its first director?" So I said, well, I've been at Ski 93 four years, there's not a lot more I can do, so I said, "Yeah, I think I'll do it." So I did it. On March 1, 1970.
Q. How have things changed in the 35 years you've been here?
A. Oh, boy! It used to be that in the summertime, people did their two-weeks vacation, from year to year to year. They arrived on a Saturday and left on a Saturday, and so you knew your biggest day was going to be Tuesday or Wednesday, after people had been here two or three days and got tired of looking at the trees or looking at the lake and they'd want to do something.
A lot of our business in those early days came out of the Lakes Region, because there were so many cabins and cabin colonies and motels down there. Well, that's changed dramatically, too, because they've gone condo. So instead of turning over every seven days with a new family, the same family has that cottage now for the whole year. So you've lost about 80 percent of your turnover in customers to these year-round facilities, and that has hurt.
Despite that, our business has grown, slowly but steadily. I would guess that we are the third-busiest destination in New England, after Boston and Cape Cod, then us and the Maine coast. You know, it's between 7 and 8 million visitors a year to the White Mountains, more than Yellowstone and Yosemite combined. And we're the most heavily visited national forest in the country, with the exception of Angeles National Forest, in the suburbs of Los Angeles.
Q. So why are you leaving now?
A. When I took this job, I said I'd stay as long as it was fun. And it has been fun. But I haven't had a summer off since I was 13. I want to have summers off. And I don't want to come to work every day anymore. But I'll still be involved with a number of boards and commissions and charitable work. And I'll probably do a little consulting.
Q. You still miss the Old Man?
A. Oh, yeah. Between here and Littleton, I'm routed right through Franconia Notch. And every night on the way home, I would look up and say, "Good night, boss." Even when I couldn't see him, I'd say, "Good night, boss." And I still say it, even though he's not there anymore: "Good night, boss."