Q&A with State Librarian Michael York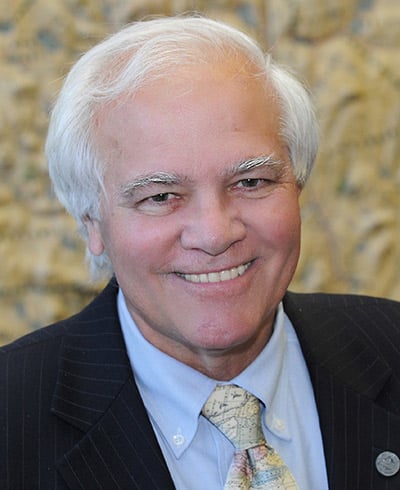 The career path that led Michael York to the post of New Hampshire state librarian began early in life. "I came by it honestly," he explains. "My mother was a librarian."
York, 70, has been a librarian for 45 years. A native of Newton, Mass., he is a graduate of the University of New Hampshire, with a master of library science degree from Louisiana State University and a master of business administration from Plymouth State College. A resident of Goffstown, he is a former dean of libraries at the University of New Hampshire in Durham, was librarian at Colby-Sawyer College in New London and has been state librarian since 1999.
Celebrating its tricentennial this year, the NH State Library, founded in 1717, preserves official state documents, records and items of historic interest, as well as books by New Hampshire authors.
Q. Among your duties, you are responsible for preserving and making available to citizens and agencies all of the history deposited in a 300-year-old institution. Does that responsibility weigh heavily on you?
A. We have to do this in an ongoing way so, believe it or not, it may be easier for us to maintain the things we had in paper hundreds of years ago than it is to try to capture all the stuff now being borne digitally.
As the technology advances so quickly, how do you make sure you'll be able to retrieve information in a format you can read 10 years from now? Think of the stuff that was done on floppy discs. If you have stuff on paper, you want to save every valuable record we have in the building. And something you may not think important – say we had a letter Trump sent to Putin three years ago – may become important. That's the challenge I see. If you have enough money, you can protect everything you have, but it costs a fortune. So you make decisions.
Q. Do you find many of the state's residents are unaware of the State Library and its functions?
A. When I introduce myself, sometimes people look at me with a quizzical expression. When they ask where (the library) is, I tell them it's in Concord in the Capitol quadrant, in a building that's almost as old as the State House. The building is 120 years old and contains 40,000 square feet on four levels. Maintenance is a huge challenge. We're going to spend hundreds of thousands on repairs, to remove things like mortar between the large granite stones. A building is like a car or any other machine, or like our bodies when the bones start creaking. It comes with age.
Q. How many volumes do you have?
A. We say we have 600,000, but each annual report from an agency counts as a volume.
Q. How do you fit it all?
A. More and more are coming in in digital format. It used to be we'd take space from existing seating capacity. At the main campus at UNH, we were constantly taking seats and tables out of the library to put in more stacks. The digital access issue for most libraries is that we want to provide instantaneous and ubiquitous access, if you will.
We're going to have to replace our large technology library automation system and it's going to cost half a million dollars. It's 15 years old and actually, that's an eternity in this technology.
Q. What's the most unusual item you have in this library?
A. We have a ring that was given to Franklin Pierce by the state of California. It's made out of gold and it's huge. It looks like a Super Bowl ring. It shows the different kinds of gold that were discovered in California. It's not the kind of thing we usually collect, but if somebody offers something like that, we'll take it. We also have a magnificent grandfather clock.
Q. What is the relationship between the State Library and local libraries?
A. There are 234 public libraries in the state, one for every city and town, including towns that don't have a McDonald's, a Burger King or a Dunkin' Donuts. We have five vans on the road every day bringing books and other materials to libraries around the state through inter-library loans.
Q. Generally speaking, is there good cooperation among the various libraries?
A. Actually, I think they work very, very well together, in part because the larger libraries, I think, feel obligated to help the smaller ones with lending materials. I find it to be a very tightknit community. The New Hampshire Download Book Consortium has 205 of the libraries in the state, from Manchester to Piermont, one of the smallest communities in the state.
About 20 years ago, the library in Groton was wiped out by a flood. Groton has a population of 597. About three miles away is Hebron, population 603. I suggested Groton might want to talk to the people in Hebron. The Hebron library began functioning as the public library for both communities, and it seems to be working very well.
Q. It's a common perception that Americans don't read as much as we used to. Do library records affirm or reflect that?
A. I think Americans are reading less, but one of the problems we have is with the traditional statistics on library use, known as circulation statistics.
A library says in its annual report that circulation was up 10 percent this year, therefore more people are using the library, therefore we need more money. But if the next year circulation goes down by 10 percent, do you have to cut 10 percent? Statistics are subject to all kinds of vagaries because libraries use different methods of counting things and the statistics are just so variable.
I can tell you there are good libraries in this state because the communities love them and I have no idea what the statistics are. When I can look at two libraries that keep the records in exactly the same way and they mean the same thing, then I'll put faith in statistics.
Q. What are the characteristics a person needs to be a librarian?
A. I interact with a lot of library directors and they're very smart, very savvy. I think you have to have a good sense of humor, because it makes the world a little bit easier to deal with. And I think in public libraries you have to be patient.
Librarians see the potential libraries have to change things, but the political world moves very slowly, and it's affected by so many things. I've seen it happen with a number of building projects. Every few years they go back for a new addition. It happened in Conway when Margaret Marshner was the librarian. Year after year she went back to town meeting until she finally got enough votes. Now the Conway library is a beautiful library.
Q. Given the number of materials librarians have to keep track of, don't they also need to be well organized?
A. They need to be organized in their public persona, for sure. When somebody shows up and wants information, you'd better be able to put your hands on it very quickly. I don't care what your basement looks like, as long as you can do the job when you get behind the desk. My desk is an absolute mess, but I still think I'm a pretty good librarian.