Q&A with: Simon Malls marketing chief Deb Stone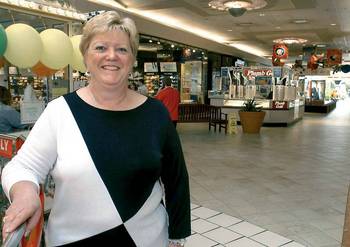 For the past 15 years Deb Stone of Exeter has watched the evolution of New Hampshire's retail mall business – from the inside. She began a career with Simon Property Group as director of marketing for the Mall of New Hampshire in Manchester and has also spent time in the marketing division of the Mall at Rockingham Park in Salem. Last October, Stone began overseeing marketing of all three of the state's Simon-owned malls – the third is Pheasant Lane Mall in Nashua — as area director of strategic mall marketing for Simon Property Group.
A native New Englander, Stone spent 17 years in marketing for Frito-Lay in Dallas, Texas, before settling in the Granite State.
---
Q. What does your new job entail?
A. I oversee the management of all three marketing programs and the budgets that go along with them. Each mall has a budget of about $1 million, so I'm looking at about a $3 million budget to promote the centers and their specific platforms, like the Simon Kidget Centers for children, the Detour program and our gift card programs.
Q. How did you end up overseeing marketing for all three malls?
A. I ask my boss the same thing. Actually, I think it was just a natural thing. I had experience doing marketing for a national company, I had the national management skills to go along with the marketing skills and I could learn the retail end of it. It just worked.
Q. How does the marketing needs of the three malls differ? Or do they?
A. We have some things that are the same in all three malls, our gift card program for example. But our Pheasant Lane Mall has a higher population of teens so we've introduced our Detour program that is like an American Idol for our teens. The clientele is a little different for each mall, but I'd say there is about a 75 percent overlap for all three.
Even with a high overlap, that doesn't mean we do things exactly the same. We try to change each program a little so that it really belongs to its specific mall.
Q. Do you utilize traditional media for mall marketing?
A. We use a variety of traditional marketing strategies – print, cable – but we advertise to our own customers also with in-mall signage and electronic readers. Now outside, noncompetitive companies have even begun using these for their own marketing. They're able to reach the customer one last time before that point of sale.
Q. What are the challenges of overseeing three different sites?
A. Our biggest challenge is probably trying to promote the same programs to three different demographic groups. We work hard at giving them all their own individual stamps.
Q. New Hampshire is one of only five states without a sales tax. Does this change your marketing tactics? Do you do things differently with the two border malls?
A. It doesn't particularly change things. It may have some affect on large ticket items for the malls on the Massachusetts border, but only when the items are cash-and-carry.
The only time there might be a change is if Massachusetts has a "tax-free" shopping day, like they did after the Democratic convention, when they needed to bring people back to the state to shop, but that happens rarely.
Q. We've seen a big push in Main Street revitalization projects throughout the state – has this affected the mall's retail business?
A. Actually, there's been a positive affect. Anything that's good for Manchester is good for the mall. It brings more people into the area and they stop to do a little shopping or to get a bite to eat.
Today's family lifestyle is so busy, people have less and less time and still really need that one-stop-shopping where they can get pizza and Chinese food and a birthday gift for Grandma all at the same time.
Q. How about the big-box stores like Wal-Mart and Target?
A. These stores don't particularly hurt our malls. We offer a different product. People might go to Target for shampoo but come to the mall for clothes or shoes or a television.
But, again, these stores bring more people to the area and that's good for us.
Q. Is the Internet keeping people out of the malls?
A. The Internet does a huge retail business, but it still only accounts for 5 to 10 percent of all retail shopping. People still like to compare, touch and try things on. What we are finding is that people are using the Internet to do a lot of research. They know when they come in that they want a Toshiba or another specific model of whatever it is they're hoping to buy.
Q. With Macy's and/or Filenes in all three of your malls and a stand-alone Macy's in Bedford, can you offer any insight as to what New Hampshire shoppers can eventually expect following the merger of Federated and May Department Stores?
A. I can honestly tell you I haven't heard any rumors about what will happen to the Bedford Macy's location, and our permanent leasing company is overseeing things at the stores in our malls, so I really can't tell you anything.
Q. When you shop are you a mall person or do you head out to Portsmouth for more of a boutique experience?
A. Both actually. I do shop my own malls, and I'll tell you it's a great place to work when you have to pick up that birthday gift or your shoes are killing you. But I do like to get out to other stores to check things out. I guess it's the same for people who work in an ice cream parlor – they don't go out for ice cream on their days off.