Q&A with Secretary of State Bill Gardner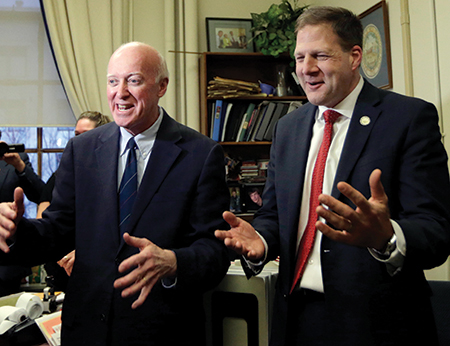 Ever since state lawmakers elected him to the first of his 21 terms back in 1976, Bill Gardner has rarely faced a significant challenge for the job in his 42-year reign as New Hampshire's secretary of state. Until this past year, when he survived a close race with former Executive Councilor and 2016 Democratic gubernatorial candidate Colin Van Ostern, winning in the end by a vote of 209-205.
The 70-year-old Manchester native is a lifelong resident of the Queen City. A Democrat, he served two terms in the NH House and was elected to a third term before opting instead to seek the secretary of state job.
A graduate of the University of New Hampshire, with advanced degrees from Harvard University and the London School of Economics and Politics, Gardner is currently the longest-serving secretary of state in the nation.
Q. Will the closeness of the vote, with nearly half the legislators wanting to replace you, put a strain on your relationship with the Legislature?
A. No. And if you were here for what happened afterwards, you would answer the same way.
Q. How did you campaign for re-election? Was it simply a matter of calling and meeting with the legislators?
A. I began the day after Thanksgiving and I made an attempt to reach everybody, but I wasn't able to. I did an email after the election that was just a brief paragraph and all it said was I am going to be seeking another term and I won't be able to get started until after the recounts have been completed.
Q. After winning the office 21 times, how did you become, as you said, the "underdog" in the campaign?
A. I think it was because of the money. I've never taken any money. I've had people walk into my office and put money on the desk and I said, "Thank you, but no thank you." (Van Ostern) began after the town meetings in March and he raised over a quarter of a million dollars from two PACs. No one ever ran for this office like that.
Q. Why did you want to be secretary of state to begin with?
A. I was a member of the committee that dealt with all the election laws, and after we had the closest U.S. Senate vote in history, our election laws came under a microscope. It came to light that a candidate could pick up absentee ballots and deliver them personally, like the mess we're seeing in North Carolina and California. So one of the reforms that came out of that was that a candidate couldn't just get 25 ballots, bring them to people and bring them back. That reform was overturned by a judge six months ago. I introduced a lot of reforms and when I spoke on the floor of the House, I spoke on election bills.
Q. When you ran for the job the first time, you were running against Arthur Drake of Lancaster a veteran of both the House and Senate.
A. And the Executive Council. And a member of the (House) Appropriations Committee at the time.
Q. How did you campaign then? Did you contact legislators by phone, visit them at their homes?
A. By phone. When I called a person, sometimes they'd say. "I'd like to see you" or "I'd like to speak with you." I didn't go unsolicited. Elmer Johnson over in Winchester called and asked me to go come over and answer a couple of questions while he was milking his cows at 5:30 in the morning. I got there at 5:30, and I answered his questions while he was milking the cows. He ended up making the seconding speech for me – and he was a Republican.
Q. How did New Hampshire get the first-in-the-nation primary back in 1920?
A. Our first presidential primary was in 1916. Indiana and Minnesota had primaries that year on the same day as ours, the second Tuesday in March. During the Progressive era, almost every state had presidential primaries. The party leaders didn't like them because they wanted to pick the candidates. So they said, "Save money, get rid of it."
Over the next three years, Indiana moved its presidential primary to May because that's when they held their state primary. Minnesota abolished its primary and went to caucuses. So in 1920, New Hampshire became the first-in the-nation primary state by default.
Q. Back then the names of the candidates weren't on the ballot, were they?
A. We've had three stages of the primary. From 1920 through 1948 any person in the state who wanted to be a delegate to one of the national conventions could come into the secretary of state's office and file to have his or her name on the ballot. The candidate's name was on the ballot, but you couldn't vote for the candidates, you could only vote for the names on the ballot with them. That was changed in 1949 so that the names of the presidential candidates would be added in a separate part of the ballot. It remained that way in the primaries from 1952 through 1976. Now just the candidates' names are on the ballot.
Q. Quite apart from their politics, which candidates have you found to be the most interesting in their characters or personalities?
A. Most of them are pretty interesting in their own way, both the well-known and the lesser-known. Most of them are pretty passionate about it. Here, any person who wants to be try to be president can come here and sign up for it.
Q. You get calls about the primary from newspapers all over the country. There was one that resulted in a great deal of confusion.
A. There was a national story in The New York Times by Adam Nagourney about me calling the New York Times a "liberal rag" and saying "Leave me alone" and "Don't call me on a Saturday afternoon." I called the paper, and when he called back the first thing said was, "I've been trying to figure out what I did to offend you." I said, "Adam, You didn't talk to me Saturday." He said, "Yes. I did." I said, "What number did you call?"
It turned out it was a Rochester number that he must have got online. The (William Gardner) he talked to thought it was someone trying to get him to subscribe to the paper, and he was trying to get out of the house to go on vacation. (Nagourney) admitted to me that he did not ask him if he was the secretary of state. It was a journalist's nightmare.
Q. You've said one reason you wanted to win re-election this time was so you could be in office in 2020 to celebrate the 100th anniversary of New Hampshire's first-in the nation presidential primary. Does that mean this will be your last term?
A. What I have not said is, "That's it." What I have said is that it's an important time because of all the primaries that I set the date for. When I've been discussing this with other states I've said the tradition is in our state. We never took it away from the rest of the states. It happened here naturally. So I want there to be an awareness of that, not just here but in the whole country. So that when it is time for me to leave, [the primary] will be left in the strongest position possible. That's my goal.