Q&A with SBA's Hugh Curley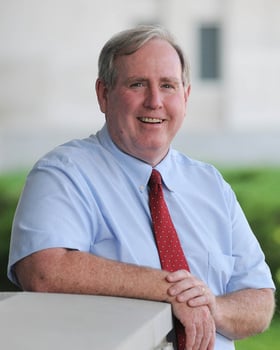 Hugh Curley, a business development specialist with the New Hampshire office of the U.S. Small Business Administration, can counsel entrepreneurs with good authority – he spent six years as a Franciscan friar. Even more intriguing, prior to his years in a religious order, he worked with the likes of Howard Cosell at Monday Night Football, when it was on ABC.
Q. You've traveled quite a winding road before arriving at the New Hampshire SBA.
A. When I graduated school, I wasn't sure if I wanted to be a priest or not. I first went to work for Monday Night Football at ABC. I worked as a gofer with their graphics crew. I made some really good friends from those days that I still keep up with.
Then I went to grad school at Maryknoll in upstate New York with the friars in 1978. I was a Capuchin Franciscan — I wasn't smart enough to be a Jesuit (laughs). Yes, I went from Howard Cosell to a year of silence.
Central America was an extreme hotspot at that time. That was the time, December 1980, when the three sisters from Maryknoll and a layperson, Jean Donovan, were killed in El Salvador. They were a year ahead of me at Maryknoll. That made everything very real, very quickly.
Q. When did you leave the order?
A. I left in 1983. There was no moral crisis — it just wasn't for me. One of the parishes I worked at in Connecticut as a friar asked me if I wanted to stay on a layperson. So I stayed doing parish work.
After I got married and had a family, I started doing graphics and production for horse racing at a teletrack in New Haven.
Later I was selected to be on the board of selectmen for Durham, Conn. That helped me develop some credentials and an understanding of what businesses were going through.
I became connected with the Middlesex County Chamber of Commerce and later became its vice president. At the chamber, we secured monies for a revolving loan fund, and then the SBA came along.
Q. When and why did you come to New Hampshire?
A. I came to New Hampshire two years ago this June. We've built a house in Epsom.
I came to New Hampshire because there was an opportunity here. It was an opportunity to see the skills I developed in Connecticut and community involvement, to see how they would "play on the road."
The New Hampshire SBA has gone through a major transition this year. Greta Johansson is the new New Hampshire District director. It turns out, she was my old supervisor in Connecticut, so it's been a reunion of sorts. She's gotten a lot of respect from the lenders down there and helped me learn a lot.
Q. What did you learn during your time as a friar that aids helps in your current job as a business development specialist?
A. There is a need to counsel people on capital preservation. It's not just about whether you need to get financing or not, it's about whether getting into business or not is a good idea at this time.
There was this continuity there to help people, to help them make sense of life and do good things. You are very much a counselor, similar to working at a parish.
Q. What are some of the SBA's programs that are often overlooked by business owners?
A. I think people could know more about the government contracting programs. We try to connect business owners with government contracts or with subcontracting opportunities with larger contacts.
Q. What are some of the philosophical mistakes that business owners often make?
A. If they're an existing business owner and they've had success at something, sometimes the pitfall is that they identify themselves with that process rather than being a solution-finder.
Likewise, when someone's new, they might say, "I've got the answers," and they're not open to questions from others.
Q. What advice would you give someone considering a big career shift — like you did — especially when contemplating starting a business?
A. Keep connected to where you came from. You never know when one of those contacts can be a seed that germinates into something. Also, you need to be going somewhere. Stepping backwards is the dangerous part of career change.