Q&A with: Rustic Crust founder Brad Sterl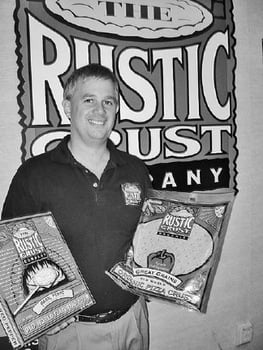 Brad Sterl is founder and president of The Rustic Crust Incorporated, a Pittsfield-based food manufacturer of all-natural and organic pizza products, ranging from shelf-stable crusts to frozen flatbread, fully topped pizzas to pizza kits. Rustic is the No. 1 all-natural pizza crust on the market, having started as No. 7 of seven less than 24 months ago.
Born and raised in Wells, Maine, Sterl got his start in food working as a cook for Weathervane Seafood Restaurants. He quickly moved up the ranks, ultimately managing one of the chain's restaurants in Lebanon, N.H.
In 1986, he left Weathervane to purchase his first restaurant, the Owls Nest in Lebanon. He built the business and successfully sold it two years later, moving his family to Concord.
After opening another restaurant (The Eagle Pasta and Seafood Restaurant), Sterl decided in 1991 to join the Foodee's pizza restaurant chain, initially as director of operations and ultimately as a partner and president. Foodee's had 19 locations along the Eastern Seaboard. Making pizza crusts out of the restaurant ovens after dinner hours, Sterl and his partners opened a manufacturing facility in Pittsfield to supply the Foodee's chain, as well as develop a related food-service business.
In 2000, the partners decided to shed the franchise business and focus on the crust manufacturing business. Sterl stretched the company (then called Ever Better Eating) into retail with a shelf-stable all-natural product that is the basis of today's Rustic Crust product.
Funding for the manufacturing company came from individual investors. In 2004, the business started to see increased demand for product, so Sterl and his investors started to look at financing sources. One of his partners heard about a "Financing Fast Growth" seminar in Rochester. It was there Sterl met CEI Community Ventures (CCV), with whom he eventually struck a partnership.
---
Q: So tell us about that first funding experience.
A: The initial round was interesting. During that seminar, we learned about the different types (and stereotypes) of venture capital investors. One reason we focused on CCV was because of its focus on non-financial as well as financial criteria. Your interest in job creation in under-served communities was a big factor for us. We understood that the partnership is like a marriage; our goals and philosophies were very aligned, which was important to us.
Your colleague Mike Burgmaier was an incredible asset to us throughout this process. Mike helped prepare the business plan and investor presentation and then set out to identify and facilitate meetings with investors that allowed us to complete the financing round.
My wife thought that Burgmaier worked for Rustic Crust. Mike's support behind the company was something I just didn't have the time or knowledge to do.
Q: What was the result?
A: Bringing in the capital allowed us to keep production in Pittsfield, where we've grown from 12 to 30 employees; we feel good about helping add good-paying jobs to an economically depressed area.
We invested a couple hundred thousand dollars in the facility, which has been good for the company (production streamlined) and for employees (better working environment). The capital helped us improve our benefits, which now include health insurance and a generous paid time-off program. The funding also created the context to create a portion of the company that will be made available to employees.
Q: You've said the investment goes beyond the simply financial.
A: As part of the financing, we created a professional board of directors with some very experienced food people.
The grant program that CCV manages has been invaluable to us. Through the program, we've gotten an additional $300-400K worth of services including food industry marketing, sales and operations consultants who have helped us to step up in a way that the equity alone could not do. In many ways, it put us on par with larger companies in the market.
One of the key factors was a rebranding exercise (with Ethos Marketing of Portland, Maine) that led us to rebrand the company as Rustic Crust. That change and our repositioning were the jumping off points for our growth.
Also important was the employment consulting work done by Cope & Associates of Burlington, Vt. Cope helped the company align policies and procedures relating to how we interact with and treat our employees.
It's unfortunate that this type of program doesn't exist with other funds. There are a lot of companies that could benefit from this resource.
Q: What was different about taking on a capital partner?
A: The biggest change has been having to answer to somebody (the new board of directors). My old investor group met regularly, but not as formally as the current board. This has been a positive thing for me and for the company.
Q: How has business done?
A: The capital allowed us to fuel the company's growth. We've doubled the business in each of the two years since that initial investment. We've also brought on key management, including a vice president of sales, developed our finance and operations functions, built inventory and gotten into new markets.
The investment also helped us attract a national broker — something that's key for us as a food manufacturer.
Q: You've just completed a second financing round. Can you talk about that?
A: As with the first round, the people that I was interested in having were people like CCV, that believed not only in the business opportunity but also in the non-financial matters — job creation in under-served communities, strong values, etc.
If our first financing round was about positioning us for growth, the second round was about funding that growth. New products (club business, organics, wood-fired frozen pizza) drove the need for new capital to realize the potential for the business.
We continue to see need for equipment and facility improvements, support working capital and hire additional staff. The new lead investor — SJF Ventures out of Durham, N.C. — is an attractive group as they, we and the existing investors had strongly aligned interests and values.
Q: Any final thoughts about doing business in New Hampshire?
A: New Hampshire can be a challenging place to build a small business. While there are many resources for early start-up businesses, especially technology businesses, and late-stage businesses, there is less available for companies in-between.
I'd like to see more community and state funding to help businesses that were where I was when I was looking for expansion capital.
Banks and local economic development lenders tend to be focused on cash flow and asset coverage. Small emerging businesses like mine need more than I've found available.
The absence of a sales and income tax may be an attraction for some but has the consequence of driving real estate taxes up, which is a turn-off for others.
Finally, New Hampshire is a great place to live and raise a family. I travel all over the country. Wherever I travel, I always want to come home to this state.
Michael Gurau is president of CEI Community Ventures, a Maine-based venture capital fund that operates in Northern New England. He can be reached at mhg@ceicommunityventures.com.