Q&A with: PUC Commissioner Clifton Below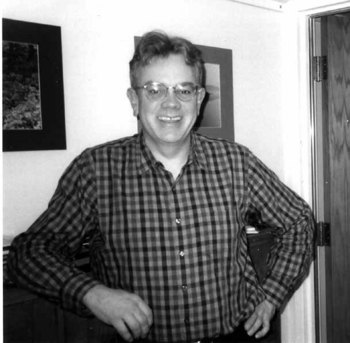 Higher and more volatile energy costs are what New Hampshire and the Northeast can expect in the years ahead, predicts the newest member of the New Hampshire Public Utilities Commission.
Clifton Below of Lebanon, 49, worked extensively on issues affecting utility regulation during his 12 years (1993-2004) in the state Legislature as a representative and senator. He chaired a number of committees dealing with science, technology and energy issues and was a prime sponsor of the 1996 legislation that changed the regulatory structure of electric utilities in New Hampshire and allowed consumer choice in the purchase of electricity.
He also played a key role in negotiating a settlement to the suit Public Service New Hampshire brought against the state over the utility's ability to recover costs on investments made under its previous monopoly status.
Below, who assumed his new post on Dec. 27, was preparing to step down as managing partner of One Court Street Associates, a commercial real estate firm, when he spoke with New Hampshire Business Review.
---
Q. Why did you want to be on the Public Utilities Commission?
A. Well it's not a nomination that I sought nor one that I accepted lightly. I did come to the conclusion that it was a good fit both for the state and me at this point in time. And it was an area where I could continue in public service, perhaps an area where I could be most effective in contributing to the prosperity of the state.
Q. In what ways do think your experience in the Legislature will help you on the Public Utilities Commission?
A.Well, I think I have a pretty deep background in a lot of the issues the commission will be considering. For instance, I've done a fair bit of reading and speaking on state and federal jurisdictional issues on electric utilities. In fact, I've testified before both U.S. House and U.S. Senate committees on behalf of National Conference of State Legislatures on jurisdictional and energy and public utility policy issues. So I think it just gives me a head start in having a background on those issue and understanding the work that has to be done in advocating New Hampshire's interest in regional and national forums.
Q. What are some of the jurisdictional issues right now in energy regulation?
A.Well, for instance, the federal government, through both legislation and through FERC (Federal Energy Regulatory Commission) has decided as a matter of national policy to promote wholesale competition in the electricity market. One of the extensions of that is promoting open access to transmission of resources as well as capacity. So right now there's a pretty big issue with regard to a proposed rate charge, which would affect New Hampshire ratepayers with something like LICAP, the Locational Incentive Capacity charge.
Likewise, there have been issues at the federal level as to whether the federal government would preempt states in terms of siting authority for new transmission facilities, for instance.
Q. How has the growth of wireless communications affected regulation of the telecommunications industry?
A.In telecommunications, the trend has been toward more and more competition, but there is still this wireline infrastructure on the streets and the central switching equipment that was developed under the monopoly franchise, which even the wireless taps into as part of the telecommunications system. So there's a role for the state PUC in continuing to regulate those assets to insure there's a level playing field and to promote appropriate competition.
Q. What's the biggest challenge in utility regulation in the 21st century?
A. I think the biggest challenge is finding the right balance between harnessing the power of competitive markets and balancing that with protecting consumer-ratepayer interests and not over-regulating.
Regulation is by definition a burden and a cost that ratepayers will ultimately have to pay.
Q. You've been an intervenor before the PUC a number of times. What case stands out most in your mind?
A.The biggest one was the restructuring of the electric utility industry after the Legislature in 1996 passed legislation to introduce more competition to allow customer choice.
New Hampshire was the first state in the nation to pass restructuring legislation that looked at trying to open up competitive elements where we could, including the option for customers to self-generate and have interconnected self-generation. Before, under a monopoly franchise, you couldn't self-generate and sell power back into the grid. And now you can. So that was by far the biggest issue, because PSNH took the state to court and litigated and challenged New Hampshire's effort to restructure them.
Q. New Hampshire has long had either the highest or one of the highest energy costs in the country. How much of an impact has that had on New Hampshire businesses?
A.Before we restructured we had the highest electric rates in the entire nation. We're now around the regional average in terms of electricity costs, but the region itself, the Northeast, has some of the highest energy costs in America. That's partly because of our geography; we're sort of at the end of the pipeline as far as fossil fuels, although some of the natural gas in the Maritimes puts us a little closer to the wellhead. But high energy costs are a very serious matter for business and consumers.
I'm afraid that we're probably at the end of the days of low-cost, stable energy prices and that we're moving to an era of higher cost and higher volatility. Part of what is likely to drive the energy market — not just for New Hampshire, but for the whole region — is the growing imbalance between supply and demand in petroleum, in liquid fossil fuel.
Many of the world's leading petroleum geologists and economists believe that we're approaching a period of peak production of petroleum, and we're going to increasingly rely on other energy sources to accommodate our growing demand.
Q. Will that likely mean more or less regulation?
A. Well, it's a mix. One of the things that's been going on is the regional Greenhouse Gas Initiative, which Governor Lynch and the other Northeast governors have announced. And I mention that because there'll be some more regulation there, but it will also use market-based mechanisms to reduce our greenhouse gas emissions, which means to some extent becoming more fuel-efficient and perhaps moving away from some of our fossil fuel consumption, including in the electricity markets.
Q. What do you hope to accomplish in your term on the commission?
A. I hope to see the commission refine its role in the regional and national context, and I would hope that it's able to do that at the state level, but also become more effective as an advocate for the state in these regional and national forums.
Part of that is going to be working with our congressional delegation to insure that federal policy, as it unfolds in energy and telecommunications, reflects state interests and leaves an appropriate role at the state and regional level. I think that's the biggest challenge and the area where I can contribute most.