Q&A with: NHLRA President Michelline Dufort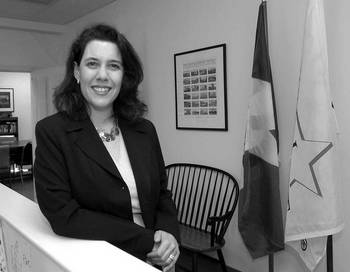 Before taking the job as president of the New Hampshire Lodging and Restaurant Association in September 2005, Michelline Dufort served as executive director of the Anthony Spinazzola Foundation, a Boston-based organization dedicated to hunger relief, culinary education and job training for the homeless.
Through her efforts at the foundation – the first non-family member and first woman to lead the organization – Dufort not only secured the financial support needed for it to remain committed to its causes, but earned a reputation as a high-energy person capable of getting things done.
Today Dufort puts her energy into overseeing an organization dedicated to supporting the causes of the Granite State's restaurant and lodging industries.
---
Q. What prompted your move from Boston?
A. For me, New Hampshire offered a superior quality of life, and the best of both worlds. Professionally, I'm working in a vibrant business community. Personally, I have the chance to raise a family in a setting much like the one I grew up in.
Q. How do you see the New Hampshire Lodging and Restaurant Association's role?
A. We're here to promote, protect and educate members of the restaurant and lodging industries throughout the state. Legislatively, we try to be there for different restaurants who choose to testify on behalf of pending legislation, like minimum wage or the smoking issue.
As far as providing educational opportunities, this goes both ways. We educate on all levels, from waitstaff to management, and we look for ways to educate. For example, we have a number of Brazilian immigrants in both industries whose primary language is Portuguese — we're looking at ways to make learning English accessible to them.
Q. How have your previous positions prepared you for your role as president of NHLRA?
A. I've worked in the restaurant industry for so much of my life. My parents were part-owners of a restaurant when I was younger and I worked as a waitress all through high school and college. You develop such an appreciation for the industry and the people within it.
In Boston, I worked for a nonprofit that depended on the industry completely. I've always believed everything I learn will provide me with the tools I need to meet the challenges I face in this job and in life.
Q. What are your organization's goals for 2006?
A. We have three areas of focus — membership, partnership and education. I hope to take a look at our benefits — what we offer to our members — and see if what we have is good. I'm confident they are, but I want to look at ways to better communicate these benefits to our members.
I would like to see us better the two-way communication between ourselves and our members — to open doors so we can hear from them more. Also, we have great strategic partnerships, and I would like to see them grow. And we'd like to strengthen our educational offerings.
Q. The restaurant and lodging industries play a diverse role in New Hampshire's economy.
A. In New Hampshire both industries are huge. We employ 58,000 people in food service alone. In 2004, $135 million was brought in through our rooms and meals taxes — it's huge.
Q. How about the workforce, how do they contribute to the success of both industries?
A. They're responsible for the first impressions visitors get about our state. They're our ambassadors — one thing I can't say too often. The people in these industries are so hardworking, generous and dedicated. It's so important that they know how we feel and how appreciated they are.
Q. What impact do you think the proposed ban on restaurant smoking making its way through the Legislature will have on New Hampshire's restaurant industry?
A. I wish I could say what was going to happen. People are so passionate on both sides. I've heard 56 percent of New Hampshire restaurants have gone smoke-free on their own, and with all our surrounding states becoming smoke-free there is precedence.
Restaurant owners are concerned about seeing a decrease in their business, but we're seeing statistics that show that while there may be a dip in sales initially there is a recovery. A number of those opposed to the new legislation don't like the government making this decision for them. It's a very complicated issue.
Q. Fear of rising gas prices may be keeping people closer to home this year – how is this affecting both industries? Is one affected more than the other?
A. The thing about our industries is we take a double hit. There is a reduction in travel, and on the back end we're being hit with rising operating costs too. It's tough enough heating a home, never mind 200 rooms. But with people staying closer to home they will patronize local restaurants and that's good.
Q. What other challenges are New Hampshire's restaurant and lodging industries facing in the short term?
A. Besides gas prices, the economy overall is going through weird changes. Some things like last year's flooding we can't control, but it impacts our industries. After the recent floods we had hotel and restaurant owners from the area calling us to say, "Hey, we're still operating here — tell everybody."
And there is always competition from other regions for the tourism dollar. This state does a great job with this, they're very forward-thinking. Right now we're seeing more people visiting from New York and the state's working to bring in overseas visitors.
Q. Now that you're a New Hampshire resident, where's your favorite place to vacation?
A. Being originally from New York I have to put a plug in for the Adirondacks, but I just love New Hampshire. We didn't just follow my job here, we moved here because we all just love everything about this state — the mountains, the ocean, the culture. Everything is right here, you don't have to go anywhere. I can't imagine being anywhere else.