Q&A with: New England Center GM Stan Martin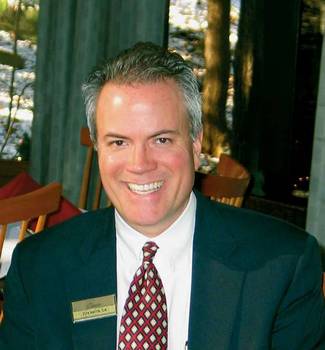 Nestled in the woods on the campus of the University of New Hampshire in Durham is the New England Center. The center's two buildings, conference facility and 115-room hotel are so well situated in their location, one could almost mistake the facility for the granite boulders and tall pine trees that surround it.
According to Stan Martin, the center's new general manager, that is the point — not only for the physical setting, but for those who attend meetings at the center: to merge the placid interior that promotes focus with the serene forestscape to provide relaxation.
Martin, 43, took the reins of the region's premier conference center in October from Gary Armitage, who retired after managing the New England Center for nearly 15 years.
With over 20 years of experience, including over a decade with Marriott International, the UNH alumnus said he was glad to be back and eager to share his exquisite facility with the rest of New England.
---
Q. What made you decide running the New England Center was something you wanted to do?
A. My wife and I had been discussing the possibility of coming back to New Hampshire. We had lived here from 1996 to 2000, in Londonderry. I'm originally from New Hampshire and I'm a UNH grad.
This sort of came up, and after talking about possibly coming back, I expressed interest to see if there was any match potential. A couple of weeks later, I heard back and started the process. And here we are.
Q. What are the differences between running a facility that's owned by a hospitality chain vs. a university?
A. The biggest difference is the group side. This business is historically driven by group business and meetings, as opposed to transient-based — that is, vacation or business travel.
There's quite a bit of activity for the university that happens here. We add to that university business with meetings from outside companies. Companies such as UPS, BAE Systems, Raytheon, etc. — the larger companies in New England who are interested in coming here. For example, UPS does a significant amount of senior management training here. They bring people in from all over the country.
We also host functions for local companies and towns. I can't tell you how many holiday parties we do here.
Q. How much of the center's business is vacationers, non-business travelers?
A. Leisure is about 10 percent of our business, but that's something we really would like to enhance. The majority of our business is associated with the university and the outside company meetings.
We have to do a better job of communicating ourselves, not only to New Hampshire, but to the region. That's something we're poised to do with our marketing efforts. It's a centralized venue in the state of New Hampshire, whether it's the Seacoast or the Manchester-Nashua region.
To do an overnight stay with a dinner or a brunch here is a wonderful thing. We want to make folks in the local area, from Madbury or Durham, to be aware of us a little more. We want them to know that we're a great option for a meal. The venue is a beautiful spot to be in, and we're trying to take advantage of that.
Q. What does the center's distinction as a member of the International Association of Conference Centers mean for potential clients?
A. The biggest difference that we like to talk about is the complete meeting package. When you book a function or a meeting here, you're going to pay one price. That includes all of your meals, your sleeping room, your meeting room rental, all of your meeting room materials, and all-day break refreshments.
Outside of your meeting room, beverages are available all day. We replenish snacks and soft drinks. And this is all included in one price. Typically in a hotel setting, it's all going to be broken down a la carte.
The complete meeting package makes it simpler from a customer standpoint. That's very important. That's something our customers like. There are no surprises or hidden fees.
Also, the audiovisual that happens in your meeting has to be very well done. That's the business we're in. It's not like we have a ballroom where we do weddings, and meetings second.
I've been working in hotels for 20 years, and hotels do a great job at hosting meetings and functions. But you have to ask yourself as a customer, what is your intention with your function? If you're going to have a two- or three-day meeting, and you're going to go over some initiatives and strategic plans with your organization, you have to have a focused environment. You have to have an environment where people are going to pay attention.
The type of business and meetings we're going after are those meetings and events where they're very purposeful, and people have to be focused. This environment allows for that.
Q. We often laugh at the "rubber chicken" we are served at conferences. Visitors to the New England Center might be surprised to learn that the Acorns restaurant was named one of the 100 best restaurants in New England by Boston Globe's "Phantom Gourmet." How important is not just adequate food, but outstanding food to the conference experience?
A. That's part of our difference. What we have here are certified executive chefs. They have been trained at the American Culinary Federation. That's a standard that we have.
We're just a real serious organization in terms of the quality of food that we put out.
For example, we served 690 people for Thanksgiving. If you had an opportunity to see it, it's hard to conceive how many offerings we had and the quality of the food. The turkeys were all whole-bird fresh turkeys, not frozen. We have a pastry chef on site; all of our desserts are homemade.
We can do anything from homemade meatloaf to the highest level of dining.
Q. What's the facility's affiliation with the Whittemore School of Business and Economics and the Thompson School's restaurant management program?
A. Many of our programs are tied in with the university's degree programs. At any given time, we have 50 students working in different capacities associated with a class or an internship.
Q. What an incredible living lab.
A. Exactly. When I was here, this was not an opportunity that was available to students, other than to get a job here and work here. But now, our food and beverage manager teaches one of the labs for the Whittemore hospitality program students. We will do a gourmet dinner next year for a class to show them, from a business standpoint, how an event gets put together — all the planning, managing the kitchen, managing the front of the house, serving it.
The center's conference facility and hotel here are working businesses that students can associate themselves with. They can get a bit of a head start. You can't get this kind of experience in many other schools.