Q&A with: Historical Society chief Bill Veillette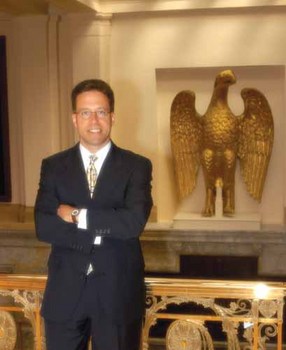 The transition from successful businessman to New Hampshire historian has given one Amherst resident the opportunity to indulge his passion for the past while ushering one of the Granite State's most revered historical institutions into the future.
In the spring of 2004, after the purchase of a historic home in the center of Amherst introduced Bill Veillette to the rich history of the Granite State, he left the business world behind to become executive director of the New Hampshire Historical Society in Concord.
A successful investor, Veillette's employment history includes time with commercial real estate company Trammell Crow and Otis Elevator, for which he served as regional general manager of the firm's Ontario division. His resume boasts an undergraduate degree from Cornell University, an MBA from Harvard and a tour of duty with the 7th Army Training Command, overseeing opposing force training of NATO allies in West Germany.
---
Q. Has history always played such a big role in your life?
A. History has always been an important part of my life. My mother is an antiques dealer and my father was a civil servant for the state of New York. He was very active in the local historic society.
My father was also very involved with genealogy. When I was a child I could never understand why he was so obsessed with the past while I only wanted to live in the present. That changed, and the bug hit me when I reached my mid-30s. He and I actually co-authored a book together, "The History of New Concord, New York."
Q. What lured you from the business world to the Historical Society?
A. I was very fortunate. My career was with Otis, but before that I had invested in a tax preparation company – Jackson Hewitt Tax Service, which we ended up selling to Cendant. That was the liquidity event which gave me the ability to do what I wanted to do.
My plan was to go back into the business world and do something on my own, but I got distracted with the house and when I heard of the opening at the Historic Society it sounded much more interesting so I threw my name in the hat.
Q. How does the management of a nonprofit organization compare to running an operation such as the one you ran for Otis Elevator?
A. The scale is different. At Otis I oversaw $60 million in revenue, here it's $2 million. In the corporate world resources are so enormous you have a cushion. In small nonprofits you don't, you really have to watch what you're doing with your money and with the resources you do have.
Here we don't have any competitors. There is nobody trying to put us out of business. There are other museums and historic places, but we all support each other – we want each other to succeed.
At Otis, things were unionized – you had to be careful about making changes. Here we can change the rules anytime we want if we think it would be better for the organization as long as we adhere to the mission. It's really great.
We have a lot of volunteers here – more than 60. It's incredible – in the business world you don't have people knocking on the door wanting to work for free. People here all share such a passion. If it weren't for them we wouldn't be able to afford to do what we're doing.
Interestingly, the pace is not different. As far as administration goes, the pace is very hectic. We have long days spending time raising money and communicating with constituents. It's more work, quite frankly.
Q. What has been your greatest surprise since joining the nonprofit sector?
A. The one thing I didn't realize was just how loyal people are to this organization. We have 4,000 members, 25 percent are donor-members, and a small percentage are very big donors. There is a real depth to the relationship that goes back decades with so many of these people. You don't often see that in the business world. That really impressed me.
Q. What has been your greatest contribution to the organization so far?
A. When I came on it was after some interim directors. Things had gotten off-course. I'm good at taking complex problems and simplifying them. I've been able to gather all this input from members, staff and the public and write a renewed business plan.
Q. What role do you think New Hampshire's heritage plays in the economic well-being of the state?
A. Personally I moved to New Hampshire because of the elbow room and history. I think you can prove this to be true for a lot of people. It's our competitive advantage.
The issue is what is different here. You want to differentiate yourself and maintain that difference. Ours is our landscape, our history and our government. I ask business owners why they moved here and it always has to do with our heritage and our tax advantage. If we don't preserve what we need to preserve there's no good reason to move here.
I see us helping through cultural heritage tourism and by supporting the preservation of our heritage.
Q. You've obviously put a great deal of care into the historic preservation of your Amherst home, which was originally owned by Col. Robert Means, whose granddaughter later married Franklin Pierce in that very home. A century from now, when someone else moves into the Means/Veillette homestead, what legacy do you hope they work hardest to preserve?
A. I hope they preserve the story of the place. We need to remember the people and the story. Means was a very important person in his own right, and that is so important. My contribution has only been to lock it in and to keep it protected going forward. It's hard to go without sometimes, but sometimes it has to be done – no Jacuzzi hot tubs here!
Q. What is the one thing you want people to know about the New Hampshire Historic Society?
A. I want people to understand we are not a state agency. We were founded in 1823 by private donations, and we'll continue on like that. It's support from our members and volunteers and the public that allow us to do this important work, to keep New Hampshire's history alive.