Q&A with Girls at Work founder Elaine Hamel
Girls at Work is a N.H. organization that works teaches woodworking skills to and builds confidence in at-risk girls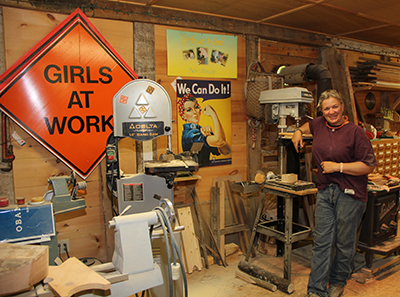 Elaine Hamel is dropping the "t" off of "can't" every day of the week for girls who never dreamed they'd ever know what "can" could feel like.
As founder of the nonprofit Girls at Work Inc., Hamel partners with nonprofit agencies serving at-risk youth in New Hampshire and throughout New England. These at-risk girls then come to Hamel's workshop in Goffstown, where they learn how to use power tools and build everything from small woodworking projects to decks. Hamel's goal is to give the girls the confidence that comes with learning a trade and completing a project.
What started as part-time workshops and visits to summer camps has turned into a full-time job for Hamel. Since 2000, more than 6,000 girls have gone through the program, and she said, "I could not give you a story that wasn't a success story."
Q. What is your background and what was going on with you that this came to fruition?
A. I was a general contractor in Manchester, and I specialized in residential renovations. In my late 20s, I had a neighbor living with me — a girl I had taken in. Her parents were addicts. I wasn't really sure what to do with a little girl in the summer because I worked all the time, so I went to a Girl Scout office, asked about summer camps and ended up signing her up for camps.
And I couldn't afford to send her there because I was sort of a struggling contractor, so I asked if there was anything I could do. And when I gave them my business card they said, "Sure, you can come and teach the girls how to build."
So I went off to camp 22 years ago and spent a week teaching woodworking to girls. It was insane — these kids wanted to work 24 hours a day. They were feeling so successful with what they were doing.
After that, I got calls from a couple of different camp directors asking if I would come to their camps. So I decided I was going to build a barn on my property to have a shop just for girls. That's when I started a nonprofit, Girls at Work. It's just amazing what happens when girls build, it's really powerful.
Q. Talk about the transition from a part-time venture to running a full-time nonprofit.
A. It was a pretty big leap. I mean, I really struggled as a female contractor — you don't very often see women in the trades. I think having gone through what I had gone through trying to make it as a female contractor sort of enabled me to take on pretty much any challenge.
I went full time two years ago, but it was such a no-brainer for me. I loved renovating homes, I loved working with homeowners, but I always got so much more out of working with the kids. When you can take a little kid and give them an experience that makes them feel so very proud of themselves, there's not much else that compares to that.
Then you step it up a notch and you take girls who are at-risk, abandoned, neglected or abused, and just defeated every day. There's a lot to be proud of, but nothing compares to helping these kids feel better about themselves.
Q. Is your ultimate goal to encourage them to go into the trades or simply to help them feel good about themselves by giving them a skill they can master?
A. That's a question we get a lot. Early on, everyone assumed we were doing it to get girls into the trades regardless of how many community colleges or tech schools are trying to do just that. That's far from our goal. Our goal is to take these kids and give them a power tool — everything about it says strength and success and skill, all these things that girls don't think they have in their repertoire — and you show these girls how to use the tool. It's such a powerful experience for them — it enables them to tap into their own power. So that they begin to understand that they are courageous and powerful.
It's unbelievable. I wish I could really convey how powerful the experience is for these girls. They are just blown away by their own potential. And at the end of the day, they are creating success. It's not a failing grade — it's a tangible project. It's a picnic table, a shed or it's even a small woodworking project, but they mastered all these skills to be able to get there.
Q. Can you talk about your Indiegogo crowdfunding campaign?
A. The struggle for us, like every nonprofit, is funding. And because our insurance costs are pretty high — we always have and we always will. But we don't have a tremendous amount of overhead.
So I talked to a friend who did an Indiegogo campaign. Our goal ideally was to raise $25,000, which would enable us to keep our costs down. And we did manage to raise — with offline donations, where people send checks instead of money online — just under $15,000. A lot of people look at that and say, "Wow, you didn't even come close to your goal." But what I learned is that late spring/early summer is the absolute worst time to fundraise because there's all these graduations, weddings, every golf tournament under the sun is starting up.
So I'm thinking, based on that, we actually did extremely well. And I think it's really a cool idea, this whole crowd fundraising is cool because it goes viral.
But I think for us, in addition to the fundraising component, we generated a lot of awareness. We had several different stories out about us. And while it didn't generate as many dollars as I would have hoped, it generated a lot of interest and awareness in what we are doing.