Q&A with former DES Commissioner Tom Burack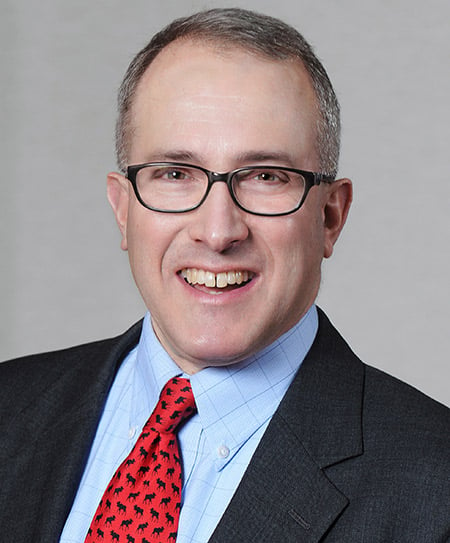 Boston-born Thomas Burack spent part of his early years vacationing in New Hampshire's White Mountains before moving to Jackson, NH, at age 10. He developed a lifelong love of the outdoors and a keen interest in environmental issues, leading to a career as an environmental lawyer before his appointment as commissioner of the state Department of Environmental Services in 2006. He left on Jan. 2 to return to his practice at Sheehan, Phinney, Bass & Green. He granted this interview shortly before leaving the state post.
Q. You have been very outspoken on climate change and the need to address it. How do you feel about the fact that President-elect Trump has called it a hoax?
A. Well, 99.9 percent of climate scientists agree that human-caused warming of the earth's atmosphere is underway. People who work outdoors every day and those who make their living directly from the earth will tell you that things are changing. Farmers are seeing longer, hotter growing seasons, and when the rainstorms come they are more intense, dropping more rain in shorter periods of time, often damaging crops and eroding valuable soil. Foresters and loggers are seeing less snowfall and more rain in winter, resulting in less frozen ground and making it harder to harvest trees. Hunters are seeing fewer moose because they can't thrive with warmer average summer and winter temperatures.
The business community already understands the challenge of climate change and is rapidly adopting energy-efficiency and renewable energy strategies. Governments and homeowners across the country and around the world are doing the same, and I expect those efforts to continue, if not intensify.
Q. What are the dangers to New Hampshire of climate change?
A. In the near term, the dangers we are seeing are higher temperatures in the summer, above 90 degrees, which creates public health risks to elderly and vulnerable populations from heat strokes. We're seeing more intense rainstorms, causing flooding, washing out culverts and bridges. In winter, more rain and less snow are having an impact on our snowmobiling and skiing, which are major economic drivers. In the longer term, tree species like maples will not grow as successfully here and our maple syrup industry will likely decline. And it will certainly affect foliage season in the longer term.
Q. What are the opportunities for addressing some of these issues?
A. The opportunities include reducing our use of fossil fuels by conserving energy, being more efficient in our use of energy and increasing use of renewable energy. We are already seeing substantial interest in geothermal, solar, wind and hydro as renewable forms of energy.
At the same time we must adapt by making our communities more resilient. That includes replacing old culverts with larger ones that can pass more water more quickly and making our homes and buildings less prone to flooding by placing electrical panels on the first floor rather than in the basement.
Q. You've also spoken of "transitioning to a clean energy economy"? How do we do that?
A. We are already transitioning through programs like the Regional Greenhouse Gas Initiative (RGGI) and the renewable portfolio standards that are creating incentives to reduce carbon emission and increase renewable sources of energy. Market forces are driving substantial new investments in energy efficiency and renewable energy.
Q. The 2011 bankruptcy of Solyndra after the company received $535 million in loan guarantees from the U.S. Department of Energy resulted in a lot of negative publicity and skepticism about public investments in green-energy enterprises. What do you see as the role of the federal government in that regard?
A. Government has an important role to play in promoting the transition to a clean-energy economy and helping to build the scientific and technical capacity to do that. It is appropriate for government to take some risks and support innovative approaches to meeting our nation's energy needs and supporting the industries that will provide the jobs of the future. It will be important for New Hampshire to invest in these technologies to remain competitive within the New England economy.
Q. What are some of the initiatives taken by the state?
A. The state government has been a leader in reducing energy usage and increasing energy efficiency and in bringing public and private funds to bear to reduce the state's energy consumption and carbon footprint. The primary source of heat for the DES office building is now a woodchip-fired boiler, which keeps money spent on fuels in the local economy and reduces our carbon footprint by some 75 percent.
We've installed solar panels on other state office buildings and have installed more efficient lighting. We've optimized HVAC systems to maximize efficiency. And we have increased the fuel efficiency of the state vehicle fleet over time by buying more fuel-efficient vehicles.
Q. What are some of the other environmental challenges facing the state?
A. We need to manage the state's natural resources, particularly water, land and air, in ways that will be sustainable for the long term. Climate change includes threats of both flooding and drought, as well as the challenge of ensuring that we have enough good quality water available across the state to provide safe drinking water and to support agricultural, industrial and recreational uses. The challenges include ensuring that our lands are clear and can support the full range of natural and human uses. We have contaminated sites that are affecting both soil and ground water and we are making very good progress in cleaning those sites up.
Challenges to air quality include smoke from the burning of un-dried firewood and the use of wood stoves that lack modern emission controls. On a regional basis, we face the challenge of ozone transport due to power plants and automobile emissions. Globally, we face challenges of acid rain and mercury pollution, among others.
Q. What went into your decision that 10 years was long enough to be the head of DES?
A. My reasons for leaving are simply that for me, personally, it's time. Fundamentally, we have accomplished everything that I had thought to achieve and more, and I believe that, for both individuals and the organizations they have led, it's important to have periodic change.
Q. What do you believe is your major achievement at the department?
A. Our major accomplishment is that we have built a strong organization and culture that focus on making New Hampshire's environment and public health a little bit better today than they were the day before. And we have done this by focusing on four principles: we follow the science; we follow the law; we are transparent; and we are collaborative, with the public, with the regulated community, with sister agencies, with municipalities, with nonprofit organizations and with elected officials.
Q. When you return to private practice do you expect to be a lobbyist at the State House on environmental issues?
A. I am hoping to be able to stay engaged in some of the key initiatives that I have worked on over the past 10 years, including the Enterprise for the Environment, which is a national effort to modernize the business of environmental protection.
I am not anticipating being involved as a lobbyist in the near term. I'm anticipating roles as a consultant and advisor.