Q & A with: My Handyman owner Tina Gleisner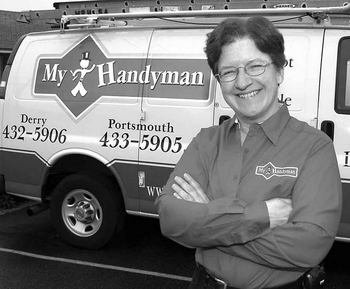 Somewhere during her more than 30 years working at IBM, Tina Gleisner says, she and her husband Ted Blank were "bitten by the real estate bug." They responded by investing in coastal properties in New Hampshire, Massachusetts and California, but what began as a hobby eventually became a passion and turned into the My Handyman of Rockingham County franchise.
Greenland-based My Handyman offers a network of technicians who handle the repairs, painting and other maintenance chores of homeowners who don't have the time or skills to take care of those tasks. Her business serves customers from to Amherst in New Hampshire, to York, Maine.
The 54-year-old Gleisner was honored last year by the Women's Business Center and invited to present at the WBC's 10th anniversary celebration.
---
Q. What made you decide to own your own business?
A. I always wanted to own my own business, but I was afraid of the feast-or-famine cycle. And after working as a computer programmer for 30 years and living on airplanes, I wanted to live and work in the same community.
Since I had managed rental properties since the 1970s, starting a handyman franchise was a natural transition. To me, my business is about helping people find the home within their house. We spend too much time doing fix-up projects and not enough time enjoying our homes.
Q. What did you find to be the biggest challenge as a woman when it came to starting your own company?
A. Having entered the technology world in the 1970s straight out of college, I was used to operating in a man's world. I was the first women to graduate from Rennselaer Polytechnic Institute with a computer science degree. I am also the oldest of three girls. I guess I was always a trailblazer.
My biggest challenge has been building a network of service providers that are really committed to delivering quality services to a start-up business owner.
Q. In your experience, have you found a difference in how women are accepted as entrepreneurs or successful businesspeople, as compared to your male counterparts?
A. I lost any sensitivity to that years ago. When I did first start out, however, I found the lumberyards looked down on me. After 2-1/2 years, I learned the language, and I find most are receptive now.
What I want to bring to the industry, especially women, is how to talk to contractors. Language is the key.
Q. What was your biggest mistake and what did you learn from it?
A. Not investing the time to learn the financial side of the business fast enough. I did a detailed business plan, but I'm still building that rigor in managing the day-to-day business.
Buying a franchise is not just buying a business in a box.
Q. What is the greatest perk you've found in being your own boss?
A. Setting your own priorities. I work long hours, but I can structure them the way I want, to some degree. For example, I decided to have a slower morning one day, left home a little later than usual, and visited three customers that we've done a lot of work for, just to check on them.
Q. Who has been most instrumental in your success and why?
A. I have to say it's my team. Last August, I took my first real vacation. While I was gone, the team came together and essentially fired another employee. They also had to live through the upheaval of another employee walking off the job. I think that it was so cool that they felt that empowered to make some decisions.
Q. How did you know you were successful?
A.There were actually two things. One was when customers would mention that they heard about us from multiple advertising sources. When you first start out, you have to figure out just where to advertise. A woman called based on the advertising on our postcards and our vans and was very surprised to get not only a live person, but the owner of the company.
The second thing was getting repeat customers. Yes, we are in the handyman business, but it's really about relationships. I want to build long-term relationships. What's getting us through this winter is our repeat customers.
My success also comes from finding, hiring and rewarding my technicians, the ones who really have it all. They have a strong work ethic and do quality work. They take the time to answer customer questions and really provide good customer service.
Q. What is the one drawback or aspect of owning your own company that you hadn't counted on?
A. Well, there's one bad thing and one good thing. The difficult thing for me was what a surprise it was in the amount of time and energy invested in finding and building just basic business services. When we first opened, the phone company dropped our voice mail, so it took time to correct that. We moved into our first real office after having been open for about 14 months, and we tried DSL. The performance was so bad, we had the cable company out just a few days later.
When you're first starting out, the number of people you need and work with is so huge, you don't know what you're looking for. You're desperate, so you just take whatever. After being in business for over two years, I can finally take time and really choose the right attorney or whatever.
A good surprise was finding out how much I really enjoy the marketing aspect of owning a business. I never had any real sales experience, but I find the people interaction really neat.
Q. What are some of your techniques for balancing work and family that you can share with other business owners?
A. My kids are grown now, so it would be a lot tougher to tackle owning a business if they were at home. But even when I was employed by another company before I started My Handyman, I had au pairs that did house chores until the kids were in middle school. That way I could go home and spend quality time with my family.
I think you have to recognize the time you do have and line up resources to take advantage of that time.
Now, I like what I'm doing, so I don't mind the hours. It's a creative process for me. I don't have the need to go home and do quilting or whatever to escape. For me, the balance comes from making sure I accomplished something at work.