Portsmouth Hospital plans $63 million expansion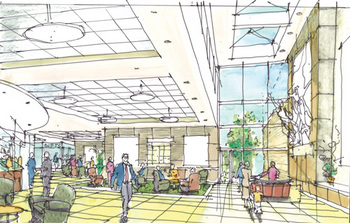 Portsmouth Regional Hospital has unveiled plans for what its CEO calls a "very ambitious" $63 million expansion project — the largest in the hospital's history.
William J. Schuler, the hospital's chief executive officer and president, said the plan's "scope and complexity" is "a significant step forward in meeting the rapidly changing health-care needs of our Seacoast community."
He said that, "with a significantly higher population of aging baby boomers here on the Seacoast, we wanted to assure that our facility renovations would accommodate their future care."
Portsmouth Regional officials filed the Certificate of Need application for the proposed expansion on Oct. 30.
As proposed, the project would increase the size of the hospital by more than 20 percent, to approximately 314,000 square feet. Some 67,600 square feet of new construction and over 88,000 square feet of renovations will result in over 50 percent of the hospital being either renovated or new space.
According to Schuler, the expansion plans "are a direct reflection of Portsmouth Regional Hospital's vital role in critical specialties for the entire Seacoast, including heart surgery, neurosurgery, bariatric surgery, cancer care, trauma and inpatient psychiatric services. Most importantly, the expansion translates into very real benefits to our patients and their families by directly impacting their quality of care."
Major components of the project include:
• Cardiac services will be expanded with cardiac surgery, cardiac diagnostics, blood bank, and patient beds located together to create a "Cardiac Hospital" within the hospital, made possible by adding a full third floor to the Shoals Building.
• All patient rooms will be private rooms to ensure patient comfort and privacy; all semi-private rooms will become private.
• All patient units will be renovated in order to better accommodate high-tech equipment.
• The operating suite will be renovated to accommodate new surgical capabilities.
• A new central patient lobby will be created for improved traffic flow and ease of access.
Hospital officials said that the state-mandated Certificate of Need process could be completed by March or April 2007. Depending on the city of Portsmouth's permitting process, construction could start sometime in 2008. A phased completion of the project could take an estimated three years, officials said.
Schuler told the Portsmouth Herald recommendations for the expansion were originally envisioned in the hospital's master plan and are not related to a recently filed lawsuit filed against the hospital's parent company, Hospital Corp. of America, over a proposed leveraged $33 billion leveraged buyout of the company.
On Oct. 23, the Foundation for Seacoast Health filed suit in Rockingham county Superior Court against HCA asking for affirmation of what the foundation says is its "right of first refusal" to repurchase the hospital. The foundation is an outgrowth of a covenant that was created as a result of the 1983 sale of the nonprofit Portsmouth Hospital to HCA.