Portsmouth event focuses on 'system change' through investment
Women's Investor Network forum details the effects of impact investing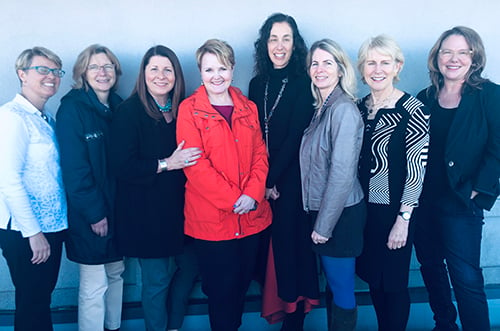 The only way to have a positive impact on issues such as gender inequality, socioeconomic disparity, organic agriculture and the environment is through the power of money.
That was the consensus of a panel of women investors at the Northern New England Women's Investor Network Impact Investing event, held Wednesday in Portsmouth.
"I grow my own food, I drive an electric car and all of that means squat with what we're up against," said Eleanor Kinney, who sits on the steering committee of Slow Money Maine and is co-founder of No Small Potatoes, an investment club that provides micro-loans to farmers and food businesses that source from them. "For me, it's not about food, it's about system change."
Entrepreneur and social activist Deborah Frieze is also familiar with the use of impact investing to change the system. She pointed to "The Color of Wealth in Boston," a 2015 report by the Federal Reserve Bank of Boston, Duke University and the New School, which stated the average white family in greater Boston has a net worth of $247,500 while the median net worth for non-immigrant African-American households in is just $8.
Frieze founded Boston Impact Initiative, a fund that invests in businesses owned by women and men of color. One business she invested in is a laundry service that entered the Boston market after starting in Philadelphia and Washington D.C. The company hires employees with a criminal record and recycles 90 percent of the water and provides service to universities, hospitals and hotels delivered by bicycle.
"We were able to use all sorts of capital," said Frieze. "We gave them a $100,000 loan that unlocked $1 million from the Mass[chusetts] Housing Investment Corporation, really high leverage, and then around $600,000 of preferred equity that they also needed. So our limited capital unlocked an enormous amount of capital and now they will have 70 jobs in Boston and Chelsea and Worcester and the two facilities are run by women."
Positive impact
For some investors, it may be a very personal experience that highlights the need for change.
Barbara Clarke, an angel investor with a personal portfolio of over 50 investments, reflected on the birth of her second child when she invested in a medical device that stops postpartum hemorrhaging, the leading cause of maternal mortality, accounting for 27 percent of maternal deaths worldwide, according to the International Federation of Gynecology and Obstetrics.
And impact investing may serve a greater purpose, as governments decrease nonprofit support, said Alison Pyott, partner, senior wealth manager and certified financial planner at Veris Wealth Partners, one of the last independent impact investing firms not to be purchased by a large investment firm.
The first step for aspiring impact investors is to take a look at their current portfolios.
Frieze had been working with communities who had been devastated by big agriculture in places like Zimbabwe, India, South Africa and Brazil.
"I had a portfolio at home. I wasn't thinking a lot about it. I had a lot of private equity funds in it and low and behold there was Monsanto inside of it," Frieze revealed. "And so here I am spending my hours, a ton of hours, dedicated to healthy soil, healthy food and blindly investing in things that were counterproductive."
The point isn't only to divest, but find funds or direct investments where your money can have a positive impact in an area you're passionate about.
Direct investments
Ellen Remmer, a senior partner at The Philanthropic Initiative, who founded the impact investing resource website, Invest For Better, said studies show women are 20 to 50 percent more interested in investing with a purpose, but have yet to act upon it.
"Because we're not spending time investing, we don't think we know enough. That's not terribly true," said Remmer. "I just think women are not awoken to the power we have in our assets. For me, I really found investing boring. I understood it, I found it boring. And then when I started to invest with purpose, it meant something. It was interesting."
Remmer suggested newcomers may want to start by looking at GreenAmerica.org to determine if they should switch their banking based on their impact investing aspirations.
Aspiring impact investors can also dip their toe in the water by investing $1,000 or more to an impact fund, Remmer and Pyott suggested.
Those wanting to explore direct investments and mentoring relationships should network with entrepreneurs and other angel investors, echoed women on the panel.
"Money is the form of relationships. So take off the investing hat and put back on the relationship hat," recommended Frieze, who encouraged first-time investors to focus on how they can help a business rather than worrying on their financial return in their first entrance to impact investing.
"Everyone in this room has skills and talents that those early-stage companies need," said Clarke. "Early-stage investors would like to work with you in a collaborative way. I rarely am a solo investor; there are other investors."
The next Northern New England Women's Investor Network event will take place Wednesday, June 19, in Portland, Maine.