People and Property: Real Estate and Construction News Rundown
NH Home Builders installs 2016 officers, Brookstone selected for shipyard project … and more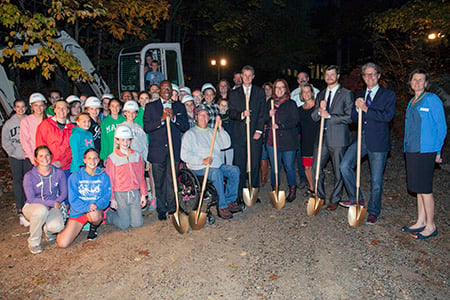 Jeremiah Goulet and Cristopher Salomon of Banwell Architects, Lebanon, recently became licensed architects.
The Belknap Economic Development Council has been awarded an allocation of $25,000 of 2016 tax credits through the NH Community Development Investment Program. Funds raised through the tax credit donations will support Belknap EDC operations and strategic goals.
Building Dreams for Marines, a nonprofit organization aimed at assisting New Hampshire marines who have a physically limiting condition, with life-enhancing modifications to their home, recently raised $35,000 at its annual golf tournament at the Amherst Country Club. Since the organization's inception four years ago, it has completed nine projects.
CBRE/New England has announced the sale of 345 Cilley Rd., a 6,096-square-foot two-story medical/office building in Manchester. CBRE/NE's Christopher Healey represented the seller, Hassell's End Properties, and procured the buyer, Peerless Properties LLC.
Clark Insurance has relocated its Manchester office from 80 Canal St. to One Sundial Ave. The new space is located in a renovated mill and increases the size of the office from 2,400 square feet to 4,500 square feet.
The NH Home Builders Association has recognized three state legislators – Sen. David Boutin, R-Hooksett, Sen. Dan Feltes, D-Concord, and Rep. Marjorie Porter, D-Hillsboro –for their advocacy on behalf of the home building and remodeling industry and on behalf of all small business throughout New Hampshire.
In addition, the association installed its new officers and directors, including Buddy Champney of Buddy Champney Builder, Swanzey, as 2016 president. Also installed were: first vice president, Lynette Rogers, Homescapes New England; vice president/treasurer, Joe Harnois, Harber Construction; vice president/secretary, Chris Lorden, Christophersen Construction; vice president of associates, Dave Chisholm, Builders Installed Products; national director, Eric Jackson, The Stabile Companies; associate national director, Todd Mezzanotte, Wells Fargo Home Mortgage; and state representative, Greg Rehm, Liberty Hill Construction.
Milestone Engineering & Construction Inc., Concord, recently completed construction of the Divine Mercy Parish church and parish hall in Peterborough. The new church, located off Route 101, includes a new sanctuary, parish hall, kitchen and office facilities. Warrenstreet Architects of Concord was the architect.
North Branch Construction Inc., Concord, was among those recognized at the Associated Builders and Contractors NH/VT Chapter Excellence in Construction Awards ceremony. The firm was honored for its work on the Wolfeboro First Congregational Church project in Wolfeboro.
Langley Construction, Goffstown, has been selected to construct a new self-storage development on Ashleigh Drive in Derry, owned by Yvon Cormier Construction Corp. of Andover, Mass. The 72,000-square-foot development will include two two-story buildings with climate-controlled storage.
Concord Housing + Redevelopment has leased retail space at its 65 S. Main St. property to What's In Your Closet Resale & Gift Boutique. Wendy Keeler of Fairway Real Estate, Pembroke, brokered the transaction.
Michael F. Reed, president of Stebbins Commercial Properties, and Chris Norwood of NAI Norwood Group have announced the sale of 5 Lehoux Drive in Hooksett by Mary Huot of Hooksett to Macy Industries Inc. of Hooksett, NH. According to the Registry of Deeds the sale price was $985,000. The new building building will triple the size of Macy's space.
Reed represented the seller and Norwood represented the buyer in the transaction.
Federal Savings Bank has purchased 2015 tax credits through Strafford Economic Development Corp. The funds will be added to a revolving loan fund that will allow SEDC to continue its work mission to support economic development throughout Strafford County.
Affiliates of the Seacoast Board of Realtors raised $15,987 at their third annual golf outing, held Sept. 23 at Pease Golf Course, Portsmouth. The money goes to the Lori Breard-Weeden Scholarship Fund and Seacoast Family Promise.
DeStefano Architects, Portsmouth, recently received five gold 2015 Cornerstone Awards, presented annually by the NH Home Builders Association. For commercial work, D|A received awards for design work at the Abenaqui Country Club in Rye and Federal Cigar and the Cigar Bar in downtown Portsmouth. The firm also received two awards for residential design of a private residence on Lake Winnipesaukee, and it was awarded for Best Marketing Event in honor of the firm's 20th anniversary celebration in May.
Brookstone Builders Inc., Manchester, has been selected to perform a demolition and renovation project at the Portsmouth Naval Shipyard. The project will include the overall expansion of a kitchenette area, and will involve select demolition, the installation of new cabinetry and flooring, and finish work. Erik Crisman will serve as Brookstone Builders' Project Manager. Brookstone will be the subcontractor on this project, with NADIAD Inc. of New Jersey serving as the primary contractor.
Nikki Barrett has been named managing broker at Peabody & Smith Realty's Littleton office.