People and Property: NH Real Estate and Construction News Roundup
Fair Housing Act conference at St. A's, NH Housing boosts affordable housing projects … and more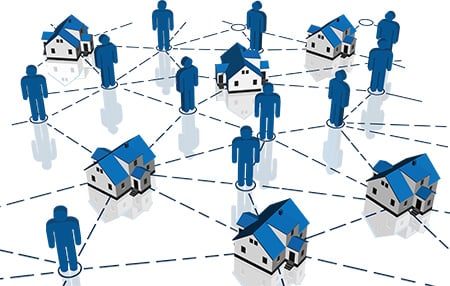 KeyPoint Partners LLC, Burlington, Mass., has been retained to handle retail leasing for Merrimack Park Place, a new development in Merrimack, NH, at the entrance to the Merrimack Premium Outlets. The Monahan Companies of Nashua, NH is developing the property, and KPP Vice President of Leasing Michael Branton is handling the leasing assignment.
Merrimack Park Place is a planned 372,000-square-foot mixed-use development that will feature a 124-room hotel, 192 apartment units, a 5,000-square-foot conference and event center, 42,000 square feet of office space, more than 28,800 square feet of retail and 16,000 square feet of restaurant space. The project has been approved by the town, and is expected to open in the spring of 2019.
Town meeting voters in Warner and Londonderry have approved two fire station projects, both of which will be built by North Branch Construction of Concord. In Londonderry, voters approved $6.4 million in improvements to the existing Central Fire Station on Mammoth Road. Port One Architects of Portsmouth is designing the project, with construction scheduled to start in the summer.
Warner voters approved $2.75 million for a new Warner Fire Station at West Main Street and Spit Rock Road. SMP Architecture of Concord designed the project, with will construction to begin in the spring.
Laconia-based Bank of New Hampshire has been selected to participate in the Federal Home Loan Bank of Boston's Equity Builder Program, which assists local homebuyers with down-payments and closing costs as well as homebuyer counseling and rehabilitation assistance. $3.1 million program provides grants to financial institutions to assist households at or below 80 percent of the area median income. Borrowers are eligible to receive up to $11,000 in assistance on a first-come, first-serve basis. Buyers must also complete a homebuyer counseling program.
Federal tax credit funding totaling nearly $4 million was recently approved by the NH Housing Finance Authority to support eight multifamily affordable housing rental developments totaling 230 units.
The Federal Low Income Housing Tax Credit Program funds were allocated for housing developments in Berlin, Claremont, Dover, Hampton Falls, Lebanon, Plaistow and Rochester. Developers finance project construction by exchanging tax credits for equity investments in properties; investors receive a tax benefit over a 10-year period.
Tim-Bir Alley, on Main Street in Littleton, has been sold by Tim and Biruta Carr after 34 years in business. Val Fortin, former chef at the Sugar Hill Inn, has bought the eatery, with plans to reopen it on April 13.
Thomas Tremblay, president of Coldwell Banker Linwood Real Estate, brokered the transaction. Financial and business development support was provided by Sarah Desrochers of Passumpsic Savings Bank, Bob Walker of the Grafton Regional Development Corp., and Stewart Gates, a business advisor with the NH Small Business Development Center.
A conference commemorating the 50th anniversary of the Fair Housing Act will be held 1 p.m. to 5 p.m. Tuesday, April 17, at the NH Institute of Politics at Saint Anselm College, Manchester.
The two-session conference will address fair housing law and its application to colleges and universities, with panelists including Maria Eveleth, NH Legal Assistance's Fair Housing Project co-director, NHLA Executive Director Lynne Parker and attorneys Christine Wellington and Brian Shaughnessy. Victoria Horrock, NHLA Fair Housing co-director, will moderate.
Following that a keynote address will be delivered by David Harris, managing director of the Charles Hamilton Houston Institute for Race and Justice at Harvard Law School.
The event is free and open to the public, but registration is required. Light refreshments will be served. Attendees are encouraged to bring a canned good to the event for donations to the food pantry to serve those in need in the Manchester community. To register, click here.
Eversource has received the 2018 Energy Star Partner of the Year Sustained Excellence Award from the U.S. Environmental Protection Agency and U.S. Department of Energy. The utility, a sponsor of NHSaves, was recognized for its Energy Star Homes Program in New Hampshire, which offers training and support for homebuilders during the construction, certification and completion of homes. Since 2002, the program has helped over 7,000 New Hampshire homes receive Energy Star certification.
The towns of Colebrook and Northumberland and the Bethlehem Village District have been awarded a total of $2.1 million in grants from the state Drinking Water and Groundwater Trust Fund. Colebrook's $1.15 million grant is being used to supplement a project already under construction to improve the water utilities along Main Street. A $750,000 to Bethlehem is being used to supplement a project already under construction to upgrade the existing water treatment plant. And a $200,000 grant for Northumberland is being used to supplement a project already under construction to address a public health-related portion of the project by replacing lead-jointed cast iron water main from the water storage tank to the service area.
HarborOne Bank has established of HarborOne Mortgage, HarborOne Bank's residential lending business with Merrimack Mortgage into a single wholly owned Manchester-based subsidiary. Merrimack Mortgage Company had operated as a wholly owned subsidiary of HarborOne Bank since it was acquired in 2015. Senior leadership of the newly combined subsidiary will remain unchanged.
Mae's Place, a licensed 11-bed assisted living/residential care facility in Bristol, has been sold by Marsha Elder to McCleary Assisted Living Services LLC. The transaction was brokered by Gilbert Oriol, Business Intermediary of NH Business Sales based of Pembroke. Financing was provided by Woodsville Guarantee Savings Bank.
Prolman Realty Inc., Nashua, has announced the sale of 267 Main Street to 267 Main Street Realty LLC. Mark Prolman, who represented the buyer, said the 0.43 acre site will be a Dunkin' Donuts. Selling price was $350,000.