Partnership puts economic development at center stage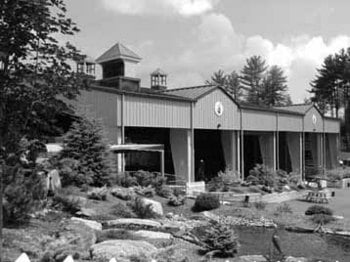 Nine years ago, the Meadowbrook Musical Arts Center opened in Gilford with a three-show season and folding chairs in a field. Today, it is one of the best outdoor entertainment venues in the country, as well as a key contributor to the Lakes Region economy and the economic development of New Hampshire.
Proof positive: In the past six months alone, Meadowbrook was chosen as Business of the Year by the New Hampshire Travel Council, received the New Hampshire Division of Economic Development's Commissioner's Award for Promotional Partnership and was the winner of the Belknap County Economic Development Council's 2004 Directors Award.
In fact, according to Steve Boucher, public information and marketing specialist for the Division of Economic Development, Meadowbrook is one of the premier partners for the New Hampshire Business Resource Center.
"There aren't too many private sector companies that ask, 'What can we do for you?' Meadowbrook's management team is unique in that they approached us and asked how they could help boost economic development in the state."
Meadowbrook's public affairs director, John Vorel, explains the venue's proactive approach.
"We understand the value of working with the state, and we wanted to reach out to the Division of Economic Development to see if there was a way to develop a partnership that would create more visibility for both Meadowbrook and the division's Business Resource Center."
Meadowbrook provides display space in the box office area for a major promotional piece touting the benefits of doing business in and visiting New Hampshire. Boucher continues, "This has enabled us to reach thousands of visitors and residents alike, including business owners. The number of people who are seeing our message is incredible."
As charter members of the Business Resource Center's Ambassador Program, the Meadowbrook management team is called upon to speak with out-of-state business owners interested in expanding or relocating to the Granite State, play host to facility tours for visiting business representatives and participate in sales presentations provided to sell company owners on the benefits of doing business in New Hampshire.
As part of the program, Meadowbrook has offered to provide VIP seating and a venue tour to business owners interested in expanding their company to the state.
Meadowbrook also participates in The Hawk "Commendable Companies" program on WWHK 102.3. The program, developed in conjunction with the Business Resource Center, recognizes one New Hampshire company per month with a commendation from Governor Lynch, tickets to a show at Meadowbrook and a Nashua Pride game, as well as on-air promotion.
Giving back
The venue has had a significant impact on the Lakes Region economy as well. While a little over 6,000 people attended those first 1996 shows, Meadowbrook today can accommodate 6,000 attendees per show, and expects over 100,000 attendees for the 2005 concert season, primarily from a market area within a 90-minute drive. It's estimated that Meadowbrook draws 25 percent to 30 percent of concert attendees from out of state, many of whom stay in the area.
Middle-of-the-week shows have helped build midweek business, especially for lodgings and restaurants, but that is not the only way Meadowbrook has contributed to life in the region.
According to Vorel, Meadowbrook President and CEO Bob Harding believes that "Meadowbrook as a concert facility should give back to the community, where its fans are, and give back in as many ways as possible."
Donations from concert profits have gone to such area charities as the United Way and Children's Hospital at Dartmouth. The Meadowbrook Performing Arts Charitable Foundation provides a $3,500 scholarship for a deserving high school student pursuing post-secondary education.
Meadowbrook also is an event and conference facility, hosting local high school and college graduations in the 3,200-seat pavilion, while dinner dances, weddings and special events are held in the conference center, which can accommodate up to 240 attendees.
The Division of Economic Development's annual meeting, sponsored by Public Service of New Hampshire, will be held there on Dec. 6.
PSNH's Economic & Community Development Manager Pat McDermott applauds the choice.
"We want to congratulate Meadowbrook on their awards and all they've achieved. We've been very impressed with Meadowbrook, and look forward to showing economic development professionals from around the state what a fine facility it is at the annual meeting."
"Meadowbrook has evolved as a diamond in the rough, not only to the arts and entertainment community, but to the overall economy of the state," said Roy Duddy, director of the Business Resource Center. "John and his team have truly been friends and teammates in carrying out the Business Resource Center's mission. We look forward to a successful year of working together in this outstanding public/private partnership."
Meadowbrook kicked off its 2005 season on June 4 with country music stars Big & Rich and will follow that with a total of more than two dozen shows slated for the four-month season, including appearances by Tim McGraw, Lynyrd Skynyrd, the Doors of the 21st Century and B.B. King.
New this season will be Second Stage early shows put on by local acts and groups from New England who will perform under a reception tent before the shows.
For more information about the 2005 Meadowbrook schedule, visit meadowbrook.net or call 293-4700.
This article was provided by the New Hampshire Business Resource Center.