Pamela Pantos, 2014 Outstanding Woman in Business
Executive Director, Opera North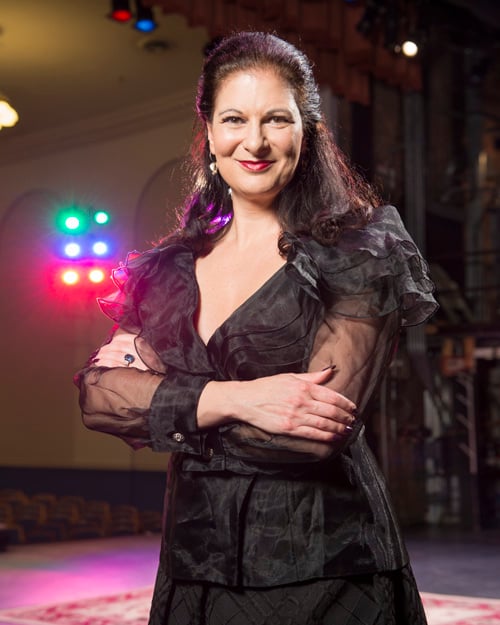 She may have been born in New England, but Pamela Pantos has traveled the world singing in some of Europe's finest concert halls and opera houses as a mezzo-soprano. She found such success in her opera career that the Newton, Mass. native was represented by Columbia Artists and was a featured soloist with the Covent Garden Orchestra in London.
But in 2003, she decided to move back to the U.S. – a decision she made for her family. "I love Europe, and I loved living there, however I made the decision for my children," said Pantos, who speaks five languages fluently. "The U.S. still had a pioneer attitude towards life. There aren't barriers to anything, and I didn't want my children to feel like they had barriers. The sky is the limit here."
Armed with an MBA from Babson University and a master's degree in musicology from the University of Hamburg, Pantos changed careers and began working in corporate finance at W.R. Grace in Cambridge, Mass. Although finance and opera seem to be divergent passions, Pantos has made her life's work of the two.
In fact, she thought she was done with singing altogether, until a friend encouraged to her to go see a rehearsal at Lebanon-based Opera North – the only full-time opera company in the tri-state region of New Hampshire, Maine and Vermont – which was seeking an executive director.
She was impressed with what she saw, applied, and was selected for the position, at a time when the nonprofit was sinking and needed her most. It was the height of recession, a period of economic decline that diminished funding for the arts. On top of that, Opera North had no development position on staff, and its board of directors' development committee had dissolved, meaning there was virtually nobody researching new revenue streams. Another setback came in 2011, when Hurricane Irene swept through and destroyed Opera North's entire warehouse – along with 30 years of sets, costumes, props and technical equipment.
Despite a lack of experience in the nonprofit sphere, Pantos utilized her strong financial knowledge to gather monetary support and the community outreach that Opera North needed to get back on its feet. Pantos was able to bring Opera North into the black for the 2013 fiscal year to report a total of $240,000 in contributed income, which makes up for about 40 percent of the nonprofit's total revenue.
Under Pantos' guidance, Opera North has developed a strong board of directors and multiple grants and donations that have helped it flourish, on top of strengthening existing programs and introducing new community outreach programs. Opera North's Young Artist program, for example, now auditions more than 1,000 applicants every year from across the country for the chance to stage three full productions in a summer.
"Opera North will continue to thrive under her leadership if for no other reasons than she loves opera, loves the company and puts all her energy into every project," wrote her nominator, Ashley Barrow, of Opera North.

Q. What have been some of the biggest challenges to getting where you are today?
A. The first two years were really very difficult. When I started, I wasn't left behind a lot of documentation to help move me forward. The transfer of information was literally nonexistent. The individuals that kept Opera North going on pure faith and trust were amazing, but I made choices that made me a little bit unpopular for a while. Not even the board that hired me knew the level of disarray there. The struggle was trying to get the board to understand that the only way to run any nonprofit is to have an infrastructure and plans — it has to be a business.

Q. Did you have a professional mentor?
A. Aldo Danieli was my voice teacher, and my biggest mentor, musically and spiritually. I met him when I received the opportunity to play the lead in "Carmen." He said to me, "Dear, you have a lovely voice, but you don't know what you're doing." Every morning, he would take me into a studio and we would learn a page or two of music, and later in the day we would record it. He taught me everything I know. The only reason I have a career is because of him. He's even helped me to this day, here at Opera North.

Q. How do you balance your personal and professional lives?
A. I don't. I don't think there is balance. Life is too short, I believe in throwing myself headlong into everything that I am doing. That's why I try to limit myself in taking things on. I have two or three things I am devoted to, and that's what I do. I don't multitask because it lacks devo- tion, and being successful involves devotion.

Q. What advice would you give to young women just starting their careers?
A. Climbing Mount Everest is hard, and there is no oxygen at the top. Know that life is a series of mountains, and know that you are going to have to start at the bottom of the next mountain you face. Know that you are blessed and lucky, please understand that anything you do you should be thankful for, don't have a chip on your shoulder and be self-entitled; be humble. Don't be under the impression that the world owes you something. The world doesn't owe you anything – you owe it to yourself to do the work. Be true to yourself. And don't ever be afraid to make mistakes.