Organization seeks to boost Queen City's downtown, Millyard
Manchester Connects report cites strategies to help make city a 'more vital, inviting place'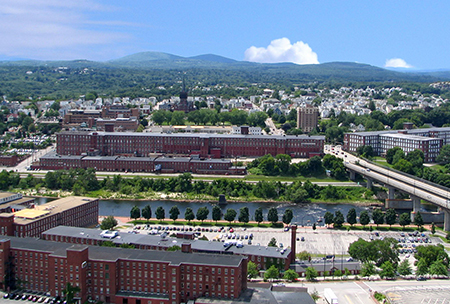 The local community group Manchester Connects has released a new report on the potential for cultural and economic development by means of five key initiatives in the Queen City's downtown and Millyard.
The report was developed with community input after a series of public meetings and workshops in which more than 200 city residents shared ideas and visions for the future of Manchester.
The report will be the topic of a town hall discussion at the University of New Hampshire-Manchester, hosted by the UNH Manchester Politics & Society program, beginning at 5:30 p.m. on Wednesday, Nov. 1.
John Clayton, executive director of the Manchester Historic Association and a Manchester Connects volunteer said the report "is a blueprint for making our community a more vital, inviting place, and it comes at a time when the city is on the verge of making extraordinary advances."
Among the goals detailed in the report are:
• Create vibrant public spaces: Manchester would benefit from more social destinations downtown, in the Millyard and on the West Side, the report says, adding that businesses, community groups and city government should work together "to create a mix of events and inviting spaces that encourage people to move throughout the community, resulting in greater social and businesses connections."
• Promote Complete Streets design and multimodal transportation choices: "Research shows that the more street intersections that exist, the more opportunities there are for human interaction and vitality," says the report.
• Build a world-class riverwalk and iconic pedestrian bridge: "Active and well-designed urban waterfronts around the world support economic development and enhance livability," according to the report. "These amenities will build community spirit and connections while attracting the young people Manchester needs to grow. Businesses, in turn, will follow.
• Support mixed land uses and smart parking strategies: An integrated solution to land uses and parking strategies in the Millyard "can help solve some of the challenges of an inactive ground floor and put more property into economic use."
In announcing his organization's support of the report, Michael Skelton, CEO of the Greater Manchester Chamber of Commerce, called it "an exciting roadmap to create a more connected, vibrant and walkable city."
To view the entire report online, click here.