One of a kind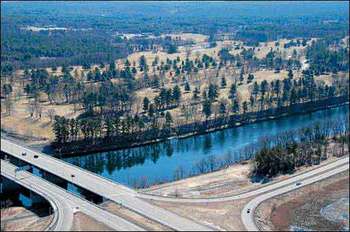 With at least 2 million square feet of shops, restaurants and entertainment spots on the drawing board, the development planned for Green Meadow Golf Club site in Hudson rivals the nation's largest malls in terms of retail space.
The Mall of America – touted as the biggest in the country, but No. 4 when it comes to retail square footage – has 2.5 million.
But the Green Meadow project – which has yet to be formally submitted to the town – wouldn't be a mall, and it wouldn't look like one. Industry experts say it wouldn't even be a direct competitor to the shopping center just across the river, Nashua's Pheasant Lane Mall.
Plans for Green Meadow echo a national trend toward combining most of the amenities of a traditional downtown into a single development, including shops, restaurants, offices, apartments, hotels, parks and movie theaters.
At the heart of these mixed-use developments, it isn't uncommon to find an open-air shopping, dining and entertainment plaza called a lifestyle center, designed to have the ambiance of a historic main street.
Lifestyle centers have become increasingly attractive to developers in the last decade, experts say. They cater to an older, more affluent demographic than traditional malls and are popular with tenants and customers.
They often stand alone, but they're being incorporated into mixed-use developments more often today because of increasing construction costs and the push to make the best use of land, said Terry McEwen, president of the company that coined the term "lifestyle center."
The proposed Green Meadow development, known as Riverplace, would be the first of its kind in New Hampshire. Although lifestyle centers first emerged in the 1980s and took off in the late 1990s, New Hampshire has none. Riverplace would be the largest shopping center in the state, with more than double the retail square footage of the Mall of New Hampshire in Manchester.
The development also would be significant from a regional perspective. Only a handful of lifestyle centers exist in New England, and the one planned for Riverplace would be the largest of its kind in the six states.
W/S Development, the company proposing Riverplace, calls it "a new gateway to Hudson – and an attraction that will draw visitors from the greater Nashua region and beyond."
Growing trends
The term "lifestyle center" was coined in the 1980s by a company called Poag & McEwen, which is widely recognized as the founder of the concept. The first opened in Memphis, Tenn., in 1987.
McEwen credits his partner, Dan Poag, with the idea of providing an upscale shopping environment with the convenience of a strip mall.
"He didn't really enjoy shopping at malls," McEwen said.
It took a few years for the concept to catch on.
"When we opened Town Center Plaza in Kansas in 1996, they took off after that," McEwen said.
About 140 lifestyle centers exist in the United States, according to Stacey Szluka of the International Council of Shopping Centers. They usually have 150,000 to 500,000 square feet of retail space, but some newer centers are as large as the one planned for Riverplace.
The lifestyle center would be the first phase of the Riverplace project. It would sit near the Merrimack River bank on the north side of the 375-acre property, which currently holds two golf courses.
W/S hopes to begin construction in 2007, starting with a "town center" called Landmark Square that would be filled with open-air shops, restaurants and a 16-screen movie theater.
Outside the lifestyle center, plans include a hotel or two, a conference center, an organic marketplace, anchor retail stores, a waterfront park with a riverwalk and fishing docks, an outdoor amphitheater and ice-skating rink, and 600-800 apartments or condos – all to be phased in over a period of years.
None of that has been approved by the town of Hudson yet, since a formal proposal hasn't been submitted, but the property is zoned for all uses except residential, which may be a point of contention as development plans move forward.
Multifamily housing is high on the list of concerns neighbors and town officials have expressed about the project. Others include traffic and the proximity of retail to existing homes. The design has largely been complimented.
Like most lifestyle centers, the one at Green Meadow will feature mostly upscale shops. A retail tenant list won't be released for another six to eight months, but retailers are excited about the project, according to Brian Sciera, vice president of lifestyle centers for W/S.
"We're in constant communication with our retailers," he said. "They tell us where they want to be."
Different clientele
Lifestyle centers are typically anchored by stores such as Williams Sonoma, Whole Foods Market or Crate & Barrel. They feature restaurants such as P.F. Chang's. Smaller stores include J. Crew, Pottery Barn and Banana Republic.
The buildings are distinguished by their detail: brick facades, decorative street lamps, landscaping, spacious sidewalks and other amenities designed to make the centers more of a destination than a stop on the errand list. They also cost about twice as much to build, Sciera said.
Lifestyle centers differ from malls primarily because they cater to a different clientele, according to Emil Pocock, a history and American studies professor at Eastern Connecticut University who has studied malls out of antipathy for their destruction of traditional downtowns.
They're geared toward affluent consumers who have money to spend and can often coexist with malls in close proximity because they appeal to a different demographic, he said.
"I can't imagine that they're going to replace the big enclosed malls, because they're doing different things," Pocock said. "People who go to a lifestyle mall, unless they're going to buy a tractor, aren't going to Sears."
According to Szluka, development companies research an area's demographics long before building a center and retailers examine demographics before moving into one.
The ideal location has a combined household income of at least $65,000, she said. Hudson's median household income was just below that in 1999, according to information collected for the 2000 census.
Unlike traditional malls, lifestyle centers aren't trying to attract teenagers.
"When you look at the makeup of an enclosed mall, 60 to 70 percent of the retail space is targeted at juniors, teenagers. … A lifestyle center is not like that," Sciera said.
Convenience is another difference, experts say. Rather than having to walk through a mall to get to a particular store, customers can park right outside the shop or shops they want to visit, Sciera said. Similar tenants are grouped together.
"We put Banana Republic next to J. Crew next to Anthropologie," he said.
McEwen says convenience is one reason the lifestyle-center concept has gained popularity in recent years. Customers are also attracted to the safety, ambiance and blend of upscale stores and restaurants, he said.
Regional impact
If approved as envisioned, Riverplace is bound to have a significant impact on Hudson, southern New Hampshire and perhaps northern Massachusetts, since the development would be located so close to the state line.
It would clearly increase traffic in the region, an issue the town identified right away, and one the developer would like to address by constructing a bypass road leading into the property from the Sagamore Bridge.
The project would cost the town money in increased services such as police and fire response, but it would also boost the town's tax revenue. W/S estimates the project would cost the town $2 million a year but bring in $7.3 million in tax revenue, for a net gain of $5.3 million.
The town's total operating budget this year was $25.8 million.
However, town officials have expressed concern that the development could cost the town far more than $2 million a year, especially if plans for 600-800 apartments or condos are approved.
Housing would bring additional children to town, which may cost the school district alone as much as $3 million a year, one planning board representative estimated at a recent meeting with the developer.
Riverplace would also bring jobs to the region, although it's unclear how many, since the number of retailers has yet to be released. Hudson's largest employer, Benchmark Electronics, has 920 employees, according to data from the state economic and labor market information bureau.
If the lifestyle center at Riverplace is anything like one called Easton Town Center in Columbus, Ohio – a project Sciera, of W/S, cited as similar – it could as much of a tourist destination as a shopping center.
Easton Town Center, which opened in 1999, is also part of a mixed-use development that includes residential, offices, larger anchor stores and three hotels with conference centers. The lifestyle portion contains more than a million square feet of retail space, developer Steiner & Associates says on its Web site.
The center has about 140 shops, restaurants and entertainment facilities and is anchored by Nordstrom and Lazarus department stores. The second phase was completed in 2001.
By 2005, nearly 14,000 people from all over the world were visiting each year, according to the developer. – ASHLEY SMITH