Once downtrodden, Claremont is on the upswing
The revival has been slow and is by no means over, but it's definitely headed in the right direction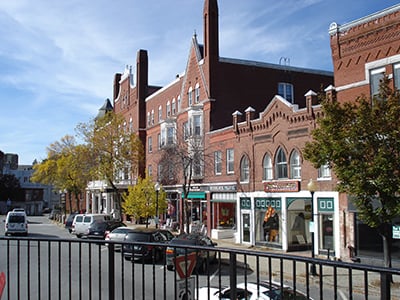 A drive through downtown Claremont three years ago was a sad experience. Architecturally, the downtown is a stunner, but if you were to head down any street at the time, you'd see more empty storefronts than occupied ones.
Today, however, downtown Claremont has almost done a one-eighty, with restaurants, spice shops, a community college and service businesses filling those formerly empty spaces.
After hemorrhaging businesses, particularly in the downtown area earlier in the decade, the city of Claremont is on the upswing. City officials point to a combination of factors for the transformation, including infrastructure investments, policy changes, public-private partnerships and selling retail and industrial outfits on the idea of all that Claremont could be.
The process has been slow, coming in fits and starts, and is by no means over, but it's definitely headed in an interesting direction.
"We looked a little bit at Lebanon, but Claremont won better value," said David Lucier, co-owner of Claremont Spice & Dry Goods, which opened last year in downtown. "The overheads are not as high. But the other part of it was, it's a great old mill town. The way I looked at it, Claremont was at the cusp of coming back. It's a city that's got good bones."
'One-stop shopping'
Claremont has always had a lot going for it, with its old buildings and dual main streets, in the midst of the natural beauty of Mount Ascutney to one side, the Greens to the other and the Sugar River running right through the city.
Though the mills closed down in the 1940s, the city didn't really start to see its decline until the 1970s and '80s, after its mainstay employer, machine tool manufacturer Joy Manufacturing (followed by various successor firms) shut down.
"The company closed in one day and the city never recovered," said Guy Santagate, Claremont's city manager. "They're still trying to recover from that. And that decline hurt the city. At one time, you had 19,000 to 20,000 people here – now you have 13,000."
Santagate came to Claremont in 2001 and started making changes. His idea was to attract businesses, which would have a whole spinoff effect in the community.
He began by streamlining the process by which businesses get started in Claremont and put more resources into the Economic Development department.
"We made one-stop shopping," Santagate said. "Doing that was really important. Because the number one goal was economic development, and it still is."
At the time he arrived, city officials had approved and were in the process of demolishing three defunct brick mill buildings. Santagate convinced them not to. It was a huge gamble, he said. But in 2004, Santagate and the Economic Development department found developers willing to invest in the rehab and development of the properties.
Red River Computer Co. and the Common Man Inn & Spa now make the mills their home in newly renovated mill buildings. Other businesses followed suit, figuring if companies like Red River and Common Man could make an investment in Claremont, so could they.
Further, when Santagate heard that Granite State College was looking for a new home, he actively pursued officials of the college, ultimately wooing them to a central location downtown.
At the same time, things were happening elsewhere in the community. Main Street groups and local business owners started renovating the buildings downtown. When they got projects as far as they could go, they searched out grants, tax credits and, in at least one case, the help of the Monadnock Economic Development Corp. to finish them up. Over the past several years, The Brown Block, The Farwell Block, The Moody Building, and The Union Block have all been renovated, many through public-private partnerships.
"Private businesses have invested and continue to invest," said Nancy Merrill, the city's director of planning and development. "But some projects just look like they would not happen without some assistance."
The result has been the addition over the past few years of restaurants, a dental office, a hardware store, a health care facility, scads of new apartments and many other new businesses. Claremont has also developed a wood-based manufacturing cluster in Claremont, with businesses like Timberpeg, Davis Frame, Preferred Building Systems and Crown Point Cabinetry.
"(They are) positioned well for growth as the housing market improves," Merrill said.
In return, Merrill said, the city has tried to be responsive to businesses – which includes sometimes throwing money behind a renovation, helping with grants, improving sidewalks and lighting, building a new parking structure and generally accommodating them when it's feasible.
Neither Merrill nor Santagate had exact numbers on how much money the city has put into rehabbing the city. But Santagate was quick to point out the support has not raised taxes on residents. He said this was done by eliminating city positions, making budget cuts elsewhere and doing more with less during the recession – all the while continuing to invest and find funding wherever possible.
Location, demographics
One of the big reasons business owners are taking a chance on Claremont is its undervalued real estate. Entire buildings in Claremont go for anywhere from $34,000 to a few hundred thousand. A gothic stone church in the Mill District, for example, is on the market for $395,000, according to The Bean Group's website.
For other business owners, the city's proximity to the Upper Valley and Interstate 91 is attractive. And for business owner Robert Woods, it's the location to the entire Northeast corridor.
"I'm talking all of the territory of all New England, New York, New Jersey and Pennsylvania – all of the Northeast corridor. Claremont puts me within five to seven hours out in all directions of all the vineyards I would be dealing with," said Woods, owner of The Naughty Vine, a new wine, cheese and chocolate shop slated to open shortly in the city. He's also licensed to import wine from other states into New Hampshire and sell it.
He also said he likes the demographics of the Claremont area – some 138,000 people over the age of 21 live in and around a 60-mile radius on both sides of the river.
"I do understand that Claremont has had its ebbs and flows," Woods said. "But I do know that the community can change positively in a forward-moving direction, which would allow good things to happen. They just have to embrace the idea that they can do it. They have to make a conscious decision that it can be done. I think the local new businesses have embraced that."
Going forward, the planning department is simplifying Claremont's zoning ordinance, which divides the Euclidean zoning, forming districts (commercial, residential and industrial, among others) laid over a fully built historic city center. This has resulted in many properties not conforming because they don't fit the zoning pattern, Merrill said, which adds a layer of burdensome regulation. The new ordinance changes the zoning districts to allow mixed uses.
Santagate said the city is also going to continue to invest in renovating the downtown and in improved above- and below-ground infrastructure. The city is also working on projects that will improve traffic flow and might even increase traffic coming into Claremont from Vermont. He said he is in the process of working on more incubator projects and is encouraging more job training at River Valley Community College and the Sugar River Valley Technical Center at nearby Newport High School.
"Improving the local workforce will be the key to the future of Claremont," Santagate said.
Still, Santagate said, it has taken and will take salesmanship on the part of city officials to continue to attract businesses and the ability to show them what is possible in the city.
"It doesn't mean it's Camelot, but we're seeing some good signs," he said. "It's all about that long-range plan. It's not about short-term glitz or short-term sizzle. It has to be real."