Off The Clock: Keep your resolution without a gym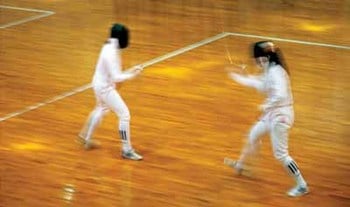 Sweating it out with a traditional health club membership isn't the only way to get fit. There are plenty of alternatives, many offering a fresh shot at getting in shape and a new hope for finally keeping your New Year's resolution.
Yoga, fencing or wall climbing. Jazzercise, belly dancing or hip hop. This issue Off the Clock ventured outside the fitness box to explore new ways to get the heart pumping, the waistline shrinking and the spirit lifted in the New Year.
Yoga
Yoga has been practiced for 5,000 years. A Sanskrit word meaning "union," yoga lives up to the translation by blending body, heart and spirit through stretching, breathing and meditation. Studies have shown yoga to improve muscle tone, flexibility, strength and stamina while reducing stress and stimulating the immune system.
In addition to its health benefits, fans of yoga enjoy its versatility. Once a solid foundation in its movements and breathing is established, yoga can be done in the comfort of your home, the floor of a studio or at the edge of the ocean.
"Yoga works from the inside out to promote a healthy body – muscles, skins, joints and mind — the whole body," said Rosemary Todd Clough, director and owner of Moving Spirit Center for Yoga and Dance Movement in Merrimack. "It's amazing how after 5,000 years yoga has soared to the forefront as the medical community recognizes its benefits."
Clough recommends newcomers to yoga visit a reputable studio where they can develop a solid foundation before venturing out on their own.
"Check out the credentials of the instructor," Clough said. "The Yoga Alliance is a good place to look for a credible program in your area."
The Yoga Alliance can be found at yogaalliance.org. You can find additional Internet resources on yoga at yogamovement.com.
Fencing
For a real challenge to body and mind, an attempt at what some refer to as "physical chess" might be just the thing.
Fencing — yes, as in "Errol Flynn" and "The Three Musketeers" — continues to grow in popularity throughout the country. Membership in the U.S. Fencing Association has grown from 12,000 members in 1995 to a current membership of nearly 30,000. There are more than 600 clubs across the country catering to the 100,000 individuals who have discovered the enjoyment associated with the sport.
"Fencing is attractive to lots of different people for lots of different reasons," said Tracy Nabstadt, moniteur (that's the fencing term for teacher) and owner of Concord Fencing Club. "People are drawn in because of the romance of the sword or the grace or the competition."
Considering the fact that fencing offers the chance to burn more than 400 calories in a single session while improving upper- and lower- body strength, overall balance and concentration in a mentally stimulating manner, it's no wonder it's enjoying some attention from a fitness-focused public.
Sound intriguing? Check out fencing.net.
Wall climbing
From local Y's to specialty gyms, more places are inviting people to get back in touch with their inner child — back to school days when recesses were filled with climbing on jungle gyms.
"Climbing is a lifetime sport," said Jerry Hapgood, adventure director and climbing instructor for the YMCA Allard Center in Goffstown. "Anybody can do it — we have kids as young as 5 years old, and it can go right up to your senior citizens."
Today's climbing can be explored in controlled, indoor environments where harnesses guarantee safety and fabricated walls ensure you'll not be met with landslides or warmth-seeking snakes.
Another fitness alternative that challenges body and mind, rock climbing training can be geared toward improving specific muscle and fitness functions, including strength, burst or endurance conditioning. And while there are more than a dozen New Hampshire facilities listed at indoorclimbing.com, organizations like Outward Bound (outwardbound.com), Eastern Mountain Sports (emsclimb.com) and the Appalachian Mountain Club (amcnh-mountaineering.org) are wonderful resources to help you meet the challenge of the outdoor arena.
Dancing
It's difficult to find fault with an activity that virtually everyone enjoyed in childhood. It's even more difficult when you figure an hour of dancing — whatever the type — can burn over 400 calories and tone muscles you had forgotten existed.
The wonderful thing about dancing your way to better health is that "workouts" can be tailor-made to fit individual likes and goals, improving endurance, muscle tone and balance.
The physical benefits of dance really came to the forefront of the fitness world with the 1969 introduction of Jazzercise — specific moves targeting each muscle group set to music in a seemingly successful attempt at disguising exercise as dance. Cardio-health, strength and flexibility are all byproducts of a Jazzercise program.
For those who love to dance but would prefer something a little less traditional, take a hip-hop class — you'll find the contemporary moves are fast-paced, up and down and full of spirit hitting every muscle in your body. A great cardio workout, hip hop will both tone your muscles and increase your endurance.
For the more exotic there's belly dancing. Rising from ancient Asian, Indian and Middle Eastern cultures, belly dancing is thought to be the oldest form of dance known to man. Once performed as a ritualized expression of fertility for women, belly dancing has again been embraced for its fitness potential. The fluid movements isolate different parts of the body, moving each independently and in a manner unlike any other form of exercise.
Too many to list, dance classes of all varieties offer a fun way to get fit. A quick call to a local dance academy will give you an idea of what's offered in your area.