Off the Clock: Indoor sports facilities put the fun in fitness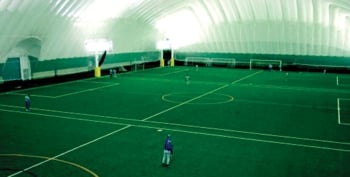 A winter with lots of cold but little snow can make staying active difficult. While time spent on the ol' treadmill or visits to the local gym can get the job done, it can also get stale with the same ol' routine, the same ol' people and the same ol' exercises.
Sports leagues or pick-up games offered at indoor sports facilities throughout the state may be just the thing to wake up the muscles and reignite a dying flame for fitness while reminding us that staying active used to be fun.
While indoor sports centers have been an integral part of leisure in other countries, they've only recently begun to gain popularity in the United States, a nation where two-thirds of adults are deemed "overweight" according to the 2006 report from Trust for America's Health which listed New Hampshire as having the 15th highest level of obesity in the country.
Ours appears to be a nation where involvement in team sports is whittled away as people age. Young children of all skill levels are encouraged and welcomed to sign up for everything from soccer to basketball and baseball to lacrosse through local recreation programs. By high school, the numbers of participants have shrunk to include those deemed worthy of representing their schools on teams comprised of the strongest, most capable players.
By college the numbers are smaller still, and by adulthood, most fans of team sports have gone from the courts and fields to the bleachers – from participants to spectators. Indoor sports centers are playing a big role in getting would-be athletes back into the game.
Dave Elliot of PhanZone, an indoor sports center in Hampstead and home of New Hampshire's professional indoor soccer team, the New Hampshire Phantoms, said involvement in indoor sports leagues gives participants the opportunity to get out and have fun doing something they enjoy.
"It's an opportunity to interface with friends or meet new friends in a team environment," Elliot said. "It's about just coming out and having fun."
Participants in PhanZone's adult programs cover the gamut of experience and expertise, according to Elliot. A soccer facility primarily, PhanZone hosts leagues for experienced players and newcomers alike. It has competitive teams and recreational teams and even offers drop-in games Thursday evenings.
Elliot said there are usually anywhere from eight to 10 adult soccer teams for both the recreational players and the competitive players. Each team is made up of 10 to 15 players.
The Hampstead facility also has flag football leagues for those adults who prefer to carry the ball rather than kick it.
At Rising Stars Sports Center in Bedford, adult sports enthusiasts can try their hand at soccer, flag football, softball, fast pitch, even rugby. Like PhanZone, Rising Stars offers team opportunities for different ability levels.
According to Laura Brown, business manager for Rising Stars, a growing number of adults are taking advantage of the indoor team offerings – especially during the winter months.
"It's a great night out for people. They get together and socialize, get some exercise and have fun," Brown said. "The social aspect is huge."
A Guide to the Great Indoors
Nearly all the team sports you remember from childhood and high school years can now be played on the indoor fields or courts of today's indoor sports facilities like Rising Stars or PhanZone. Most have organized leagues and accommodate players of all levels, some schedule pick-up games and all guarantee a pleasant alternative to the everyday gym routine while reintroducing all the challenge, sportsmanship and camaraderie you remember from childhood sports.
Here's a list of some of New Hampshire's indoor sport centers. Local high schools and middle schools also may be available for weekend or evening games and parks and recreation departments of individual towns also can be good sources of local teams looking for players.
The PhanZone
142 State Route 111, Hampstead
329-4422; www.nhphantoms.com
Rising Stars Indoor Sporting Facility
68 Technology Drive, Bedford
641-1313; www.nhrisingstars.com
The Concord Sports Center
2 Whitney Road, Concord
224-1655; www.concordsportscenter.com
Hampshire Hills
50 Emerson Road, Milford
673-7123; www.hampshirehills.com
Executive Health and Sports Center
1 Highlander Way, Manchester
668-4753; www.ehsc.com