Off The Clock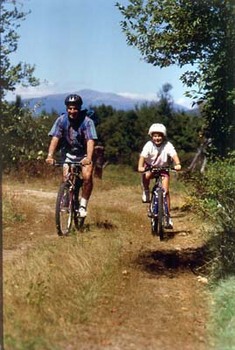 For further information:
If you thought the mountains were just for skiing, trade in your skis for your bike and experience New Hampshire's outdoors in the summertime.
"The major difference between a mountain bike and a 'street' bike is in its ability to handle changing terrain. Unlike pavement, the terrain changes on mountain bike trails," said Nate Waterhouse, mountain bike coordinator at Attitash Resort in Bartlett.
Scott Nixon of the South Central New Hampshire chapter of the New England Mountain Biking Association said mountain bikes have much thicker tubing and tires than road bikes. "Almost all mountain bikes have suspension in the front and rear, and many bikes have disc brakes. Some can be complex machines, almost like motorcycles without the motor," he said.
When selecting a bike, Waterhouse suggested considering what you're using it for. "Will you be doing cross-country climbing or lots of hills, jumps, or will you be riding mostly on more level, groomed surfaces?"
Nixon said a good mountain bike costs $300 to $400. "They can cost as much as $6,000 for a premium bike. Bikes in this price range are extremely light and durable, with replacement parts. Less expensive bikes may require an entire frame to be rebuilt if damaged," he said.
For those of us who find that riding down a vertical incline over boulders does not come naturally, Nixon said NEMBA hosts skills clinics. "They are a great way to get started. We also teach you how to fall correctly to lessen the chances of injury," he said.
So where do Nixon and Waterhouse like to ride?
Nixon said, "Mine Falls in Nashua is great for beginners, with fire roads and some single track trails," describing trails that can accommodate riders side by side or in single file.
For intermediate to advanced riders, Nixon recommended Yudicky Farm in Nashua and the FOMBA trails in Manchester, a trail system developed by the Manchester Water Works and the Friends of the Massabesic Bicycling Association. "It is well marked and has a lot of twists and turns," he said.
Waterhouse said Attitash's River Trail is good for beginners with both double and single tracks.
For those already fans of the sport, Waterhouse suggested an intermediate-level ride along Bear Notch Road through the forest. "And for serious downhillers, Attitash offers a chair-lifted service to more than five miles of mixed-trail and single-track downhill terrain," Waterhouse said.
For biking in style, try a "Bike the Whites" tour. The three-day adventure offers customized ride planning, either on the street or with off-road and single-track legs, award-winning food and accommodations and luggage transfers. The Tamworth Inn in Tamworth, the Snowvillage Inn in Snowville and the 1785 Inn in North Conway will help you plan a route from inn to inn based on your abilities. And they should know — these innkeepers are all bikers.
At the end of the day, you can enjoy exquisite fine dining and luxurious accommodations, all in the scenic White Mountains. Package prices begin at $379 per person for a three-day tour, beginning Sundays with checkout on Wednesdays.
SkiNH.com has listed some other mountain resorts that have turned in their skis for tires for the summer:
• Cannon Mountain, Franconia Notch, 823-8800, cannonmt.com: The Franconia Notch Recreation Path, a paved eight-mile path, is accessible from several locations throughout the Cannon Mountain park. Bikers of all skill levels can enjoy views throughout the notch. Cannon also offers non-paved trails for advanced riders. Bike rentals are also available.
• Great Glen Trails Outdoor Center, Pinkham Notch, 466-2333, greatglentrails.com: Visitors to the Great Glen Trails Outdoor Center can explore the New Hampshire landscape and catch views of Mt. Washington and the Northern Presidential Range. For advanced riders, there are single-track trails as well as jumps. Those looking to increase their mountain biking skills can try out new moves in the skills park or take a lesson from one of Great Glen's instructors. Trail fee is $7. Bike rentals are available.
• Loon Mountain, Lincoln, 745-6281 ext. 5562, loonmtn.com: Loon Mountain has over 35 kilometers of trail for riders of all skill levels. For something a little different, take the shuttle bus to the summit of the Franconia Notch Recreation Path and ride downhill through Franconia Notch. Bike rentals are available.
• Waterville Valley Resort, Waterville Valley, 800-468-2553, waterville.com: The Waterville Valley area offers over 30 miles of trails to explore. Take the chairlift up to the top of Snow's Mountain and ride down a variety of trails for all abilities through the National Forest. Trail fees range from $6 for adults for a single-day pass to $16 for a three-day adult pass. Bike rentals are available.
• Mount Washington Hotel & Resort, Bretton Woods, 800-314-1752, mtwashington.com: Try mountain biking at the Mount Washington Hotel and the picturesque Presidential Range. Mountain and cruising bikes are available for rent through the activities department and arrangements can be made for either half or full day rides on resort grounds.
• Sunset Hill House, Sugar Hill, 800-786-4455, sunsethillhouse.com: Sunset Hill House offers 360 degree views of Franconia Notch and 30 kilometers of maintained nature trails.