Now free, child killer has been sent outside state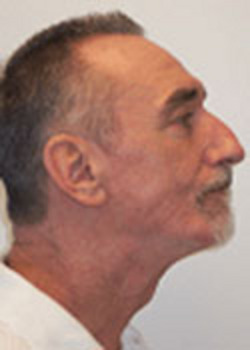 Raymond Guay was born and bred in New Hampshire, but he's some other state's problem now.
Where the convicted child killer has gone, chief probation officer Thomas Tarr won't say. The attention and outcry that would inevitably follow such a disclosure would only make matters worse for Guay and the officials who will monitor him, he said.
Guay's situation is unusual, but he is hardly unique. Plenty of people in New Hampshire have been imprisoned after being convicted of violent crimes against children, and most of them will eventually return from whence they came, to cities and towns throughout the state.
"Raymond Guay, he is what he is. He's a child murderer, but he's never lived anywhere else in his entire life but in New Hampshire," except prison, Tarr said Wednesday.
"If I were on the receiving end of this right now, I'd be wondering 'Why isn't the state of New Hampshire taking care of this. . . . What the hell have we got this guy for?'
"At some point, we have to accept the fact that there's some bad people in our state and we have to deal with them, and running them out of town, I think, is not necessarily the best decision."
It was the only option in Guay's case, however, given the level of attention Guay had attracted, Tarr said. The Milford Cabinet, The Telegraph, WMUR-TV and the Union Leader all reported on Guay's release from federal prison Sept. 8.
Readers and viewers learned of Guay's conviction for murdering a 12-year-old Nashua boy in 1973, his robbery and kidnapping of an elderly Concord couple after escaping from the state prison in 1982, and his subsequent sentence for assaulting a fellow prison inmate in California. Nobody wanted Guay in their back yard.
"Mr. Guay's case is very unusual," Tarr said. "It's the kind of crime that generates anger and fear within the community. I can understand that."
Guay will remain under supervision by federal probation officers for three years, Tarr has said. Keeping him in prison simply wasn't an option, however. Guay had "maxed out" – served his entire sentence – and a judge ordered him released back to the only state where he'd ever lived freely.
Guay initially had planned to move in with relatives in the small, rural town of Washington, but his brother reconsidered and took back the offer. Considering where else Guay might go, federal probation officials quickly ruled out his hometown – Nashua – in consideration for the friends and relatives of the boy he killed, John Lindovski, who remain in the community, Tarr said.
In Manchester, a church group stepped up to help and found a landlord willing to take Guay as a tenant. Tarr said he admires and is grateful to both, and either may identify themselves publicly if they choose, he said.
"They were great," Tarr said of the church group. "They were the only organization that stepped up and offered some assistance when we needed it . . . that and the landlord, too, I must say."
Soon afterward, however, reporters found Guay, reported his address and sought interviews with him.
The situation eventually left officials with no choice but to move Guay for his own safety, Tarr said, and also raises questions about the conflict between the public's right to know and the need for freed convicts to build productive, peaceful lives out in the community.
"The guy served his sentence," Tarr said. "We can't lose sight of that. And like it or not, he's entitled to a new beginning.
"I think the public has a right to know certain things about these offenders when they come out. . . . Indeed, we have an obligation to inform them when they are there."
Officials did so in Guay's case, circulating his photograph at the time of his release and again afterward, when Guay had spiffed up his appearance. Reporters in Manchester soon tracked down Guay's location, however, sought him out, and made his address public. Tarr said that was going too far.
"I think it can become detrimental when reporters start following the offender around and try to get him to consent to an interview," Tarr said. "That was one of the reasons why we decided to step in."
"In general, I think the media tries to do the right thing, but I was disappointed with some of the sensationalizing that happened here," he added later.
Reporters weren't the only ones hounding Guay, however. Public officials from Gov. John Lynch to Attorney General Kelly Ayotte and Manchester Mayor Frank Guinta all clamored for his removal. More ominously, there were people loitering outside his building whose purpose or intentions were unknown, Tarr said.
"There was a real potential for confrontation there," Tarr said. "That does no good for the community, it does no good for Mr. Guay. At that point, we decided to make the change."
When Guay was released to New Hampshire, probation officers filed an order in U.S. District Court in California, documenting the move. No such paperwork has shown up in federal courts since, in New Hampshire or elsewhere, however; and Tarr declined to comment on where Guay has gone, except to say that it's another state in which a transitional halfway house is available.
"What would I possibly gain except more aggravation for myself by telling you where he is now?" Tarr asked.
Local law enforcement will be notified about his presence and a federal probation officer assigned to supervise him, Tarr said. Guay will remain in a halfway house for several months, and a federal probation officer will supervise his efforts to find a job, make ties to the community and eventually plan his next move.
"He needs a solid six months of transitional planning and work," Tarr said.
Apparently, wherever he goes, he also needs to remain a stranger to the general public around him.