Northeast Ocean Plan emerges as development tool
Goal is to encourage 'much better informed and transparent decisions' on fisheries, energy projects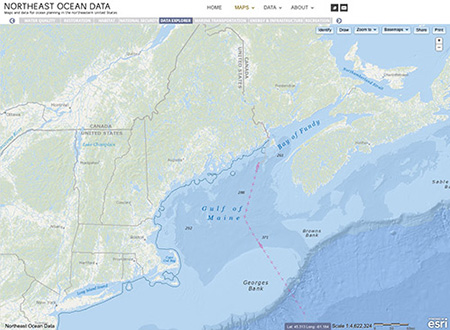 When, as expected, the Northeast Ocean Plan is approved later this year, New England will lead the nation in developing guidelines and an online database to provide framework for all future development and decision-making regarding the sea.
Originating from a 2010 presidential executive order, the national ocean policy instructs nine regions bordering the ocean or Great Lakes to form regional planning bodies consisting of representatives appointed from federal, state and regional entities and tribes to hold several hearings with a variety of stakeholders. (In New England, the New England Fishery Management Council and two ex-officio members from New York and Canada were also included.) The input is used to develop guidelines for how to proceed, for instance, in the case of a proposed offshore wind farm.
"For any project that comes up now, the ocean plan will guide the consideration of that project and in very specific ways," said Priscilla Brooks, vice president and director of ocean conservation at the Conservation Law Foundation, who participated in stakeholder meetings. "It will guide [the project] in terms of agencies using this new Northeast Ocean Data portal – which is a tremendous compilation of data of the ocean and how we use it – for the first time. There are guidelines on how to engage stakeholders early in the process."
'Blinders off'
The Northeast Ocean Data portal pulls federal and state data to produce interactive maps, ranging from whale and bird feeding grounds to energy infrastructure and commercial shipping lanes.
"What it allows us to do is make much better informed and transparent decisions," said Betsy Nicholson, the Northeast lead for the National Oceanic and Atmosphere Administration's Coastal Services Center. "Instead of just one agency managing fisheries or siting a wind farm, we're required to take our blinders off and look at a much broader ocean context for that project or mandate to figure out what else is going on out there."
Nicholson said the maps provide predictability for industry and transparency to the public.
"It really required the federal agencies to get their ocean information in order. We collect a lot of information with taxpayers' dollars, and often it is very slow in getting that out to be usable, and this really forces us to do that," said Nicholson.
Data also comes from universities and nonprofits, all of which is peer-reviewed and abides quality assurance and quality control protocols, said Nicholson.
Brooks calls the plan proactive, especially as the region begins to look to offshore renewable energy sources such as wind, wave and tidal resources, and with the recent development of offshore liquid natural gas ports.
This summer, construction was completed on Deepwater Wind, the first-ever U.S. offshore wind farm, a 30-megawatt project three miles off the coast of Block Island, R.I. It is expected to start commercial operations in November. The project consists of five 6-megawatt Haliade wind turbines from GE Renewable Energy.
"That's only five. What's coming next is a couple hundred that will be constructed off the coast of Massachusetts and Rhode Island," said Nicholson, referring to Deepwater Wind's $3.8 million winning bid in 2013 on two offshore wind energy sites located in U.S. waters off the coasts of Rhode Island and Massachusetts.
December approval seen
Deepwater has been paying the federal government $500,000 a year in rent until a wind farm is operational and will pay an annual royalty fee based on the value of the energy produced, which is expected to have a capacity of up to 1,000 megawatts. The 200-turbine, utility-scale wind farm will have a regional transmission system linking Long Island, N.Y. to southeastern New England.
The National Ocean Committee – which consists of the head of NOAA, the Navy and other top officials from federal agencies with ocean-related oversight – are expected to approve the Northeast Ocean Plan by December. The regional planning body and web portal team will continue working to provide a more detailed implementation plan and ensure data is regularly updated. However, Nicholson noted, the Northeast Ocean Plan does not change laws regulating the ocean, it just provides a framework for navigating them.
"That was a really big deal because we've taken the time to go to every state, every public meeting, talking to fishermen on the wharfs to get their feedback," said Nicholson. "It's an executive order, but we've treated it as an organic effort."