NHBR celebrates business excellence
The Business Excellence Awards celebrate the achievements of New Hampshire business owners and operators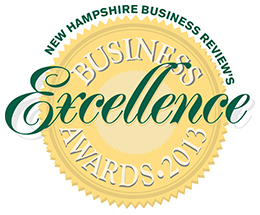 For the 11th consecutive year, NHBR's Business Excellence Awards are celebrating the achievements of New Hampshire businesspeople.
This year's event will be held from 5:30 to 7 p.m., Tuesday, Oct. 22, at the newly expanded and renovated Manchester Country Club, 103 S. River Rd., Bedford.
The Business Excellence Awards are presented to honor the owners and operators of businesses with 100 employees or fewer who have displayed imagination, industriousness, innovation and achievement in their career.
The 2013 inductee to the NHBR Business Excellence Hall of Fame will be announced at the event as well.
Individual admission is $25. You can make reservations by visiting NHBR.com/businessexcellenceawards or contacting 603-413-5113 or kmiles@mcleancommunications.com.
Proceeds benefit CASA of NH, an organization that provides volunteers to serve as advocates for abused and neglected children in the New Hampshire court system.
Presenting sponsor of the Business Excellence Awards is Citizens Bank. Other sponsors are Harvard Pilgrim Health Care of New England, Bank of New Hampshire, Devine Millimet, Merrimack Street Volvo, and the Business and Industry Association of New Hampshire.
This year's nominees are:
| | |
| --- | --- |
| Nominee's Name | Nominee's Company |
| Donna Kalil and Beth Kress | Kalil & Kress Family Dentistry |
| Bill Schick | MESH Interactive Agency |
| Craig O'Leary | O'Leary's Music Center |
| Gail Kimball | Advanced Graphic Communication |
| Ryan Barton | Mainstay Technologies |
| Stephen Thorpe | Adaptive Communications |
| Shane Carter | Ridgeview Construction |
| Mike Emerton | BridgeView Marketing |
| Chris Proulx, Scott Proulx and Brett Parker | Double Midnight Comics |
| Robert Wilkins | Ziftr |
| Peter Wensberg | AMI Graphics, LLC |
| Ingrid Nichols | Banwell Architects |
| Sandra Cleary | CruCon Cruise Outlet |
| Daniel R. Morrison | Optima Bank & Trust |
| Michael P. Boyle | Boyle Energy Services & Technology, Inc. |
| Devon Claire Boyd | Elemental Energy |
| Scott Aversano | The Airfield Cafe |
| Sharon Beaty | Mid-State Health Center |
| Keith Bamford | Daystar, Inc. |
| Sherilyn Burnett Young | Rath, Young and Pignatelli, PC |
| Jason Kroll | KBW Financial Staffing & Recruiting |
| David Vigliotti | Technology Search Partners |
| Shawn Walsh | Paradigm Computer Consulting |
| Shawn LaFrance | Foundation for Healthy Communities |
| Michele Pesula Kuegler | PeKu Publications |
| Abby Shockley | NH Providers Association |
| Evan Hennessey | Stages at One Washington |
| David Pastor | Fletcher's Appliance |
| Amy Coombs | Whole Life Health Care |
| Dennis DiPaolo and Jeanne Larssen | Seasonal Specialty Stores |
| Maria White | American Red Cross NH Region |
| Patricia Stagno | Power Skills for Life |
| Michael Turcotte | Turn Cycle Solutions |
| Dianne D. Beaton | 2DiFore Marketing Solutions, LLC |
| Jason and Jennifer Harvey | Live Free Home Health Care |
| Nicole Vera | New to You Recycled Fashion |
| Phil Hueber | Big Brothers Big Sisters of Western New Hampshire |
| Angela Martin | Devine Millimet |
| Nicole Vera | New To You High-End Recycled Fashion |
| Pamela Diamantis | Curbstone Financial Management Corporation |
| Mike Hartwick | SURFSET Fitness Inc. |
| John Stewart | Bedford Martial Arts Academy |
| Archie A. DeFlorio | Cash For Gold |
| James Knee | Sterling Financial Corporation |
| Keri Laman | Tidewater Catering Group |
| Edward Smith | Granite Clover Self Storage |
| Holly Emerson | Newfound Grocery, LLC |
| Arthur O."Buddy" Phaneuf | Phaneuf Funeral Homes & Crematorium |
| | |