NH Senate OKs bills to shore up biomass plants
Measures would hike rates to subsidize industry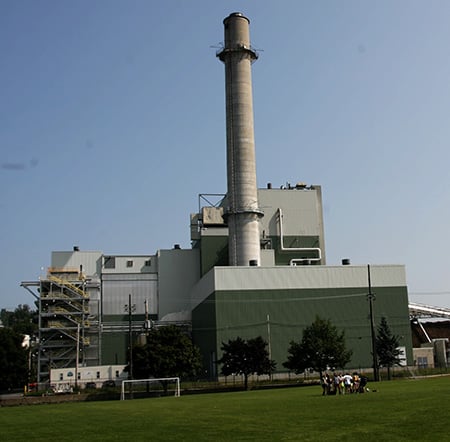 The NH Senate has passed two bills that should increase electric customers' rates in order to boost the state's biomass plants and their benefits, which include jobs, and local energy independence.
House Bill 365 would require default energy providers – Eversource, Unitil and Liberty Utilities – to purchase power from the state's biomass plants as well as small hydroelectric facilities and waste-to-energy incinerators at above-market prices. That would cost customers about $30 million, according to one utility estimate.
In addition, HB 577 would require that the Public Utilities Commission re-examine Eversource's current contract with the Burgess BioPower plant in Berlin to see if the above-market rate contract can continue after the current $100 million subsidy cap is reached.
The bills would either reverse or slow down the current direction of the state's restructuring policy, which requires Eversource to sell off its generating assets and prevents it from locking into any more long-term contracts.
"It's messing with the market," summed up Eversource spokesperson Martin Murray.
But the measures are needed, say backers of both bills, to preserve a total of 900 jobs.
Many of those jobs are "in areas of the state where people can't easily be retrained, where they worked in the woods all their lives with chainsaws and logging," Sen. Jeb Bradley, R-Wolfeboro.
One of the six smaller biomass plants has already closed, he said, and two more would close without this legislation, a fourth is running part-time and "the other two are not far behind," Bradley said.
Senate Bill 365 would require that utility suppliers purchase power from the older (pre-2006) plants for 80 percent of the default power rate. But the suppliers are usually able to get more reliable power at a much lower rate elsewhere, and how much the obligation would the increase default rate is not clear.
"There is a cost to these jobs. That's a fact of life," said Bradley, though he said it wouldn't be that much.
North Country support
There could be even greater costs in allowing the plants to close, he said: loss of fuel tax revenue, draining of the unemployment trust fund, reduction of timber tax, higher municipal tipping fees for waste-to-energy plants and lower property taxes for towns where the facilities are located. Plus, the state would lose renewable energy.
"I want to help the North Country," said Sen. William Gannon, R-Sandown, but higher rates particularly hurt the "poor and elderly who pay a much higher percentage of their income on power."
SB 365 would only affect customers who are not buying their power from a competitive supplier. Since few businesses pay the default rate anymore, this would primarily affect residents.
The Senate passed the bill, 17-4, over to the House,
Eversource currently has a contract with Burgess, which has already cost $52 million to all electric customers (including those using competitive suppliers), through the system benefits charge. That contract survived restructuring, but would end once the additional cost reaches $100 million. HB 577 would require the PUC to "consider whether it is in the public interest to increase the amount of the cap" or to make adjustments so that the plant could continue to operate.
"This is an issue about jobs in the North Country," said Rep. Bob Giuda, R-Warren, the first time the Senate debated the bill in early March.
"I you vote for this, you can't say you are unhappy with higher electric rates," replied Sen. Andy Sanborn, R-Bedford.
Giuda emphasized a different point before the final vote on March 22, saying that the state should not rely so much on fuel from out of state.
"We don't need oil from Iraq or natural gas from Texas," he said. "The wood is ours."
The Senate passed the bill on a 19-4 roll call vote.