NH retailers hopeful about holiday season
But labor shortage, online competition lurk as hurdles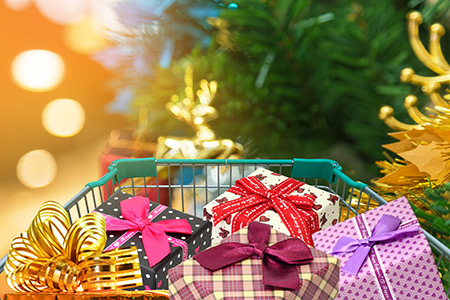 To mangle a metaphor, you could call it the dark lining in a silver cloud over this year's holiday shopping season — or as economist Russ Thibeault calls it, "the fly in the ointment."
"In a nutshell, everything is positive," said Thibeault, president of Applied Economic Research in Laconia. "The state is adding around 12,000 jobs a year, personal income is rising, though not as fast as we'd like. We have the lowest unemployment rate virtually in the country, our personal income ranks in the top 10. The fly in the ointment is all of us are spending a larger part of our money online, and that hurts traditional retailers. Not a lot of that online spending ends up in New Hampshire, so it's really a leakage of retail sales."
As October drew to a close, the stock market was still rising and gasoline prices were falling, "always good things to happen just before the holiday season," said Nancy Kyle, president of the NH Retailers Association. While there is some nervousness about what the president and Congress may yet do to the tax-exempt status of 401(k) plans, consumer confidence appears high.
"I think it's changed the way people shop," Kyle said about online sales. "I think the retailers who get by will be the ones who evolve and embrace it. It's a challenging time. There are some being hurt and some are benefiting."
Some brick and mortar retailers "have well-developed websites and are taking part in it. It's a global marketplace now. A small Main Street retailer can sell all over the world."
'The real world'
Terry Dorr, owner of the Dorr Mills Store in Newport, has found the internet to be a two-way street.
Both a retailer and wholesaler of woolen fabrics, including rugs and blankets, Dorr Mills also sells men's clothing and sportswear. "That part of the business is a challenge, and it's a challenge nationally," Dorr said, due to "Amazon and the overexposure of goods of all sorts."
But Dorr goes online himself to find customers throughout the nation and beyond.
"We'll occasionally sell some stuff to Europe, Australia, a few [customers] in Japan," he said, "but the bulk of our business is in this country and Canada."
About 15 percent of his mail-order business comes by way of e-commerce.
"It's not a big percentage of our sales at all," said Amanda Peterson, general manager of Gondwana & Divine Clothing Co., a woman's clothing store and gift shop in downtown Concord. "We went online in the spring, and our customers are just getting used to it."
She said that for some customers, seeing an item they like online is an incentive to come to the store. "They want to see it and touch it and have interaction with a real person," Peterson said. "A lot of our customers enjoy the face-to-face exchange and personalized service."
"Amazon, in its quest for world domination, started with books, so we've been under a lot of pressure," said Michael Herrmann, owner of Gibson's Book Store on Concord's Main Street. With the closing of all of Borders' 500 stores a few years ago and other chains folding or cutting back, Hermann said, he sees independent bookstores enjoying a comeback, despite the online competition.
"People like to come out into the real world," he said. "You can't duplicate the experience of browsing online. People appreciate that because they enjoy it."
Gibson's promotions include book signings by New Hampshire authors and a visit to the store in December by Hillary Clinton to promote her book, "What Happened."
Looking for help
Cardi's, a family-owned chain of furniture stores with headquarters in Swansea, Mass., expects to open its first New Hampshire store in Seabrook by the end of the year, as renovations continue for the 75,000-square-foot store on the site of a former Walmart.
Peter Cardi, one of three brothers now running the business their grandfather started in Cranston, R.I., in 1928, said the 19-store company's expansion into the Granite State, shows the oft-predicted demise of retail stores has been greatly exaggerated.
"There's been a lot of gloom-and-doom about how Amazon is going to put everybody out of business," he said. But people don't usually buy furniture over the Internet. "If you don't like a shirt it's easy to return, or you can put it in a drawer and forget about it," Cardi said. "If you buy a sofa and it's wrong, you can't send it back. It's sitting there in the middle of your living room. Most people want to come in and try it. And a mattress is something you spend more time on than any other product, so it better be right."
"I'm getting more early buyers this year," said Janette Desmond, owner of the Chocolates, Fudge and Ice Cream Shoppe franchise in Portsmouth. "We're already getting multiple orders from corporate clients."
But while Desmond is making and selling more ice cream and chocolate treats, she is doing it with fewer people. With the state's unemployment rate at 2.7 percent, it's harder to find available workers.
"I have advertised for help all year," she said. She has been working with a staff of 10, when "normally we have 20. I worry I'm going to burn out the staff because I'm asking more of them. I've been coming in two hours early, and one of my staff people comes in early and gets two hours of work done before we even open the store. We never had to do that before."
So far, so good
"This fall was one of the best falls we've seen at the restaurant," said John Kadar, co-owner of Cava in Portsmouth. "The holiday season is a little more hit or miss. In the last five years online shopping has become more prevalent," reducing the amount of foot traffic around local stores and restaurants. "When people are out shopping, going out to eat goes hand-in hand with that," Kadar said.
He has also found it more difficult during the past two to three years to hire more help when he has needed them. "I've been fortunate to have a staff that does not turn over that much," he said. "But when you lose one dishwasher, it's hard to replace that person. I most definitely have had to wash dishes myself and I would believe any restaurant owner at some point in time has had to do the same kind thing. It comes with the territory."
On the other side of the state, a September unemployment rate of 2.2 percent for the Lebanon area spells similar difficulties. "It's a sea anchor on sales," said Rob Taylor, executive director of the Lebanon Area Chamber of Commerce. "If you don't have enough people running the front of the house it slows down the amount of business you're able to do."
On the plus side, he said, "wages have gone up to for that small supply of retail help. People are doing better and have more to spend on the Christmas season. They'll get into the spirit a little bit more with the right kind of weather."
Weather is of special concern for businesses like Omer and Bob's ski shop in Lebanon, where co-owner Breck Tabor is hoping the cold and snow will come early and often this winter to spur sales in skis and outdoor winter wear.
"Two years ago, our doors were wide open on Christmas Eve and there was no snow on the ground," Breck recalled. "It was pretty bleak. " Unseasonably warm weather spurred bicycle sales in early autumn, but the ski season is still "the primary meat of our business," Breck said. "If it would get cold, people will get into the mindset of winter a little earlier."
A warm October was no impediment to early holiday shopping in North Conway, where both locals and visitors to the heavily traveled tourist area combine shopping at the abundance of outlet stores with their hiking, biking and leaf-peeping activities.
"Holiday gift shopping is a long season in North Conway," beginning around Columbus Day, said Dot Seybold, general manager of OVM Management Inc. and owner and operator of the Settlers Green shopping village. The September grand opening of the village's $4.1 million expansion, called Settlers Streetside, marked a growing optimism about the future of retail sales in the region.
"Right now it's been a very good season for us, with the Canadian market coming back after being down for a couple of years," due to the weakening of the Canadian dollar, Seybold said. While demand is up, the shortage of available workers is due in part to a lack of affordable housing in the area, she said.
At the southern end of the state, a continuing renovation and conversion of former mill buildings to residential use in Nashua is accommodating a growing population in the Gate City.
Two hundred new residential units will be available when Brady Sullivan Properties of Manchester completes work on renovating the massive 310,000-square-foot former Nashua Corp. building on Franklin Street. That follows a decades-long trend in redevelopment that has included the conversion of the former Nashua Manufacturing building into apartments at Clocktower Place and the 2014 opening of Apartments at Cotton Mill.
The increase in the number of people living in and around downtown Nashua sets well with Main Street merchants like Phil Scontsas of Scontsas Fine Jewelry and Home Décor, a third-generation family-owned business, now in its 105th year.
"I think people have been writing downtown's obituary for many years," Scontsas said. "A lot us are still here and still doing well."