New Hampshire restaurants, supermarkets, distributors struggle through coronavirus crisis
Pandemic puts added strain on eateries' vendors, grocery supply chains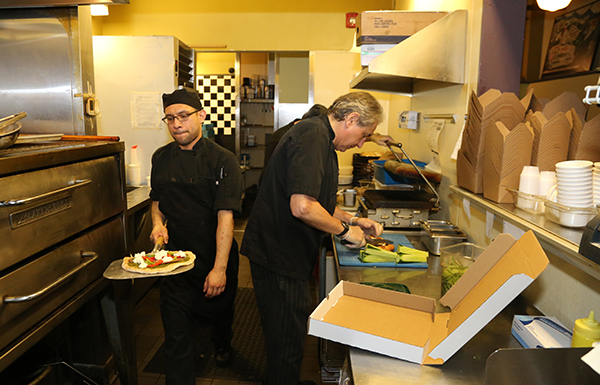 When a ban was declared on dining-in at all New Hampshire restaurants from March 17 until April 7, Edward Aloise, chef and co-owner of Campo Enoteca and Republic Café in Manchester, was entirely caught off guard.
"One of my dishwashers was watching WMUR and it said the governor has shut down the restaurants in the state and they were using a stock photo of my restaurant," recalled Aloise. "My phone started buzzing like crazy. That's how I found out."
In fact, the day before, Gov. Chris Sununu had told the New Hampshire Lodging and Restaurant Association he did not plan to shut down restaurants, said Aloise.
"It's a close community," said Aloise. What the governor told the NHLRA "permeated to the industry, and not 12 hours later, ba-boom!"
That's how immediate the rising threat of widespread community transmission of Covid-19 crippled one of New Hampshire's most overwhelmed industries.
Governor Sununu said he made the decision after learning of social media chatter among Massachusetts residents who planned to travel to New Hampshire to celebrate St. Patrick's Day, hours after Massachusetts Gov. Charlie Baker had announced restaurants there would close to public gatherings.
The additional influx of patrons seemed risky, and everyone interviewed by NH Business Review acknowledged it was in the best interest of public health to ban dining-in, but the hasty move will diminish New Hampshire's booming restaurant scene and have a ripple effect on businesses and state coffers.
Pivoting operations
The governor's pre-St. Patrick's Day announcement left "a lot of people scrambling," said Mike Somers, president and CEO of the NHLRA. "Clearly they have a lot more inventory than they'll need for takeout and delivery business," he said. The governor's order allows restaurants to continue with takeout and delivery operations, including wine and beer.
"We're going to lose all of our product because you can only keep it for seven days — then you have to toss it," said a frustrated Aloise, whose insurance broker informed him that civil authority is not covered by his business interruption insurance. The broker did recommend that he still try to file a claim. Fortunately, Aloise also has product liability insurance.
Takeout and delivery service is not the norm for his restaurants. Both specialize in farm-to-table, fresh fare.
"A lot of our stuff does not travel well," said Aloise, who was fuming over the governor's "lack of foresight" in making his announcement. He and his team quickly created a limited menu available for pickup and sought out additional to-go boxes.
"Delivery, I'm not sure about," said Aloise. "We haven't done delivery, and it's not part of our protocol. You have to make sure your product is insured and drivers are insured. There is a lot of ramp-up to that. You can't just do that overnight."
But by Saturday, March 21, Aloise's experiment in takeout and delivery service had ended.
In an email sent to customers that day, he wrote: "Sadly, the takeout program cannot generate sufficient sales to allow us to keep the stoves fired up in the kitchen at Republic and to also maintain the capital reserve necessary for our reopening when the world re-emerges on the other side of this crisis."
For Keri Laman, president of Tidewater Catering Group and owner of three cafes in Manchester, dine-in "doesn't tend to be the bulk of my business anyway."
"We were uniquely situated because takeout and delivery was already part of our business model at two out of three of our cafes," said Laman.
As she saw her catering business drop off to nothing due to canceled events, Laman and her management team met a few days before the governor's announcement to develop a new strategy.
"We decided to stay open till 6:30 p.m., in an effort to capture some of the early family dining time, and have adjusted our specials to be reflective of that," said Laman. "Predominantly, our menus were for the breakfast and lunch corporate market, but realizing families are home, we've changed the specials to be more hearty but still price-sensitive."
She's gotten the word out through social media and email marketing. The Greater Manchester Chamber of Commerce has compiled a webpage with links to local businesses' social media sites, where daily information is posted, and point-of-sales systems Toast, Clover and Square have waived the fee for their email marketing software. NH Business Review has also compiled a list of restaurant offerings at NHBR.com.
"There are a lot of restaurants in this predicament. I am certainly very well aware of what my companions in this industry are facing, and we all are sharing that market," acknowledged Laman, who didn't expect a boost in business, "but a piece of that pie."
Challenges ahead
Some restaurants, however, will not weather the temporary shutdown.
"Most [restaurants] are operating on margins of 2 to 5%, and that's the good operators. There is not a lot of cash on hand anyway," said Somers, who called the situation "borderland catastrophic" and hoped there would be federal emergency funds available.
"There's a lot of concern about cash flow and how they access a small business loan through the Small Business Administration, but beyond that, the No. 1 concern of a lot of folks is, 'How do we take care of our employees to weather a three-week closure,' and ramp up for reopening, said Somers, who expected restaurants will only operate at 10 to 15% of their normal operations.
In his announcement about the shutdown, the governor said, "This will be hard, but we are all in this together," adding that "service industry employees affected by this temporary change will be able to qualify for unemployment benefits effective immediately."
To meet the high volume of claims, Department of Employment Security employees who work out of field offices across the state will be reassigned to process claims over the Unemployment Assistance Hotline (603-271-7700) and online at nhes.nh.gov.
"We can sit and have the conversation about interest-free loans and unemployment benefits for the staff, but restaurants survive on some of the smallest margins of any industry," said Laman. "My heart and compassion goes out to the restaurants we may not see at the end of this, and that makes me very sad because the independent restaurants and food service organizations and bars and entertainment venues I choose to frequent, because I believe in the entrepreneurial spirit in the state, are going to be the hardest-hit."
Aloise said he is fortunate that his businesses are debt-free and his vendors are not extended.
"We were ahead of last year in sales. We were expecting a very good spring and summer," said Aloise.
Still, he faces many challenges ahead.
"Reopening is going to be just as chaotic and just as expensive," said Aloise. "After you shut a restaurant down for more than seven days, when you reopen it's like you've reopened for your very first day. You have to invest almost entirely in new inventory, especially Campo Enoteca, where most of our product is fresh. You need cash to recreate your product. You need your staff in here prior to the day to open … you need enough cash to do that, and a lot of stores just don't have that."
He said that the industry is "going to be dealing with this for the next six months, going into the busiest season of the year — summertime. Being the industry that is taxed and the one that is shut down, you're looking at the state coffers and the budget being implicated. This is huge."
Ripple effect
As restaurants cut back, or even ultimately close indefinitely, other businesses will be affected as well.
Aloise purchases chicken, beef, pork, eggs and other items from 25 small farms and dairies, and that number increases to 45 in the summertime.
"A relationship with a farm is very different than calling up your Cisco district manager," said Aloise. "I'm talking to a vendor partner. We have a greenhouse in Massachusetts and one in Loudon we're not going to be using. Everyone is scrambling because the supply chain is broken and broken immediately. It's one thing if there was some advanced notice, we're going to be ramping down and these sections will be closing first than the entire state at the same time. It's like a light switch, everybody's talking about the closing."
At The Common Man Family of Restaurants — which has 20 locations around New Hampshire — "we're absolutely cutting back on our deliveries now to see what we can use in our restaurants," said Vincent Vella, CEO. "We're confident with the sources we have and the relationship we have with them, we can continue to get fresh product as we need it."
"But," he stressed, "you have to understand there's a ripple effect from this that extends way beyond what you think of as normal supply, which is food. There are other businesses. Our linen deliveries will be cut back because without customers coming into the restaurant, we don't need table napkins. We have knife-sharpening services. We're not taking in any alcohol or beer products, so we don't need any deliveries. Logistically, it's a nightmare for a lot of people."
Further pressure
The ban on dining in at restaurants "is going to put more pressure on the food supply because there's more people eating at home," said Mike Violette, CEO of Associated Grocers of New England, a retailer-owned wholesale grocery distribution center that supplies community supermarkets, country stores and convenience retailers across New England, New York and Pennsylvania, as well as their 14 corporate stores in New Hampshire and Vermont.
Grocery stores across the country have seen their shelves emptied by worried consumers, stockpiling in case manufacturing lines go down as Covid-19 spreads.
With 40 years in the industry, Violette is familiar with winter storms, which drive consumers to stockpile for a few days.
But "we've never seen a rush like this," he said. "Our shipments from last Thursday [March 12] on have been much, much larger. We've shipped more groceries than we ever shipped before."
And Keene-based C&S Wholesale Grocers, the largest privately held wholesale grocery supply company in the U.S., has seen a "substantial increase in volume throughout our network," said Lauren La Bruno, vice president of communications.
"I think the first thing people should be aware of is there is plenty of food supply out there," said John Dumais, president and CEO of the New Hampshire Grocers Association, who has been in regular contact with major supermarket chains and independent stores across the state. "There's no shortage of toilet paper, paper towels or other cereals or things they're buying extra quantities of. The difficulty of keeping shelves full is from the manufacturer to retailer — there's a shortage of drivers to bring the tractor trailers to the store, so they can't get it as replenished as they normally do."
"There's a huge driver shortage throughout the whole country," Violette said.
For instance, Walmart is currently advertising 500 truck driver openings nationwide.
AGNE has enough truck drivers during a normal schedule, but "what's happening is this type of demand — you're looking for additional runs that have to go out and that requires another driver than what we have."
On Sunday March 15, he said, "we probably had an additional nine runs."
He added, "It's a lot of management. Our warehouse management team spends all day cubing out trucks, seeing how much will fit in the truck, putting stops together. It's one big puzzle. I'm not sure when it all comes out how profitable it's really going to be. When you start putting all of the costs of overtime and everything into it, it does get expensive and it's very inefficient."
To accommodate the nationwide sharp demand for groceries, the U.S. Department of Transportation has lifted some of the regulations on drivers so they can work longer hours to get food supply to the store, said Violette.
"With all of these people buying exorbitant amounts, it's obviously taxing the supply," said Violette. "It's really hoarding."
Violette, who also serves on the board of directors of the Massachusetts Food Association, said that organizations have "been trying to get the message out, asking people not to hoard, because it's complicating a problem. It's one thing if people have the money to buy these groceries, but for people who don't, there's not as much [available when they shop]."
Market Basket, Walmart and other retailers have now set aside early morning store hours for seniors only, allowing them to access items loaded off the truck. Restrictions on key household items are also starting to be implemented.
Dumais of the Grocers Association said some stores are closing down an hour or two early or opening later to allow more time for employees to stock shelves, but no stores have plans to shut down entirely.
"Because of the nature of the store, they have deliveries almost daily coming in, on a regular non-emergency basis they have truckloads coming in everyday. Some of the supermarkets — it's more than 60,000 different items coming in," said Dumais.
And hoarding will ultimately put pressure on grocery inventory, should it continue, said Violette.
"We're being told by our manufacturers we'll be on allocation now, so you might not get all that you order," said Violette. "You may order 500 cases and you only get 250 cases. That's what's happened. So we look at how we buy things and hold more stock than we typically would for these type of situations and we've been building that inventory before this and now this is going to obviously deplete it."