NH, Maine permanently close Sarah Mildred Long Bridge
With replacement already under construction, repair of aging structure deemed too costly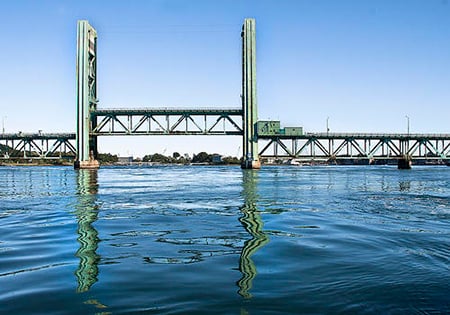 In the wake of a mechanical failure that shut the span down on Sunday, the NH Department of Transportation and Maine Department of Transportation have decided to permanently close to motor vehicle traffic the 76-year-old Sarah Mildred Long Bridge connecting Portsmouth and Kittery, Maine.
Officials said the mechanical issue in the south bridge tower was discovered on Sunday morning. Engineers were able to lift the bridge to the "up" position at about 1 a.m. on Monday to accommodate marine traffic, as required by federal law.
The bridge was already scheduled to close permanently on Nov. 1 to make way for continuing construction of the new Sarah Mildred Long Bridge, which is scheduled to open in September 2017.
Engineers from NHDOT and MaineDOT, along with movable bridge experts, determined the existing bridge is not safe for routine operation without what they said were complicated and extensive repairs – estimated is upwards of $1 million. The work would take more than six weeks to complete, they added.
Their decision was reached, they said, after "careful consideration" of "the negative impact to motorists and the communities versus the cost, time, and uncertainty involved in any repair of this magnitude."
Detours are in place for motorists to use alternative routes between Portsmouth and Kittery via the Interstate 95 "High Level" Bridge and the Memorial Bridge on Route 1.
The Long Bridge will continue to remain open for marine traffic on the Piscataqua River.