NH landlords up in arms over House panel's changes to lead remediation bill
New proposal would substitute grant program with loan guarantees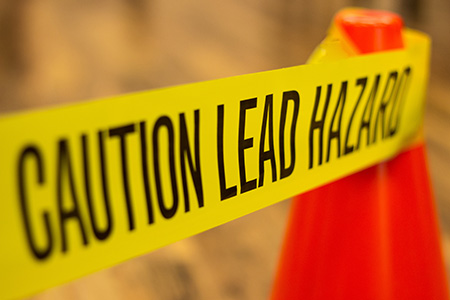 New Hampshire landlords have come out strongly against a last-minute proposed change to a lead remediation bill that would substitute $6 million, mainly in grants, for the same amount in dubious and limited loan guarantees – money that would have to be shared with homeowners.
The change also would mandate that no pre-1978 home be converted into a rental unit after 2024, without being certified as lead-free.
Some landlords had signed on to Senate Bill 247 – passed by the Senate last year and the full House before being sent to the House Finance Committee. That measure would expand targeted testing to universal testing and lower the levels required to take action. That would translate into a lot more remediation, but the landlords were mollified because of the grant money involved.
"This is shocking to me, to take a bill that was acceptable to all parties and to change it in the middle of the night, said Rick Blais, a member and former president of the NH Property Owners Association.
But the amendment, which was presented at a House Finance subcommittee hearing on Tuesday, had the backing of House leadership, as evidenced by the first person to testify, House Speaker Shawn Jasper, R-Hudson, who said it might be the last time he testifies as House leader, before he goes on to be the state's next Agriculture Commissioner.
"In my 23 years in the House, I've never seen such a sustained effort as with this bill," he said. But the House changes, he said, are in the "best interests of the children, a balanced approached, a good start."
'No money, no bill'
For those involved in the process, it felt like starting over.
John Cronin, a former president and board member of the Apartment Association of New Hampshire, said that when the deal was negotiated – and the state would provide 75 percent of the cost – the landlords made it clear: "No money, no bill. Because without the money you can't do the remediation. Loan guarantees won't work."
Tom Fahey, a lobbyist for the NH Bankers Association, also cast doubt on the effectiveness of loan guarantees, particularly since the original amendment limited any loans to no more than 40 percent of remediation costs, or 30 percent of interim control costs, though homeowners would get 100 percent, and 75 percent for interim controls.
(A final amendment, to be voted on Wednesday by the full Finance Committee, upped the figure from 40 to 60 percent for remediation by landlords, while homeowners would be limited to 80 percent for remediation and half for interim controls.)
Landlords' profit margins are so thin on rental of old housing, Fahey said, that few banks would be won over by a partial guarantee.
"They can't lend expecting a loan to go under and get the money from someone else. Bankers don't lend like that," he said.
Even when the funds were mainly grants (a third would have been set aside for loans), landlords agreed that $6 million is not enough. There are nearly 100,000 pre-1878 rental units on the market, the year that the federal government prohibited lead in paint. While the amended bill limits the loan amount to $10,000 per unit, landlords repeatedly said that it could cost twice that much, especially if you take into account vacancies.
Landlords testified that the money would be stretched a lot further if landlords could be proactive, remediating between tenants, especially since the bill requires that property owners would be notified when the levels were detected below the action level. That way, they could remediate their own way, keeping lead levels low enough to avoid an order by the Department of Health and Human Services, which several described as draconian.
"I would rather have a building burn down – with no loss of life – then deal with a lead order," said Chris Schleyer, chief operating officer Elm Grove Companies, a Manchester firm that buys old apartment buildings.
He cited one building where a lead-poisoned child was living in a newer apartment without any lead in it, but the lead order required him to remediate another building on the site anyway.
Schleyer was particularly against a provision in the original amendment, which would have restricted loans to apartments undergoing a lead order. That would not only be more expensive for landlords, but it would undermine the preventive nature of the bill.
"A grant would encourage landlords to do things cheaper and quicker," said Matt Menning, Elm Grove's director of operations. "Those that don't do it would face punishment with a lead order."
The subcommittee did cut out the part of the bill restricting loans to lead orders.
Housing supply impact
There were also concerns that the bill would drive up the cost of affordable housing.
NH Housing Finance Authority Director Ben Frost said that, with a 1.5 percent vacancy rate, the affordability of housing is in a state of crisis. And under these "enormous market pressures," the bill would have a "limited but measurable market impact on the supply and cost of housing," he said.
Landlords were less circumspect in their estimates. Nick Norman, a lobbyist for the Apartment Association of New Hampshire, said that it could increase monthly rents by $300.
But others emphasized the emotional and fiscal cost of lead poisoning.
For instance, special education costs in Claremont alone are up to $7.1 million, and a third of children in units with lead paint wind up in special education, testified mayor Charlene Lovett. "This cost is being borne by property owners. At the end of the day, we can't afford not to deal with this."
Particularly important is a 2024 deadline that would prevent other old properties from going onto the market with lead hazards.
"They are doing a big gut rehab voluntarily, so it just makes sense to get rid of the lead in the process," said Elliott Berry, managing attorney and Housing Project director for NH Legal Assistance. Berry also emphasized that the cost of interim protocols, an acceptable way to comply with lead orders that usually involves painting and window replacements, is a lot less than a full abatement.
On the whole, advocates mainly backed the bill because it would expand the state's targeted testing effort – which now covers 15 percent of the population – to about 85 percent, putting it in line with surrounding states, even though there would be an opt-out provision.
Sen. Dan Feltes D-Concord, prime sponsor of the bill, said he thought that grants are more "flexible" than loans, but it was important to keep the bill moving through the process.
"The Senate did what it wanted to do, and now the House will do what it wants to do," he said, when asked if he supported the amendment.