NH House rejects workers' comp medical fee schedule
But amendment calling for 'reasonable' provider fees gains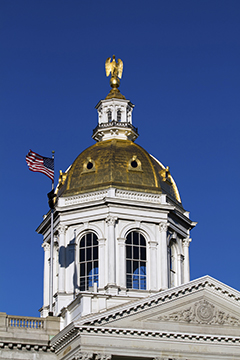 The NH House passed a workers' compensation reform bill Tuesday and, while it rejected a medical fee schedule or guidelines, it eliminated the requirement in current law that insurers must pay medical providers whatever they charge.
The 198-132 vote to defeat the schedule or guidelines was a setback for a coalition of business groups that have strongly supported the measure, but it was a victory for health providers, attorneys and labor groups, which argued that either guidelines or a fee schedule would interfere with the free market and could limit workers' access to the treatment they need to get back to work.
What was sent to the Senate – by a 264-67 margin – was a bill that says that the fees providers charge must be "reasonable," without spelling out what that means. House Bill 133 also sets a mediation requirement for any dispute before either side can take it to a hearing at the state Department of Labor.
The bill now heads to a committee of conference with a Senate that also could not come to an agreement on a fee schedule. The Senate instead tabled the matter, after an attempt at a similar compromise calling for reasonable fees.
Workers' comp reform has been a top priority of business groups. Although insurance rates in New Hampshire have actually come down the last few years, thanks to lower indemnity costs, the percentage paid for medical costs in New Hampshire is among the highest in the nation.
Reformers have pointed to a recent study that showed that medical providers charge several times more for the same medical procedure under workers' comp than other kinds of insurance policies. But their opponents have criticized the study because the data is incomplete, is provided by an industry group and does not take into account the extra cost and paperwork of dealing with chronic occupational illnesses.
While some of these issues were touched on in the House debate, the issue of fee schedules was front and center. House Labor Committee Chair Will Infantine, R-Manchester, insisted that his amendment only provided helpful guidelines not mandated schedules.
"Fee schedules don't work," he said. "That's why this is a guideline."
But opponents of his amendment jumped on the language: "The insurance commissioner shall develop and publish a schedule representing the maximum reasonable value of medical services …."
"Maximum means the highest," said Dan McGuire, R-Epsom. "So reasonable must be less than a maximum. In other words, it is a price control."
Whatever it was, the House didn't want it, and supporters of the amendment tried in vain to prevent the bill from going forward without it.
"We don't have the guts to set a guideline," said Tammy Simmons, R-Manchester, speaking for a failed motion to table the bill. "This will not guarantee savings for business. Next year, maybe, we can address this issue."