NH-based firm seeks to revive Smith Bros. cough drops
Subsidiary of U.K.-based LanesHealth markets 'heritage' remedies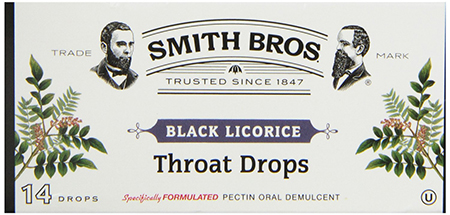 The once ubiquitous image of the bearded Smith Brothers on a box of cough drops might be the latest product and best known of Lanes Brands (formerly Jakemans Inc.) but it isn't the company's biggest.
In fact, the New Hampshire-based U.S. subsidiary of the English firm G.R. Lane Health Products Ltd. (LanesHealth) is expanding into a space in Bedford five times as large as its tiny Manchester office not because of the recent acquisition of the throat lozenge brand but a joint support supplement known as GOPO.
Sales of the product are "exploding," said Denis Cronin, national sales manager for Lanes Brand, of the rose hips-based supplement, which was introduced in the U.S. earlier this year. "It works extremely well and is taking off like crazy."
Don't expect the company to make a big dent in the state's employment numbers, however. When Lanes Brands doubled its workforce, it expanded from two employees to four.
Lanes Brands opened up a Manchester office six years ago to sell LanesHealth products, manufactured in Boston, England, and shipped by a third-party contractor to the United States. The family-owned firm, named after Gilbert Lane, who founded it in 1907, is currently run by his great-grandson Jonathan Groves.
Smith Bros., which dates back to 1847, was founded by William and Andrew Smith (often known as "Trade" and "Mark," legend goes, because of the words next to their pictures). The brothers stumbled upon their secret recipe when the cotton candy they were selling in Poughkeepsie, N.Y., was dubbed "cough candy" for its fortuitous medicinal properties.
Smith Bros. grew to become the first and biggest cough drop company in the United States and dominated the Poughkeepsie economic landscape. The pharmaceutical company Warner-Lambert bought it in 1963 and divested the brand nearly a decade later following its purchase of Halls.
F&F Foods bought it in 1972, moved the company to Chicago, and it foundered, changing hands several times. A New York private equity firm, York Capital Management, bought Smith Brothers in 2010, and a February 2015 article in the Poughkeepsie Journal reported it was experiencing a comeback, claiming that it doubled sales in two years, to $50 million in 2014.
Eight months later, York Capital shut down the Chicago facility, and the private equity firm auctioned off its assets.
LanesHealth acquired the brand in May and plans to revive the brand, bearded faces and all. Details about the deal were not released.
"LanesHealth has had good success in helping heritage brands regain market share and appeal to consumers looking for tried-and-true products to treat common ailments," said Groves in a press release. "We believe Smith Bros. fits nicely with our Jakemans Throat & Chest Lozenges as an alternative for consumers seeking relief in products that have been proven to work for generations."
The new product was one of the reasons that Jakemans changed its name to Lanes Brands last week and is moving its U.S. headquarters to a 2,000-square-foot office in Bedford next week, said Cronin.