NH aerospace conference highlights defense contract opportunities
'Opportunity to capture this business is immense,' audience told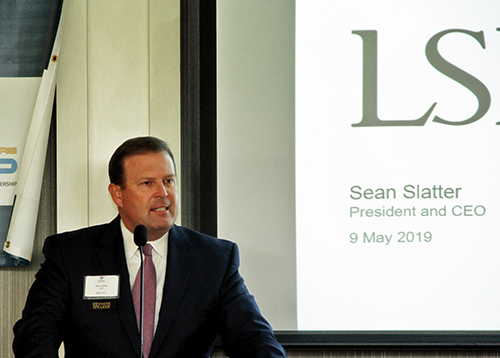 After familiarizing himself with the specialties of New Hampshire manufacturers, aerospace and defense consultant Sean Slatter has identified $3 billion in potential U.S. defense contract opportunities for some Granite State firms.
Slatter highlighted the growth of defense spending at the New Hampshire Aerospace Defense Conference, held May 9 at the Manchester Country Club in Bedford. For the 2019 fiscal year, the Department of Defense budget is $886 billion, up 13 percent from last year.
"We are in nearly a 10-year high for defense spending," Slatter, CEO of Utah-based LSI, which provides services to prime contractors, subcontractors and suppliers, told the audience. "For the next few years, the opportunity to capture this business is immense. Don't lose this opportunity. Go get this business."
Slatter recommended small- and medium-sized manufacturers partner with prime contractors, such as BAE Systems and Raytheon, whose representatives followed up with presentations of their own. The top 10 prime contractors account for 29 percent of DoD spending, said Slatter.
"These prime contractors are winning a significant amount of the overall revenue appropriated for defense spending. And as many of them will tell you, they have a requirement through the contracting office to subcontract work to small business," and those requirements are getting stricter, said Slatter.
While prime contractors often don't meet DoD requirements that 22 percent of their business be conducted with small businesses, one prime contractor was warned that its contract could be terminated if they did not work toward the goal, Slatter said.
At Raytheon, said Neil Perry, director of supply chain business transformation, 41 percent of the company's DoD business is conducted with small manufacturers.
Perry encouraged the audience to tell their congressional delegation to support funding for the mentor-protégé program, which enabled Raytheon to work more closely with small manufacturers to meet DoD needs, as the company did with TRM Microwave in Bedford and other New Hampshire companies.
"Raytheon, like many of you, is struggling to find enough engineers. One of the paths we're taking to get there is we're subbing it out to partners. We're literally taking design activities and bringing them out to our small business partners, and that represents a significant change from where we've been in the past," said Perry.
Shannon Aubin, strategic sourcing manager at L3 Insight Technology in Manchester, also voiced her firm's need for new suppliers.
"We're looking for flexibility and ability to scale," said Aubin.
Chuck Withee, president of The Provident Bank, told attendees that with the recent appointment of three members to the Export-Import Bank's board – Kimberly Reed as the bank's president, former Republican Congressman Spencer Bachus of Alabama and Judith Pryor – the Ex-Im Bank could resume approving deals of more than $10 million after a four-year hiatus.
"What that means for the supply chain is huge," said Withee.
Having met with defense officials after the NATO summit last summer, Slatter likewise pointed to international markets for growth opportunities. After President Trump's broadsides against NATO members who fail to spend 2 percent of their GDP on defense, Slatter has heard from officials that they would be stepping up their spending, which could include cybersecurity technology.
"I would encourage you to look especially with the NATO members to win new business," said Slatter. "They're looking for opportunities to partner with U.S. companies to meet these objectives."
Correction: The article earlier stated Sean Slatter identified $2 million in potential U.S. defense contract opportunities for some Granite State firms. The correct amount is $3 billion.