New kitchen incubator fills a need in central NH
Genuine Local offers cooking space, food safety and marketing services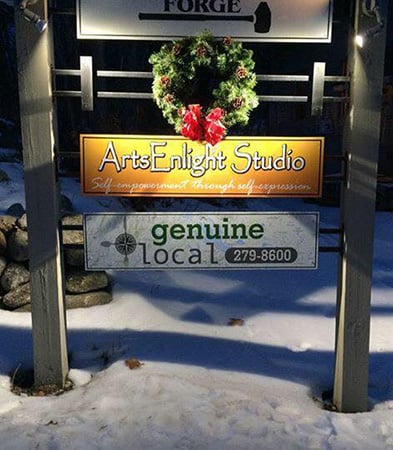 "Foodpreneurs" in central New Hampshire now have access to a kitchen incubator and food industry consultant in Meredith.
After securing a warehouse, buying equipment and building out plumbing and other necessary infrastructure, the incubator, Genuine Local, has been enjoying over a month of solid business.
"We got all of our final approvals on Jan. 25 and had the first batch of barbecue sauce in the kettles that afternoon," says Mary Macdonald, co-owner of The Discerning Palate, a barbecue sauce and rub maker.
Genuine Local serves a few different types of clients. Self-producers rent kitchen space to make their own products, while the incubator serves as a contract-manufacturer for others, making a recipe to their specifications as well as providing private labeling. A smaller category of clients is occasional users, such as farmers with a crop surplus.
"We have one customer right now who's coming in to do a value-added product with blueberries that were left over," says Macdonald. "Most of them have a farm stand. If they make it here and it's labeled appropriately, and they follow the correct procedures, they can sell it."
That's another area where Genuine Local seeks to provide services. For $350, the incubator will provide $500 in services and assistance for businesses participating in its bootstraps program, which guides clients through the appropriate food safety steps necessary to sell their products.
"We also wanted to make this somewhat of a business incubator for food businesses," says Macdonald. "To do that, we sat down and came up with a full range of things people didn't realize they need to know – it's an à la carte of services because not every company is at the same place."
Challenging industry
Genuine Local also offers to aid businesses in launching a new product line from start to finish, including tweaking recipes and designing and printing labels.
"We've talked to people who come to us with ideas and we help them develop their idea, explore what their market might be. It's a range of people coming in, and I think that business incubator portion has been a strong element for us and that comes with us wanting to pay it forward. If we can make it easier for the next guy so much the better," she says.
Product pricing is another area in which Genuine Local can help clients.
"The food industry is challenging. Everyone seems to think you mark everything up double, and that's not the case," she explains. "There are so many tiers for pricing in the food model."
Financial unsustainability is what drove Neighbor Made, a Keene kitchen incubator that The Discerning Palate utilized and had hoped to partner with, to close down last fall.
"I believe that is the challenge of the owners of Neighbor Made, they didn't come from the food industry and they expected a different rate of return," says Macdonald.
Customers of Neighbor Made have become customers of Genuine Local, but Macdonald says she's also attracted new clients in central New Hampshire.
Soon, residents and tourists in central New Hampshire will be able to purchase a selection of the locally made products at Meredith-based specialty gourmet food store So Little Thyme, which will feature a display of mustards, barbeque sauces and rubs, jellies and other products made at Genuine Local.
"I think having our established brands of specialty foods coming into this, that gave us a really solid background, but that also gave us a good network in the food industry."