New Hampshire lawmakers duel over lowering corporate jet fees
House seeks to hike fuel taxes to raise funds; Senate says state would have to 'eat' loss of revenue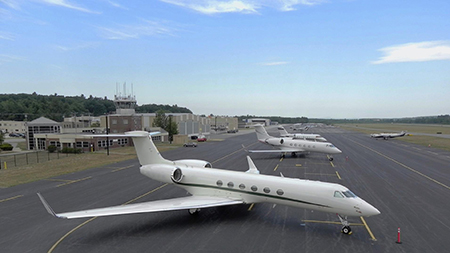 The NH House and Senate each have passed bills cutting fees on expensive corporate jets, but the House measure would pay for the cuts by more than doubling the aviation fuel tax while the Senate would have the state Department of Transportation "eat" the loss in revenue.
The fuel tax has become an issue as New Hampshire tries to lure other corporate headquarters to the state. Currently, the Granite State raises revenue through registration fees based on an aircraft's value.
That means owners of the newest, largest aircraft could pay a $300,000 fee to register their jet here while paying a flat $300 fee in Massachusetts.
As a result, many new aircraft are being housed at Hanscom Field in Bedford, Mass., rather than at Nashua's Boire Field, for example.
"Massachusetts is beating us at our own cross-border game," said Rep. Patrick Abrami, R-Stratham, in urging members of the House to pass House Bill 124, which it did by a 291-31 division vote on Feb. 15.
"Massachusetts has absolutely crushed us," said Sen. Bob Giuda, R-Warren, in pushing for Senate Bill 565, which the Senate approved by an 18-4 vote on Feb. 22.
But the bills take different approaches, backed by different philosophies.
The House bill would do away with the millage tax, but increase the registration fee by weight, currently at $48 for all aircraft. Under the bill, the registration fee would range form $100 for smaller aircraft to a maximum of $3,500 for larger aircraft.
HB 124 would also increase the fuel tax on aviation gasoline used propeller aircraft from 4 cents to 8 cents per gallon. There would be a tax of nearly 5 cents per fuel used by private jets would be taxed at 0.49 cents per gallon, up from the previous 2 cents. And a 2.7-cent a gallon tax would be imposed on fuel used by commercial jets. That is currently 0.005 cents.
That would essentially mean the state would still collect the same $1.25 million in revenue, while still the keeping aviation gas tax way below that of Massachusetts, which charges 24 cents a gallon for aircraft, and 7.5 cents for jets.
Representatives of smaller aircraft owners backed the increases, even though they would have to pay them, because the revenue would provide money for the upkeep of smaller airports and for the aircraft industry in the state to be "self sustaining," said Abrami. "And that's a good conservative principal if I ever heard one."
Only J.R. Hoell, R-Dunbarton, spoke in opposition to the bill, asking the House to pass a simple repeal. He noted that the $250,000 currently going to local airports would be replaced by the same amount currently going to the fuel tax because of a recent FAA regulation that requires it.
Senate scheme
The Senate bill would also impose a registration fee based on weight instead of value, with a similar schedule as passed by the House (though smaller plane owners would only have to pay $50 a year). But it would not attempt to fill that gap by raising fuel taxes. As a result, the money collected would decrease by $674,000.
Giuda, in a marked departure from Abrami, argued that the industry couldn't pay for itself. Raising money solely by aircraft fees "is unsustainable and detrimental to the industry. Fees are disincentives for corporations to locate here because they like to have their jets near their headquarters."
When Sen. Dan Feltes, D-Concord, asked how DOT would be able to handle that loss of revenue, Giuda said, "The DOT will have to eat it on this."
Later, he added that if the state could attract more jets, their owners would buy more fuel here, which will "ultimately catch up and surpass" that loss of registration fee revenue. "We see that happening in four or five years at the most."
That could hurt the airports, said several other senators, including Sen. Donna Soucy, D-Manchester. "The Manchester airport is one of the economic drivers of our state," she said.
But Sen. Jeb Bradley, R-Wolfeboro, said that unless something was done about aircraft registration fees, the commercial aviation industry will be in a "death spiral," and the financial loss was relatively small, compared to the potential loss of business to the state.