New Dartmouth research center aims to transform electronics
Collaboration with private companies at center of Power Management Integration Center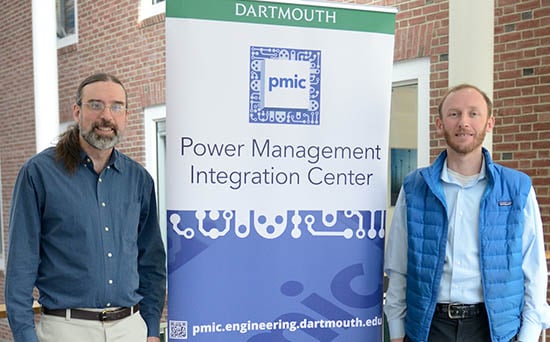 Dartmouth College is partnering with four electrical tech companies – GE Research, Analog Devices, Empower Semiconductor, and Ampt – to form the first National Science Foundation-funded Industry-University Collaborative Research Center focusing on integrated power management and delivery for a wide range of electrified systems.
The newly formed Power Management Integration Center is designed to provide companies with access to Dartmouth's R&D expertise, facilities and intellectual property to help address a range of challenges facing next-generation power electronics.
The center has issued a call for other members looking to "create products that use less energy without increasing cost," said Charles Sullivan, director of the PMIC and an engineering professor at Dartmouth. "Researchers here are exploring and developing the technology to help them do that. PMIC will bring Dartmouth researchers and companies together."
According to Jason Stauth, co-director of PMIC and also an engineering professor at Dartmouth, "power is in almost everything. We want to remove technology bottlenecks and help make electronics smaller, more efficient, and cheaper for both industry and consumers."
Stauth said that microelectronics and integrated circuits have revolutionized computing, communications and information technology. However, as devices have shrunk, power management hardware remains a key obstacle to further reducing systems' size and cost in virtually all applications, from mobile communications and internet-of-things devices to electrified systems in automobiles, aircraft and spacecraft.
Focusing on integrated power management circuits and systems on a chip, PMIC will work to develop new ways of achieving extreme power density and efficiency with the potential to transform transportation, communication, and energy generation and consumption, he said.
He said innovations in this area can bring significant improvements to a wide variety of applications including battery life for mobile platforms, solar and electrochemical energy storage, electric cars and other electrified transportation, as well as overall cost, carbon emissions and national energy security.
PMIC will emphasize passive component innovation and integration, magnetic materials and component design, and new high-density resonant structures for power delivery.
For more information about becoming a member, click here.