N.H.'s Changing Workforce: Tips for recruiting and retaining 50+ workers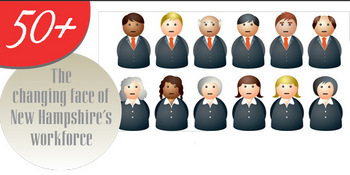 Changes in New Hampshire's workforce have employers in the state looking toward workers age 50 and over to fill positions in a variety of different industries. But just as the success of any sales campaign depends on effectively targeting the right audience, the success of recruiting and retaining workers from a specific demographic depends upon effectively marketing the open position and the hiring company.
"Any kind of marketing you do, you have to target your audience. You have to be inclusive rather than exclusive," said Ed Redfern, national program consultant for AARP in Washington. "It's reflected in the language you use, your literature, your Web site. When it comes to hiring it's not one-size-fits-all."
With the number of workers eligible for retirement in New Hampshire outnumbering incoming workers, knowing how to recruit and retain 50+ workers may prove critical to a company's survival.
"Employers need to realize they will be facing a shortage of workers," said Redfern. "The typical sourcing of applicants is just not going to be there."
According to Jamie Bulen, associate state director of communications for AARP NH, New Hampshire employers are beginning to understand how important the pool of 50+ workers is.
"We're beginning to see more companies starting to target this population," said Bulen. "People are saying, 'Aha — we need these workers and there are things we can do to attract them.' There are companies that really get it."
An important first step in successfully tapping this 50+ resource pool is understanding and addressing the needs of the demographic.
"What many 50+ workers want is health care, retirement benefits of some kind, a flexible work environment. They are also looking for work-life balance," Redfern said. "The goal of the employer is not only to communicate what a position is about, but to sell it by communicating what the company has to offer and how they can fulfill the needs of the worker."
For example, outdoor lifestyle retailer L.L. Bean offers flexible work schedules via its "Swap Book," which allows employees to trade, pick up or give away shifts, volunteer to stay late, leave early or swap time with another employee. The company's "Attendance Bank" provides a bank of time to be used without disciplinary action for time needed away from work for sickness, accident or personal reasons.
And companies like Borders, The Home Depot and CVS have instituted policies addressing the needs of many 50+ workers who enjoy traveling to warmer climates during the winter months by allowing them to work part of the year at one location and the rest of year at another.
Retirement savings options and benefit programs for part-time workers also are being extended to 50+ workers at a growing rate — many go into effect on the first day of employment.
While having the benefits is key, effectively communicating these perks along with the company's overall workplace culture in literature is just as important, said Redfern.
"I advise employers to use age-neutral words in their ads and their Web sites. They need to avoid certain types of words like 'seniors' or 'golden age,'" he said. "They want to avoid statements like 'high energy,' 'fast paced' — phrases that make it sound like only younger people should apply or will be considered."
For instance, in its recruitment literature, Borders states, "We value your experience" and "we value the skills, experience and work ethic that mature employees bring to the table."
The Web site for office supply giant Staples boasts a photo of a 50+ worker and says, "You'll find people of all ages behind the easy button." At Walgreens, potential employees are informed that they are "now hiring your wisdom."
According to Redfern, it's important that employers maintain a neutral expression in their communications, keeping messages simple and direct, using familiar language and avoiding too much technical information.
Employees, both former and current, customers, job boards and Web sites that cater to the 50+ population are all good referral sources when it comes to seeking out 50+ workers. A growing number of employers also are finding success at job fairs and through staffing organizations, professional organizations and even community colleges.
In addition, AARP's Employer Resource Center (aarp.org/employerresourcecenter) provides employers with answers to a variety of questions regarding the recruitment and retention of 50+ workers. A twice-monthly e-newsletter, AARP SmartBrief, is designed especially for employers of 50+ workers and AARP's Workforce Assessment Tool gives employers the opportunity to take a comprehensive look at the status of their workforce and their company's workforce practices.
N.H.'s Changing workforce series is a partnership between NHBR and AARP New Hampshire.