N.H. gets a 'D' in mental health care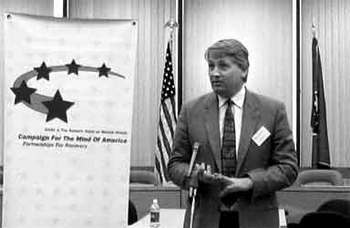 New Hampshire has received a low grade in a state-by-state report card rating how it cares for adults with serious mental illness.
The report on the nation's mental health-care system was compiled by the National Alliance on Mental Illness, a nonprofit mental health advocacy organization based in Arlington, Va.
New Hampshire was one of 19 states to receive a "D." Only fives states — Connecticut, Ohio, Maine, South Carolina and Wisconsin — received a grade above "C." No state got an A.
But New Hampshire was singled out in the report for once having "one of the best mental health care systems in the nation." The report's authors cited pressures placed on the system due to cost-cutting measures.
Ken Duckworth, a psychiatrist and medical director of NAMI, said that New Hampshire's scores were dubiously notable because the state's mental health system had been ranked the highest in the country in 1986, 1988 and 1990 — the last year the study had been conducted prior to the March 1 report.
"The best, most cost-effective treatments had come out of (Dartmouth-Hitchcock Medical Center)," Duckworth told New Hampshire Business Review. "It was a great incubator for ideas and the state seems to have cut its ties to Dartmouth."
Duckworth said he believes those severed ties contributed to New Hampshire's low grade. "New Hampshire fell as far as any state and has become less of a trendsetter," he said.
Greg Moore, spokesman for the state's department of Health and Human Services said the department agreed that NAMI's goals are beneficial to strengthening the nation's mental health-care system, but took issue with a number of points brought up in the report that related specifically to New Hampshire.
"Some of the issues they graded us poorly on are issues we have identified and are currently looking at," said Moore.
He mentioned several commissions and pieces of legislation that are addressing such issues as jail diversion and evidenced-based practices. "We've taken the lead on using best practices. We've been working with mental health leadership and advocacy groups on evidence-based practices for over a year," said Moore.
Moore also said there was some confusion as about the state's relationship with DHMC. "We have a very strong relationship with Dartmouth, the New Hampshire-Dartmouth Psychiatric Research Center. We're working on a number of issues with them. I'm not sure what they're talking about," said Moore.
Failing grades
The study's methodology was based on four sources: a questionnaire submitted to state mental health authorities; information obtained by public documents, such as state agency reports, Department of Justice reports, newspaper articles and community mental health services block grant applications; interviews with consumers, family advocates, and legal and mental health policy experts; and access to information primarily through a consumer and family "test drive" involving accessing basic information on services through phone calls and Web sites.
Within these four major categories were 39 other metrics, graded 0, 1, 2 or 3.
New Hampshire's test drive, conducted by local NAMI volunteers, consumers of mental health care and their family members, was given a C- grade, meaning the ease of access to information regarding basic mental health services was moderate.
New Hampshire received a "D+" in services, primarily due to low scores when it came to integrated dual diagnosis treatment policies, written assertive community treatment fidelity standards, and the benefits after release from incarceration. The state was given higher marks for not requiring co-pays for outpatient mental health services and having no restrictions on psychotic medication prescriptions per month.
The Granite State received a failing grade in two other areas — infrastructure, involving such services as prioritizing treatment for those with serious, persistent mental illness, innovative treatments and studying causation behind the deaths of those with mental illness, and recovery supports, such as supported employment and the state's cooperation with vocational rehabilitation providers.
Researchers also gave low scores to New Hampshire's recovery supports, indicating a lack of a state mental health authority division for vocational rehabilitation; a written plan for long-term housing needs; policies to ensure that those with co-occurring disorders (for example, substance abuse with a chronic mental illness) retain access to mental health care; and financial and logistical support for family-to-family and peer-to-peer education programs.
The state was given high marks for supported housing programs.
The researchers listed what they saw as several urgent needs for New Hampshire, including: jail diversion services; increased community resources, including community mental health centers and housing; increased use of evidence-based best practices; and more collaboration among state policymakers and mental health advocates.
History of innovation
While the study gave New Hampshire a low score for "downgrading" the state's mental health office from a division in Health and Human Services to a bureau within Community-Based and Long-Term Care, HHS spokesman Moore said the department thought this was a positive, not a negative, move because it grouped similar services together.
The report also cited the defeat of a bill to add $1 million to the budgets of the state's community mental health centers as a serious issue, to which Moore responded that HHS thought that the centers were still doing excellent work.
He did agree with the report's point that finding housing was a "critical issue" that needed to be addressed.
"Discharges at New Hampshire Hospital are delayed because there are no homes for the people to go to," said Moore.
He also said that housing was just one of the topics being reviewed by a comprehensive commission led by Rep. James MacKay, a retired psychotherapist, tasked with studying the state's entire mental health system. "We hope to have recommendations from the commission at the end of the year," said Moore.
For his part, NAMI's Duckworth said he hoped the report's recommendations would not be misinterpreted. "We are not trying to throw mud with this study," he said. "We are trying to advance the system. New Hampshire has a history of being very innovative."