N.H. exports set a record in 2005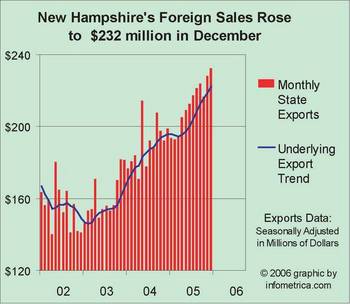 Foreign sales of goods made in New Hampshire increased in December, in line with national exports that climbed to an all-time high.
According to the international trade snapshot at the tail end of 2005, overseas shipments from New Hampshire's exporters rose to a five-year high of $232.4 million in December, from $228.2 million in November.
Comparing with international shipments a year ago, exporting companies from the Granite State sold $33.5 million, or 16.8 percent more goods in December 2005 than for December 2004.
For all of 2005, exports of goods made in New Hampshire surged to $2.548 billion, from to $2.28 billion in 2004. Annual state exports hit the highest level on record in 2005.
December's 1.9 percent rise followed monthly gains of 5.3 percent the previous month.
The state's export performance translates to an annual growth in foreign sales of 11.7 percent for the entire year 2005, compared to a national average of 10.5 percent in 2005. As a result, New Hampshire ranked 32nd among the 50 states in export growth in 2005. Among the world's major 23 industrial countries, the combined volume of their exports is estimated to have increased by 9 percent in 2005.
December's state export numbers reflected a mix of different economic conditions in the countries of New Hampshire's foreign buyers and their preferences for various products from business equipment to consumer goods, parts and raw materials.
Exports of manufactured goods accounted for 81 percent of all sales abroad in December. Shipments abroad from New Hampshire's factories fell in December by 3.8 percent from the previous month to $188.7 million, adjusted for seasonal variation.
Exports of non-manufactured goods went up 36.9 percent in December to $43.7 million, also adjusted for seasonal variation. This group of shipments abroad consists of agricultural goods, mining products and re-exports, which are foreign goods that entered the state as imports and are exported in substantially the same condition as when imported.
What is the global economic outlook for 2006, which will determine international trade and ultimately the demand for goods made in New Hampshire? Forward-looking indicators signal that the international economic outlook — vital to export-related jobs in New Hampshire — is expected to gain momentum over the next three quarters.
The Organization for Economic Cooperation and Development (OECD), whose members include the world's 30 richest countries, reported in February that the group's composite leading economic indicator shows solid gains in its recent reading.
In particular, OECD's early-warning indicator for the most advanced countries in the world – which tracks economic conditions nine months in advance – rose in December for the eighth consecutive month. More important, the indicator's annual growth rate – designed to provide early signals of changing directions in global economic activity between expansions and slowdowns – accelerated for a seventh month in a row.
These new numbers confirm the general view that global economic expansion will continue in 2006. New Hampshire's companies doing business abroad should see an increase in export orders, which will translate into higher production activity, increase in profits and more jobs. The connectivity of the state's economy with global markets is expected to be more beneficial for overall economic development this year than in 2005.
Evangelos Simos, chief economist of the consulting and research firm Infometrica Inc., is editor for International Affairs in the Journal of Business Forecasting, and professor/department chair at the Whittemore School of Business & Economics, University of New Hampshire. Distributed by Infometrica Inc. He may be reached at eosimos@infometrica.com.