Movement brings N.H. investors to small-scale food enterprises
In New Hampshire, Slow Money is still in the developmental stage, focusing on getting the word out and rallying investors interested in local food enterprises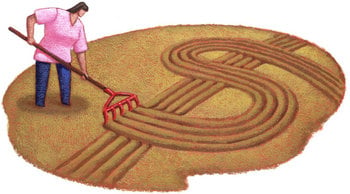 A new investment model that steers loans to small-scale, local food enterprises is gaining traction in New Hampshire, encouraging Granite State investors to essentially put their money where their mouths are.
The movement is called Slow Money, and it's an outgrowth of the Slow Food movement, a global grassroots organization that began in Italy in the 1980s to protest the opening of a McDonald's in Rome. Disdain for the Golden Arches has evolved and gained momentum in recent years, with resurgent interest in regional, organic, locally sourced food.
Christened by BusinessWeek as one of the "Big Ideas of 2010," Slow Money is a nonprofit movement seeking to lend capital to local food systems and small food enterprises to give them the necessary resources to meet demand that is growing tangibly both statewide and nationally.
Perhaps nowhere is this growth more evident than in the remarkable sprouting up of farmers markets over recent years. In 2010, there were 6,132 farmers markets in the United States — a 16 percent increase from 5,274 in 2009, and more than triple the 1,755 in 1994, according to the U.S. Department of Agriculture. About 90 of these markets dot the Granite State — up from 29 in 2001 — sprinkled as far north as Colebrook and west as Walpole, with tight concentrations on the Seacoast and in Merrimack and Hillsborough counties.
"It has become commonplace that ever-greater numbers of New Hampshire residents are discovering and re-discovering the value of local agriculture and regional food to their quality of life," notes "Home Grown," a 2010 report by Food Solutions New England, a University of New Hampshire-based initiative.
"This recognition has been accompanied by a genuine concern for the security and stability of our food supply, particularly when food vulnerability is experienced as it was in the aftermath of the 2008 and 2010 ice storms."
Struggling farms
But while demand for locally sourced food rises, farmers in the state are struggling to keep up, with existing infrastructure — including high energy, land and labor costs, coupled with global competition — limiting their growth potential, according to the report. The credit crunch has particularly affected family farmers, who rely heavily on credit even when the economy is faring well.
In addition, rapidly increasing land values in the state have driven up pressure to sell off farmland for development, an especially tempting offer when considering a farm's viability.
According to census data, only 30 percent of New Hampshire farms had positive net income in 2007, the lowest percentage in the region and far below the U.S. average of 47 percent. And of the farms that were profitable, the average net income was $56,467, second lowest in New England and 37 percent lower than the U.S. average of $89,479.
That pessimistic picture is where Slow Money intervenes, pairing struggling farmers and small-scale food producers with socially responsible investors willing to wait on a slower, more modest return on investment that could have broader-reaching, positive impacts on local communities.
For those who say that timing is everything, a dismal economy may be just what Slow Money needs to attract investors who — spooked by large-scale Ponzi schemes, stock market crashes and the worst recession since the Great Depression — have lost faith in traditional investment vehicles.
Bob Marino, one of the leaders of the state's Slow Money movement, said he sees a growing interest in socially responsible investing.
"Particularly on a local level, there's a big interest in people seeing some big alternatives to the status quo of investing," he said.
"The recession had an eye-opening effect on most of us about where our money is going and what's it's doing in the world," said Karen Marzloff, another leader of Slow Money New Hampshire.
In New Hampshire, Slow Money is still in the developmental stage, focusing on getting the word out and rallying investors interested in local food enterprises, said Marino, a financial analyst from Portsmouth.
Since it's a grassroots organization, Slow Money relies on smaller, established organizations to implement its principles on the ground, such as Seacoast Local, a Business Alliance for Local Living Economies affiliate committed to promoting economic, environmental and community sustainability on the Seacoast.
Marzloff — who is the founder and coordinator of Seacoast Local — and Marino said they first heard about Slow Money when Woody Tasch, founder of the Slow Money Alliance, gave a reading at a packed Portsmouth bookstore in August 2009, which would become the birth of Slow Money in the state.
After seeing the immediate interest of farmers and investors present at the reading, both wanted to get involved.
"I was very interested to hear him speak about the idea of local investment, the idea of people actually keeping their money local, putting their money into businesses that are concrete and tangible," said Marino.
Among the projects being eyed are municipal loan funds that would channel financing to sustainable agriculture. Not only would they increase flow of capital and decrease farm costs, but they would demonstrate that agriculture is on par with other municipal functions, said Marino.
Securing this funding, however, will be "very difficult," he acknowledged, and could take years. Another route being explored is setting up community loan funds to keep money within local economies, with local businesses or individuals acting as lenders so struggling food producers need not rely on credit cards.
While the national alliance is working to secure larger, institutional investors, at the regional level, the "ideal is having local people putting money into their local communities," said Marino.
Statewide interest
One of the national Slow Money Alliance's more lofty goals is to attract 1 million investors investing 1 percent of their assets in local food systems, regardless of whether it's an angel investor with millions in liquid assets or the owner of a rural mom-and-pop shop.
"They're creating opportunities for anyone at any level to participate in this," said Marzloff. "You can invest $100 or $100,000."
Already under way locally is "Move Your Money," a national campaign that encourages consumers to move their money to locally owned, independent banks and credit unions, thereby increasing their capital and ability to lend to local enterprises.
How the loans will be distributed is also an element currently being hammered out, but Marino said they intend not to disqualify enterprises based solely on a credit analysis. Potential qualifying factors could include farm size, how sustainable its practices are, and what would most benefit the local food system.
While those blazing the New Hampshire Slow Money trail are situated on the Seacoast, interest in Slow Money is popping up statewide. A Slow Money chapter is forming in the Monadnock Region, and other local business organizations with similar goals exist in the state, from the Upper Valley to Berlin to Belknap County.
"A lot of this stuff, on a deeper level, is about having a small-ownership society," said Marino. "It makes sense to look at agriculture as a starting point. It's something we have a daily relationship with, it's deeply ingrained with our culture, has an effect on the environment, our personal health and the landscape."
Kathleen Callahan can be reached at kcallahan@nhbr.com.