Mission plans a new shelter for homeless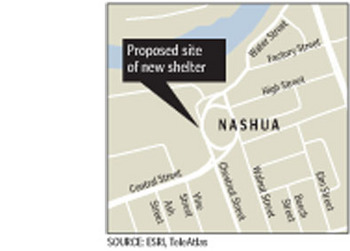 NASHUA – Southern New Hampshire Rescue Mission unveiled plans Tuesday to open the city's third homeless shelter at its 40 Chestnut St. building. It would be the only shelter catering to homeless men and would accept people under the influence of drugs or alcohol.
The zoning board of adjustment approved a change of use variance to allow the mission to use the first floor of its building as an emergency overnight shelter.
The shelter would add 25-35 beds, which would add to the city's current capacity of about 48 beds at shelters on Ash and Kinsley streets.
Larry Billingsley, a Hudson resident and the mission's interim director, said homeless men are a population in particular need of help.
"The feedback I've gotten from other people over time is there's a shortage of beds, primarily for men," he said. "And the population that the rescue mission would be targeting are some of the more difficult cases."
The mission has been working to open a shelter since it bought the building in 2006, Billingsley said, and still needs to gain approval from the planning board and fire marshals office.
The creation of additional shelter space comes at a good time, according to Billingsley and Bob Mack, the city's welfare officer.
The existing shelters, Nashua Family Shelter and Shelter for the Homeless, are full to bursting since the weather began getting colder, Mack said, and the homeless population around the state has been increasing for some time.
"I think it's something that the community needs," Mack said. "There is a need for more shelter. I think what you would find across the state is that shelters have been operating at capacity for some time now."
The Greater Nashua Continuum of Care, a partnership of more than 30 social service agencies, conducts a "point-in-time count" of the city's homeless population one day a year. The most recent count, from Jan. 30, counted 457 homeless in the city, Mack said.
That's an increase of 13 from the previous January, he said, and includes people in emergency and transitional housing and people sleeping on the streets.
"As I understand it, there are still people sleeping out in the woods even in this weather," Mack said.
He said that while the city doesn't have enough emergency shelter beds, the biggest help would be new transitional or permanent support housing, like Marguerite's Place or Harbor Homes. Because of a lack of those intermediate housing options, the stays at emergency shelters last an average of 40-plus nights, instead of a few days or a week, Mack said.
Men have a particularly difficult time finding spots at city homeless shelters, Billingsley said, because many of them have drug or alcohol dependency issues.
The mission was founded in 2004 and bought the building two years later, Billingsley said. It provides chapel services, meals, counseling sessions and classes.
The Chestnut Street shelter would provide temporary overnight quarters and would be supervised by missionaries, many of whom have turned their own lives around through missions in other states, Billingsley said. There will be someone there at all times to supervise and to screen men seeking shelter, he said.
Men under the influence of drugs or alcohol will be admitted if their screening determines they aren't a threat to others already at the shelter, Billingsley said.
Several people at Tuesday's zoning board meeting spoke in favor of the shelter, including Joseph Reese, who said he's recently been homeless and knows firsthand how difficult it can be for men to find shelter.
"I just think another 35 beds would be extremely beneficial to the city of Nashua," he told the board.
Ward 4 Alderman Marc Plamondon spoke at the zoning meeting and said while he recognizes the need for more homeless shelter beds, he and some people in his ward wanted assurances that the shelter would abide by certain rules, including having full-time certified employees supervising the shelter at all times.
"The biggest concern is that it's professionally run with strict guidelines," Plamondon said.