Minimum wage migration?
Does a higher rate attract NH employees?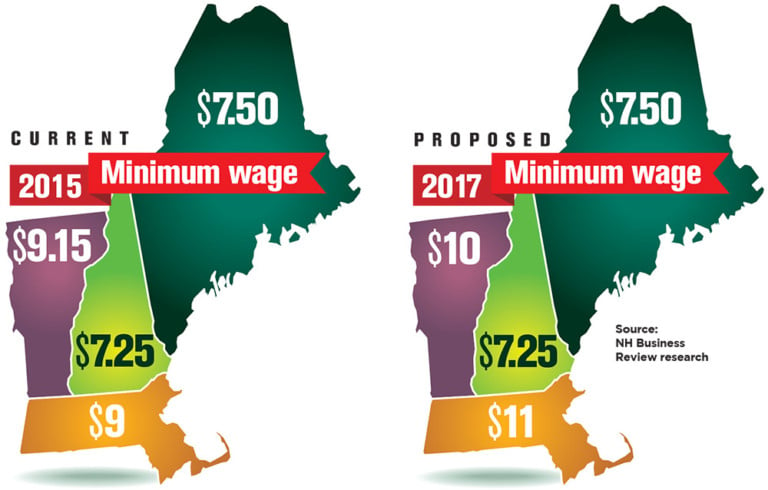 Nick Yager, co-owner of Gusanoz Mexican Restaurant in West Lebanon, says he has always had trouble attracting help, thanks to the area's low unemployment rate. He's had to increase his base pay, and reach out as far as Claremont and Haverhill for qualified employees.
"And now I might have to pay more or reach even further," he says, this time thanks to an increase in the minimum wage – in Vermont.
New Hampshire has stuck to the federal minimum wage of $7.25 an hour, a policy that will probably continue in the near future, given the makeup of the Legislature. But that makes it the only state in the region to do so.
Maine's minimum is only 25 cents higher, at 7.50, but Vermont, currently at $9.15, is scheduled to raise that to $9.60 next year, and to $10.50 by 2018. And Massachusetts, now at $9, will go up to $10 next year and $11 in 2017.
New Hampshire will also be behind in the minimum wage for tipped employees, which will be $3.75 in Massachusetts and Maine and $5 in Vermont, compared to New Hampshire's $3.27 an hour.
While few people work at or below the minimum wage – about 4 percent of all employees in the Granite State – economists of all stripes agree that increasing it pushes up wages in much of the rest of the workforce, especially among low-wage workers.
In May 2014, for instance, the median wage among all restaurant workers, tips included, was $9.39 in New Hampshire compared to $10.99 in Vermont and $10.55 in Massachusetts. Restaurant workers made more in Lowell, Mass., ($9.82) a generally depressed area, than the more prosperous Nashua ($9.19).
Massachusetts shoppers cross the border to the Granite State for a slightly less than $2 break on the cigarette tax. Will low-wage workers cross the border for as much as a $3.75 increase in their hourly wage? Have they already started doing so for less? And how is that affecting a state where the unemployment rate is down to 3.3 percent?
No one really knows the answer. Such wage differentials are rare, and when studied, the question has focused on the effect of the increased wage on the workers in the area where the wages are rising, not on the workers in areas where the wages remain low.
'Permeability'?
More than 50,000 New Hampshire residents commute to Massachusetts every day to work, rather than the other way around, and about 40,000 of that differential is to the border counties. But labor flows the other way to Vermont (a 5,000 differential) and Maine (close to 10,000).
The data is old, dating back to the 2010 Census, before the minimum wage rose in the neighboring states, though one study of real wages from 2007 to 2012 shows that they are falling more in New Hampshire than in Massachusetts, and not quite as much as Maine, while in Vermont real wages have gone up slightly.
An even longer-range study, by the Washington Center for Equitable Growth, shows that the minimum wage compared to the median wage has slipped considerably more so in the Granite State than the rest of the country.
Back in 1979, New Hampshire's minimum was 58 percent of the median, the 13th best rate in the country. But in 2013, it was 34 percent of the median, 46th in the nation. Vermont, on the other hand, ranked fifth.
An intriguing study, called "A Tale of Two States," put out by the Concord-based free-market think tank the Josiah Bartlett Center for Public Policy, noted that some of New Hampshire's job growth in May of this year was due to finding work in another state, mostly Massachusetts, but the report did not explain try to explain why.
Dennis Delay, an economist with the New Hampshire Center for Public Policy Studies, is skeptical that minimum-wage New Hampshire workers would travel across borders to seek a higher minimum wage.
Minimum-wage workers are scarce, young, often untrained and not mobile, he says.
"The difference would have to be pretty big," he says, in order for people to seek a job out of state.
Others say that a $3.75 hourly differential – a 52 percent increase for a minimum-wage worker in New Hampshire – is a significant difference.
"If they can go across the border to get $11 an hour, most people will do that," said Glenn Brackett, president of the AFL-CIO-NH. "What we are concerned about are the people who can't do that, people in the North Country."
"There is permeability," said Sara Jane Knoy, executive director of Granite State Organizing Project, a group working to increase the state's minimum wage. "I hear from low-wage workers: 'If you have a car why not drive?'"
'Close to home'
However, there are a number of reasons not to commute, points out Mike Araujo, the New England organizer for the Restaurant Opportunities Center, which supports increases in the minimum wage, especially among tipped workers.
Many low-wage workers are women juggling several part-time jobs with arbitrary schedules, while trying to care for their children.
"That's why there isn't always this wave of migration," he says. "They have to line up child care, they need to be close to home. They can't get stuck in traffic crossing the bridge trying to get from one thing to another."
There is the cost of commuting as well, and the fact that all states surrounding New Hampshire have income taxes.
True, the first $10,000 or so – about half of minimum-wage income – isn't taxed, but as Yager, of Gusanoz Restaurant, points out, "You might get some of that back, but it's still taken out of your paycheck every week."
But the biggest reason (cited by business groups and border stores) New Hampshire workers remain in the Granite State is they're already paid either close to the $10 or $11 an hour rates.
"I definitely pay more than the minimum," said Jack McClay, co-owner of Out of the Ordinary in Claremont. "I haven't had trouble finding workers. Finding and keeping good-quality help, that's the problem. But if you want quality, you have to pay."
"They have to pay more because of the economy, not because of the minimum wage," said Nancy Kyle, president of the NH Retail Association. "I don't see it as much of an issue."
"There are very few jobs paying the minimum wage," said David Juvet, senior vice president of the Business and Industry Association of NH. "And to the extent that they are going to feel some additional pressure to raise rates, they are already feeling additional pressure."
Indeed, raising the minimum in border states might actually help business, argues John Dumais, president of the NH Grocers Association.
"If they have to raise their wages, they have to cut back on whom they are employing, and raise their prices. Meanwhile, we keep our prices lower and attract more cross-border sales. That will increase our employees."
Rising wages
Of course, whether increasing the minimum wage reduces employment is a debatable question.
Paul Wolfson, an economist and senior assistant research associate at the Tuck School of Business at Dartmouth College and author of, "What Does the Minimum Wage Do?", says that major studies and anecdotal newspaper accounts both show that unemployment does not rise when the minimum wage increases.
Rather, it pushes up wages all around, resulting in more spending, and therefore more business, that offsets the need for business to pay higher wages.
"If it doesn't kill jobs over there and it's not too inconvenient, people go across to border to find work with higher wages," he said.
In times of low unemployment, the area with lower wages can still find workers, but it isn't a wash. Turnover increases. The remaining employees are less qualified.
And simply getting rid of a bad employee isn't quite that easy, argues Wolfson. "It's a pain in the ass. Most human beings don't like to fire people – well, except for Trump," he joked.
Eric Roberts certainly doesn't like to. When a Christmas fire caused the Lui Lui restaurant in Nashua to close in 2009, at the height of the recession, he paid his employees for three months so he could keep them. All of them returned to work when Lui Lui reopened the following spring.
Roberts, who also owns a Lui Lui restaurant in West Lebanon, is perfectly aware of rising wages in the states around him, but he isn't too concerned about losing people.
Yes, he also pays above the minimum for all those who are past their initial training, but he offers benefits much of his competition doesn't: health care, dental, 401(k)s, meal plans.
"We try to be proactive – to provide a better environment, to take the focus away from the dollar," he said.