Microfinance pioneer and Nobel laureate Muhammad Yunus to visit UNH
The Nobel Prize winner and microfinance pioneer will be the keynoter at the New Hampshire Social Business and Microfinance Forum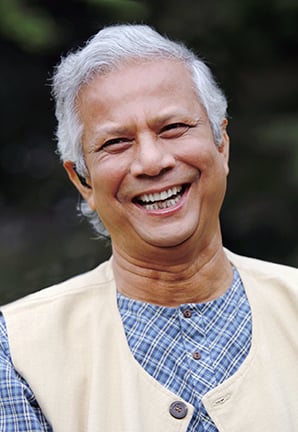 Muhammad Yunus, Nobel Peace Prize laureate and pioneer of the microfinance industry, will be visiting the University of New Hampshire this fall to present the keynote address at the New Hampshire Social Business and Microfinance Forum.
In addition to his address, the 2006 Nobel Peace Prize winner will present the awards at the Social Business Innovation Challenge for New Hampshire college students. Both events will be held Monday, Sept. 30. The events are being hosted by UNH, and organized by the Paul College of Business and Economics and the Carsey Institute, both at UNH.
Yunus is best known for his pioneering work as the founder of the Grameen Bank, as the "father of microcredit" and more broadly for the movement to create social businesses.
Social businesses seek to create innovative solutions to such problems as poverty and climate change. Unlike traditional nonprofit organizations, social businesses aim to be market-based and to fund their operations and growth through earned revenues rather than donations.
The first Social Business Innovation Challenge asks college students from across the state to find innovative, business-oriented solutions to pressing social and environmental issues at the state, national or global level.
"UNH has long been distinguished by its strong sense of responsibility for the well-being of our beautiful state, and a commitment to serving the public good," said UNH president Mark Huddleston. "We aim to contribute to a vibrant economy in our state, while responding energetically and effectively to the new social and environmental challenges posed by the 21st century."
Students can register their intent to compete starting May 30. The deadline for submissions is Sept. 15. For more information, visit unh.edu/socialbusiness.